Department of Atmospheric Sciences acquires Doppler mobile radar and instrumentation facility
Multi-million dollar equipment expected to transform atmospheric research and hands-on learning at U of I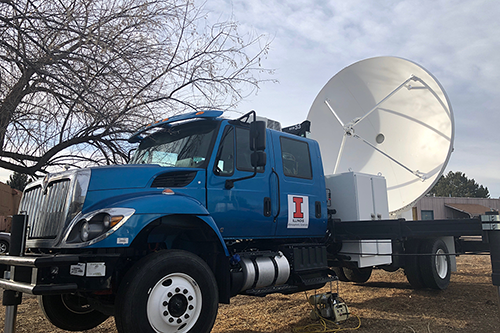 The Department of Atmospheric Sciences at the University of Illinois Urbana Champaign has acquired a multi-million dollar "Doppler on Wheels" mobile radar and instrumentation facility that is expected to transform capabilities for research, offer hands-on field training for students, and expand outreach efforts to demonstrate scientific observation of the atmosphere. 
Jeff Trapp, head of the department, called the new equipment "transformative," adding that until now this sort of equipment has been available to students and faculty members only during organized field campaigns.
"At no other university do students and faculty have access to cutting-edge meteorological resources of this scope," Trapp said.
The equipment includes three truck-mounted X-band radars, operating at a wavelength of 3 cm and a truck-mounted C-band radar, operating at a wavelength of 5 cm. The radars are used to observe the structure and evolution of precipitating weather systems and other phenomena.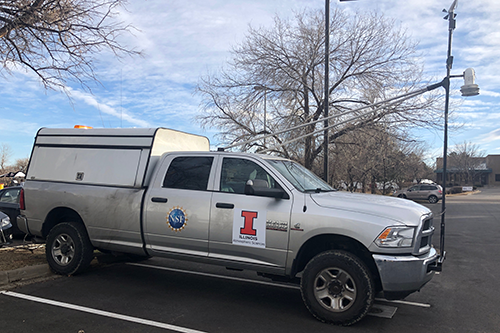 The acquisition also includes three vehicles equipped with meteorological sensors for observing meteorological conditions near the ground, three weather balloon launch systems, and several other features. The facility holds eight vehicles in total.
The equipment has been made available to the department through a long-term contract with Targetable Meteorological Systems with a base cost of $500,000. The contract is currently financed through internal department funds, but Trapp said that it will soon be supported by external research grants through the National Science Foundation, other government agencies, and, they hope, private industry usage and sponsorship.
Some of the equipment is being housed in the Champaign-Urbana community. The remainder of the equipment will be based in Boulder, Colorado, which is also where the support and maintenance crew for the facility resides.
Trapp said that the facility will aid in the department's extensive research on tornadoes, hurricanes, severe thunderstorms, and winter weather. One such project that will be aided by the facility is a proposed multi-institutional field campaign which aims to better understand tornado formation within quasi-linear convective systems or lines of thunderstorms.
Trapp said he also hopes the acquisition will be useful to other faculty members across U of I. 
"We look forward to exploring the collaborative use of the facility by other faculty and scientists across campus," Trapp said.
Graduate and undergraduate students will greatly benefit from the addition, as it will be incorporated into classes. Trapp said the equipment will enable students to develop field deployment plans and pursue collaborative research interests—which are vital to the early stages of a career. 
"These are life-changing experiences, resulting in the establishment of peer and professional networks, unique training toward future employment, and exposure to different cultures and people with diverse backgrounds," Trapp said. 
In addition to teaching, research, and outreach, the department is exploring other uses of the facility, such as offering high-resolution maps of precipitation to municipalities or utilities companies to better understand water management. With wind measuring instrumentation, they could offer wind data to organizations seeking to improve wind power generation.
The facility will now also help the department to continue and expand existing outreach efforts and create new ones.
"We are excited to continue these types of events, but additionally are now planning new activities such as locally-based summer academies for underserved undergraduates in the tri-state region, and similar institutes at tribal colleges and universities," Trapp said.
Learn more about the "Doppler on Wheels" mobile radar and instrumentation facility: