What will the Super Bowl do for poetry?
Professor and poet reflects on the field's unprecedented moment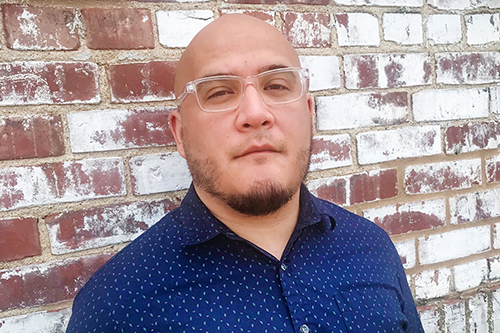 During the Super Bowl pregame ceremony, poet Amanda Gorman will recite an original poem paying tribute to the three honorary captains for the game who were selected for their work during the coronavirus pandemic. Gorman captured the attention of the nation last month as the youngest-ever inaugural poet, but she will reach a far wider audience with her Super Bowl appearance. Ángel García, an award-winning poet and an English professor at the University of Illinois Urbana-Champaign who teaches poetry courses, spoke with News Bureau arts and humanities editor Jodi Heckel about the recent attention to poetry.
Poetry and the Super Bowl are an unusual combination – this is the first time the ceremonies surrounding the big game included a poet. What is your reaction to a poet taking part in the Super Bowl pregame ceremony?
I'm ecstatic about Amanda Gorman's Super Bowl performance. She is a wonderful poet. I was equally ecstatic to see and hear her recite her inaugural poem during a ceremony in which Kamala Harris, a woman of many firsts, was sworn in as the vice president of the United States. This too will be a first. I'm particularly excited about Gorman because, as talented as she is poetically, she strikes me as someone who also recognizes the political moment. I'm interested to hear what she has to say during her performance, particularly at a time when the country is still mourning the loss of nearly 500,000 lives due to the pandemic.
How will poets and poetry benefit from this spotlight?
The benefit to poets and poetry, in general, is in reaching new audiences. Gorman, like no other American poet to my mind, will be televised into the living rooms of millions of her fellow Americans and audiences abroad. Even on the best of days, with the most renowned poets, an audience of that magnitude is unfathomable. But more importantly, poetry has long been an advocate for change and a vehicle for new possibilities, even in light of the most challenging circumstances. I imagine that Gorman's poem will follow that tradition, just as her inaugural poem did. With an audience so large, I hope it convinces someone somewhere to pick up pen and paper, to pick up and read a book of poetry, or, ideally, to consider how they, too, might make changes in their lives and in their communities.  
Gorman's inaugural poem featured language that referenced racial strife and divisions in our country, and was a call for hope and healing. What is the significance of a Black poet with that message performing at the Super Bowl, given the controversy over Colin Kaepernick's protests against police brutality while an NFL player?
Essentially, Gorman and Kaepernick were addressing the same systemic problem, although with different approaches and different outcomes. The undeniable fact, at least in my mind, is that this country has yet to fully recognize and remedy the centuries-long racism that has and continues to exist as part of the American landscape. In order to do so, we must stare white supremacy squarely in the face and work collectively to dismantle it. Sadly, it's much easier to do something else – say, watch a football game.
I agree that Gorman's inaugural poem called for hope and healing. But it was also vested in the critical truth of the past and the present moment. Kaepernick's protest, similar to the reverent act of taking a knee for prayer before going onto the field, was misread as anti-American. In truth, it was one of the most respectful acts of protest I've witnessed to address the systemic killing of so many Black Americans. It's no coincidence that all three things – a poem, a prayer and a protest – are a call for change and create hope for what is possible. An American principle, as American as apple pie and football. But, as Gorman wrote, "being American is more than a pride we inherit, it's the past we step into and how we repair it."
Editor's note: This story appeared prior to the Super Bowl on Feb. 7.
News Source
Jodi Heckel, Illinois News Bureau