Charting a brighter future during COVID-19
Life + Career Design in a Pandemic program helps students work together to explore interests and career paths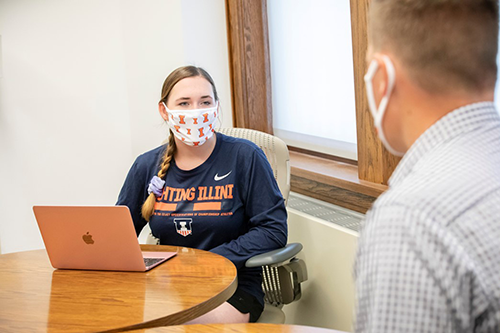 Academic advisor Dawn McNulty knows how exploring interests and potential career paths can be challenging for students even during normal times. During the pandemic, the challenge can loom even larger. That's why she considers the College of Liberal Arts & Sciences' Life + Career Design in a Pandemic program to be so important.
This year, the Life + Career Design in a Pandemic program has offered students an opportunity to explore career options with others who have similar goals. Through meetings and other interactions, the students learn and encourage one another while being mentored by an advisor from within the College of LAS.
Plans are in place for the program to grow in the fall, with new experiences in the works and alumni recruited to help with the effort, according to Barbara Hancin, associate dean for student academic affairs.
"One of the great things about being at U of I is that you have all the resources of this big research institution, but it's so easy to get lost—and it's even easier right now in the pandemic to get lost," said McNulty, an advisor in the Department of Sociology who has helped advise students in the program. "And so, by joining one of these groups in LAS and Life + Career Design in a Pandemic, students had a touch point and somebody who could get them those resources."
To join, students filled out an online form that specified their semester goals in terms of coping with challenges posed by the pandemic, exploring interests, or preparing for job search. Then, students wer assigned to a Life + Career Design community based on their responses.
According to Kirstin Wilcox, director of the Humanities Professional Resource Center, about 25 students participated in groups in the fall semester and 20 students participated in the spring semester.
Wilcox coached a group in the fall with students who had goals related to internships and law school. She said the one student working on getting into law school wanted to dig deeper into specialized interests. 
"She found our work on strategies for identifying potential contacts and cold-emailing them helpful — so much so that she decided that she wanted to spend her time spring semester just getting on with reaching out rather than meeting with a group," Wilcox said. "I count that as a success!"
Kyle Semper, a student in Wilcox's group and a sophomore in the Department of Psychology, found an internship as a paraprofessional at the Counseling Center.
"We were taught a lot of skills and my confidence has grown," Semper said, of his experience in the program. "It really taught me that you have to apply yourself and you actually have to try instead of preventing yourself (for) fear of not being accepted. You have to try; you have to have the courage to try."
McNulty started the fall semester working with three students; however, one student found a research opportunity and ended up leaving the group, so McNulty continued to work with the other two. The group met biweekly for about 15 minutes to an hour, depending on how much students wanted to discuss.
Sometimes the goals and needs the group would work on weren't planned, either. McNulty explained one opportunity she had to reframe the students' mindsets of achievement. One student in particular had missed one of the biweekly meetings after getting sidetracked with a conference she was organizing. This student ended up feeling like she let the group down, but McNulty helped the student realize that in fact the conference had offered her network opportunities that her group was already striving to provide.
"What was so cool about that moment was if she wasn't in this group, if she had just goal-set for herself that 'I'm going to do this,' she would've probably thrown those goals in the garbage because life went a different way," McNulty said. "But by having the support of this specific group of identifying career options and making a path forward, she could stop, take a pause and reflect on what she had done, and help reframe it back into success."
This spring, McNulty has been working with five students. The advisor realized that students have suffered Zoom fatigue this year, and that joining the program might not have seemed as attractive given the present situation, but she took heart in some of the results she's seen.
"The students that I worked with achieved so much over the course of the semester that we worked together, even though at first they wouldn't have thought that they did. And they did it; I didn't do it. I'm the facilitator of it," she said. "I'm just always so excited to see students achieve their goals or actually figure out what their goals are. So that jazzes me, that's cool for me."
She added: "It's just a unique experience. I've really loved doing it. I think it's really worth it and we're all in it together figuring it out as we go."
Editor's note: For more stories about how experts, students, and alumni are learning and looking ahead during this challenging time, visit the Moving forward from COVID-19 page.