Looking to a brighter future
Moving forward from COVID-19
The early days of the COVID-19 pandemic were marked with uncertainty and fear. As time progressed, however, we adapted to our new normal. Our understanding advanced as we learned about transmission. We rose to challenges to help people in need, such as producing masks and donating goods to first-responders. We stayed home and skipped events to keep our communities safe.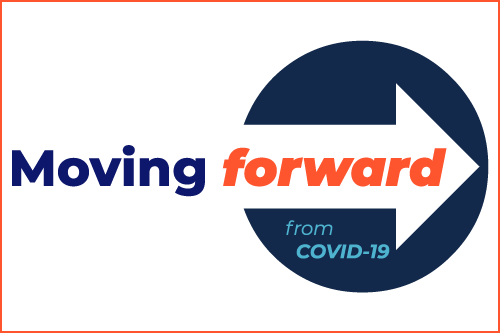 As vaccines entered arms and cases trended downwards, we removed our masks to feel something other than the coronavirus in the air once again: hope.
As we move forward from COVID-19, how can we take what we learned to make the world a better place? What are the inescapable truths that this pandemic has exposed? In light of a year of trials, what has changed as we move toward the brighter future ahead?
In this new series from the College of LAS, we'll attempt to answer these big questions. We'll talk to experts, students, and alumni throughout the college to look toward our future together.
And, together, we'll move forward from COVID-19.