LAS graduates named to Bronze Tablet
This year's awardees include 108 seniors from the college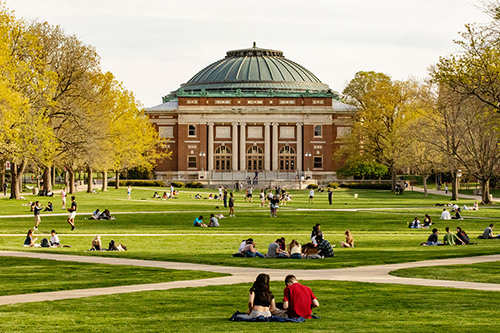 Some 108 graduating seniors from the College of Liberal Arts & Sciences have been named to the 2021 Bronze Tablet list, honoring academic achievement.
Each year, the Bronze Tablet is inscribed with the names of new graduates and placed in the Main Library. To achieve this honor, undergraduate students must rank at the top 3 percent of each college's graduating class and must have a cumulative grade-point average of at least 3.5.
The first Bronze Tablet was created in 1925, with 14 names.   
This year's LAS recipients are listed below. The list includes bachelor's degree graduates from August and December 2020 and May 2021:
Cassandra Adara Afseth, integrative biology 
Faisal Al-Qawasmi, integrative biology 
Chun Bai, economics
Michael Ballantyne Bernhardt, chemistry and economics
Alyssa Nicole Bertini, political science
Sarah Birchenough, psychology and communication
Kirsten K. Birk, molecular and cellular biology
Valerie Jane Blackmore, psychology
Samantha Blanc, creative writing and advertising
Shuyu Cai, communication
Zhaohe Cao, econometrics and quantitative economics
Eddie Preston Caumiant, psychology
Kelley Chau, astronomy and computer science
Michael Chen, statistics and computer engineering
Shi-Yun Chen, linguistics
Yating Chen, statistics and finance
Zhuo Chen, physics
Haley Elizabeth Clark, molecular and cellular biology and psychology
Olivia Coleman, Spanish and music
Tianjiao Dai, physics
Wanxing Dai, statistics
Rebecca Deacetis, Spanish and speech and hearing science
Baihe Duan, mathematics
Olivia E. Duggins, psychology
Helen Eng, communication
Olivia Rose Fleming, communication and psychology
Haoxuan Fu, statistics and economics
Haley Kristine Fuoco, integrative biology
Andrew Gao, astronomy and computer science
Weichen Gao, physics and mathematics

Giorgio Thomas Graziano, chemical and biomolecular engineering
Ruohao Guo, mathematics and computer science
Samuel Guo, statistics and computer science
Tao Guo, actuarial science and psychology
Abigail T. Hack, global studies and history
Jacob Hawkins, astronomy and aerospace engineering
Valerie Lynn Hebenstreit, psychology
Madeline Eleanor Hopkins, psychology
Kaiwen Hu, mathematics
Kimberly Irene Huizinga, communication
Yirui Jiang, economics
Marlena Johnson, classics
Johnna Latoria Jones, economics and history
Taylor Nicole Kassis, Spanish
Collin James Kauss, statistics and computer science
Philip A. Kocheril, chemistry
Kailey Elisabeth Komnick, molecular and cellular biology and chemistry
Izabella Anna Lach, integrative biology
Jacqueline Lee, psychology
Jiusi Li, mathematics and statistics
Zihao Li, mathematics
Junfeng Lin, statistics and computer science
Zuhan Lin, psychology
Guangkuo Liu, physics, mathematics, and computer science
Yongyi Liu, psychology
Jiahui Lou, economics
Robert Lou, mathematics, statistics, computer science
Lynnette E. Lu, actuarial science
Jingying Luo, actuarial science and statistics
Dun Ma, mathematics, computer science, and linguistics
Kassidy Elizabeth Mahoney, history and sociology
Brendan McGovern, English and political science
Quarrie L L McGuire, mathematics and computer science
Christopher William Mitchell, political science
Yasmeen Najjar, communication
Samantha M. Nardella, psychology
Jack Haohan Ning, statistics, computer science, and psychology
Maryrose Patricia O'Donnell, communication and linguistics
Benjamin Pankow, mathematics and computer science
Nitiksh Paul, molecular and cellular biology
Samuel Qunell, mathematics and engineering physics
Ruchira Ravirala, econometrics and quantitative economics
Katrina Sofia Rbeiz, psychology and global studies
Melanie Lyn Reed, psychology
Erin Michelle Rosenzweig, communication
Christopher Joseph Rudolphi, chemical and biomolecular engineering
Ashley Serna, psychology and Spanish
Dingchen Sha, statistics and mathematics
Cara Bridget Shanahan, political science
Thomas John Sheehan, chemical and biomolecular engineering
Aishwarya Shekara, political science and psychology
Andrew David Sima, creative writing and Earth, society, and environmental sustainability
Xiangchen Song, mathematics and computer science
Rachel Leann Spencer, English
Fante Su, economics
Hanyu Sun, economics
Tayisiya M. Tkachuk, communication and political science
Gabrielle Elena Toreja, integrative biology
Bansari Upadhyay, psychology
Paige Valente, psychology and speech and hearing science
Ravina S. Vasanwala, molecular and cellular biology
Ethan Patrick Walter, English
Ning Wan, mathematics, computer science, and statistics
Yichen Wang, statistics and economics
Caroline Vaughan Whittaker, economics
Claire M. Williams, integrative biology and geology
Yuling Wu, actuarial science and statistics
Zihe Wu, statistics
Yao Xiao, actuarial science and statistics
Xinqi Yan, actuarial science
Zhenzhou Yang, statistics and computer science
Ryan E. Yoakum, history and religion
Haoyue Yu, actuarial science and statistics
Shuai Yu, chemical and biomolecular engineering and physics
Yiheng Zhou, geography and geographic information science
Hongyue Zhu, actuarial science
Songcheng Zhuo, mathematics
Madeline Rose Zielke, psychology