Rising above borders for better solutions
Global Leaders Program encourages community outreach and new ideas among LAS students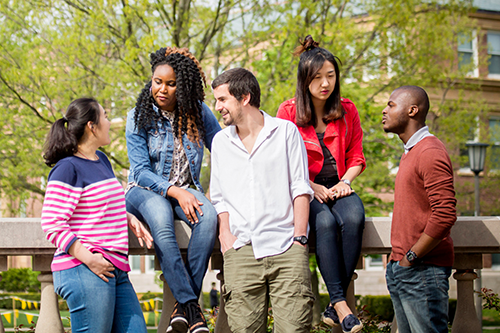 One thing that makes a college campus so interesting is the new perspectives and attitudes brought by international students. A new Global Leaders Program in the College of LAS is helping to bring those ideas to light by uniting international students with domestic students at the University of Illinois for community outreach projects and developing solutions for societal issues.
Nikia Brown, associate director of intercultural and global learning, international student experience in the College of LAS, said that U of I has a large number of international students—so much so that some are inclined to associate more closely with students of similar backgrounds rather than forming new friendships or engaging the local community. The problem has been magnified by the pandemic.
Additionally, research has shown that both international and domestic students are less likely to interact because they fear stepping out of their comfort zone and being judged. The inaugural Global Leaders Program helps to remedy this by uniting domestic and international students through meaningful project-based learning, giving them an opportunity to connect while contributing to their community.
The work ultimately allows students to go beyond a surface-level connection and form a genuine bond, Brown said.
"You can't just say, 'Okay, I'm going to put you together and you are all going to be friends,' That doesn't work," Brown said. "We wanted the relationships to evolve organically, so we decided to give them a mission—a mission unifies everyone.'"
The program, which just concluded its pilot year, met with success. Shreya Majumdar, an astronomy major from Bangalore, India, said the program allowed her to connect with her group members despite the distance between them caused by the ongoing pandemic. Majumdar also stated the interesting conversations she had with fellow participants allowed her to learn something new every day. 
"The Global Leader Program has definitely helped me network and get to know more people in the university," Majumdar said. "Making connections within [the program] has also resulted in conversations with their friends. The chain just goes on!"
The program's pilot year included eight domestic and seven international LAS students from diverse backgrounds who were nominated by academic advisors. Participants were matched with local and international community organizations to research and develop novel solutions to social challenges. Students also participate in for-credit leadership courses throughout the program, thus making it both a curricular and co-curricular activity.
While the program just completed its first year, it's designed to be a four-year program with opportunities for a deeper level of connection between students and local and global communities. 
At the end of the first year—this past spring—participants presented their work at the Social Innovation Forum. Students discussed the projects that they completed with local community organizations such as Immigrant Services of Champaign-Urbana and the Champaign-Urbana Public Health District (C-UPHD).
For example, the team that worked with the C-UPHD tackled mental health issues exacerbated by the pandemic. Members designed a Facebook group where people can share their experiences, talk with people who understand and care about their issues, and find resources to help them maintain good mental health. The Facebook group included meditation guides, an inclusive forum where users can rate and give feedback on medical professionals, and mental health coaches who are trained community volunteers who help treat mental health problems.
"We think that community engagement doesn't stop in the short term," the group stated during their presentation. "[It continues] to be immersed in the community through thick and thin. [This] is why we worked towards a solution that maintains healthy conversations in the community."
Students in the program also worked with international organizations such as Brasil+ Saúde and RefuSHE, and used the forum to present plans to help the non-profits achieve their primary objectives.
RefuSHE's mission is to protect, educate, and empower orphaned, unaccompanied, and separated refugee girls and young women to build healthier and more resilient futures for themselves and their children. Students, therefore, developed a 45-minute engagement session that the non-profit can use to help connect with the girls and young women who it serves. The session includes mindfulness meditation and trust-building exercises that help participants cope with trauma.
"We thought a simple solution that could be acquired more effectively would be to create a small daily exercise that teachers could easily implement in any class," said Junehyuk Yoo, a computer science and linguistics major from Hong Kong. "That way we don't have to teach every teacher within the refugee program how to [utilize] trauma-informed education or pedagogy, but instead allow them to use this different medium to apply [best] practices."
Christopher Earney, head of the United Nations Secretary General's Crisis Insights Team, served as keynote speaker at the forum and discussed the critical interplay of mental health and innovation and the need to interrogate the assumptions of those who have gone before us. Earney challenged the rising Global Leaders to value togetherness in social change and innovation.
"The more that I see groups like yours embracing togetherness, and the more that I see groups like yours proactively bringing together sometimes disparate groups and sometimes divergent thoughts, the more encouraged I find myself when I look at the increasingly complex and complicated challenges that we as a species face," Earney said.  
Ultimately, added Brown, through teaching students how to successfully tackle some of the world's most pressing issues, the Global Leaders Program helps students use their differences to their advantage and develop a plan to better their communities.
"There was a focus on how they can leverage their differences and diversity to affect change," Brown said. "And through that, those relationships naturally formed, and friendships were born.They also learned how to appreciate each other's unique cultural and ethnic backgrounds, perspectives, and lived experiences."
The program will head into its second year in the fall. It will recruit new first-year students to join those who joined in fall 2020, and the first cohort will serve as peer mentors to the new members.