LAS alumnus set for 2020 Paralympics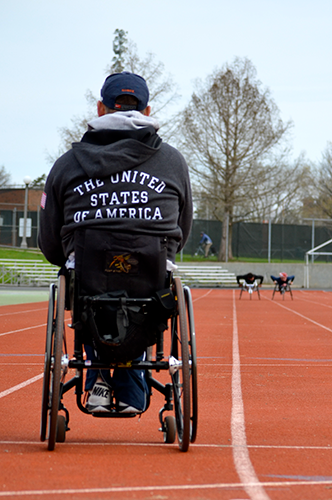 Head coach of the University of Illinois wheelchair track team Adam Bleakney (BA, '00, English; MS, '02, journalism) is a four-time Paralympian and silver medalist. Now the LAS alumnus is leading a contingent of 15 Illinois wheelchair track student athletes and alumni as a coach of the 2020 Paralympics US track and field team at the Tokyo games.
Family: Wife Laura and sons Carter and Graham
Please briefly describe a typical workday at your current position.
My typical day is bookended with morning and afternoon practices, and the time in between is spent on the normal day-to-day or on other projects in which I'm involved. I'm very fortunate to work in an academic unit where I easily intersect across other campus departments, both within my college (Applied Health Sciences) and other colleges on campus. Being positioned as such, I'm able to leverage the university's many rich resources and exceptional faculty and students for research and innovative projects. One example of a collaborative effort I'm currently involved in is the development of a seated ballbot, basically a self-balancing seat positioned atop a single ball. This innovation will allow for hands-free movement, among its many cool features.
For the sake of illustrating a typical day, here's how my day looked today. I arrived to work at 7 a.m. to get things ready for our group training session at 7:30 a.m. We're in our final hard training phase in preparation for the Tokyo Paralympics, so our sessions are not overly long, but are quite demanding. We wrapped up around 8:45 a.m. and got everyone back from the track for a few hours of rest and refueling before our second session of the day at 3 p.m. At 10 a.m. I had a call with the chief sports nutritionist for Team USA to go over a few last-minute details about our pre-Games training camp in Japan. She was on campus last week to test some cooling strategies with the athletes – slushies, cooling vests – because of the heat and humidity they'll have to race in during the Games. Once we wrapped up, I had a few follow-up calls in addition to working through e-mails. I have a film crew with the Japanese network NHK coming in on Friday to shoot for a feature running during the Games, so coordinating with the producer on a schedule takes a bit of back and forth. Before the athletes started rolling back in around 2 p.m., I grabbed some time with an undergrad I supervise in our Human Performance Maker Lab, a workshop equipped with 3D printing and scanning technology. We're in the middle of a project to develop and distribute 3D-printed racing wheelchair gloves to community programs around the United States. From 3-5 p.m. we're back in practice, half of the team doing strength training in the weight room and the other half in their racing wheelchairs on indoor, stationary rollers.
In hindsight, what about college best prepared you for your life and career?
A degree in English literature helped me develop critical thinking skills, an ability to analyze and consider issues in a thoughtful and measured way. I think these skills are widely applicable and incredibly useful, irrespective of one's profession.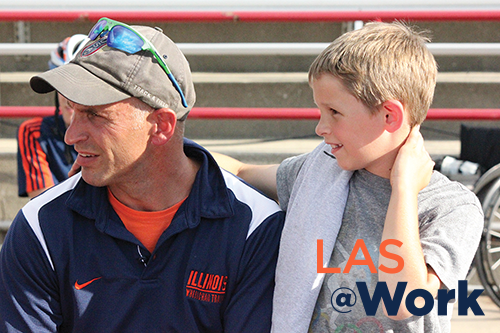 What do you like best about your work?
There's quite a bit. I enjoy the relationships created with the athletes, and I enjoy helping them grow and develop as human beings. I equally enjoy the opportunity to work with colleagues across campus and the community on innovative research and projects. 
Please describe your proudest achievement.
Professionally, I'm most proud of the opportunity to extend Dr. Tim Nugent's life work. It was his vision in 1948 to establish and maintain a program at the University of Illinois that would serve as a best practice model in providing access and opportunities for individuals with a physical disability.
Editor's note: This LAS@Work profile is part of a series that features College of LAS alumni and their careers. Visit here to read more.