Faculty and staff receive Presidential Medallion for COVID-19 response
Recipients from the College of LAS honored for SHIELD system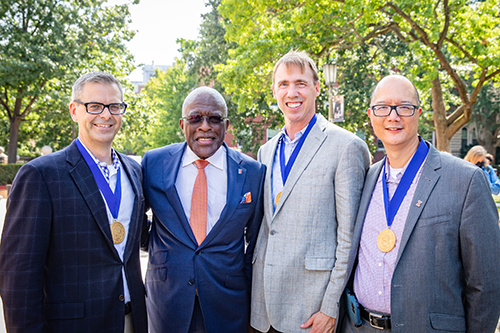 University of Illinois President Tim Killeen on Monday honored 28 key leaders of the system's COVID-19 response, including six faculty and staff members within the College of Liberal Arts & Sciences, with the Presidential Medallion. The medallion is the highest honor that the system president can bestow.
In a ceremony at the University of Illinois Urbana-Champaign attended by Gov. J.B. Pritzker, Killeen honored leaders behind the development of the SHIELD test-and-trace system and subsequent organizations created to expand its use beyond the system's universities.
"I have never been more proud than I am today to recognize these colleagues and their leadership, said Killeen, awarding the first Presidential Medallions in his six years as president.
He added: "Their ingenuity and dedication and the hard work of thousands of their colleagues across the U of I System have saved lives on our campuses, in the surrounding communities, and well beyond. Their efforts have demonstrated in real time what the U of I System means to the people of Illinois and ensured that our response to the pandemic has been unlike that of any university system in the world. These initiatives are reflective of the power of the U of I System as a real force for innovation, positive change and the public good."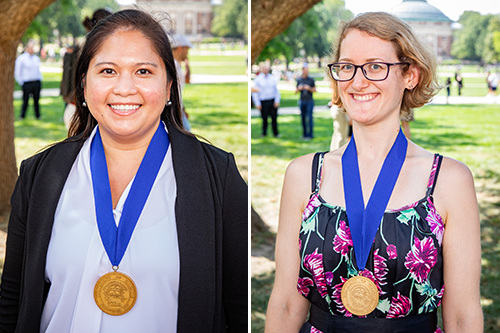 Those from the College of LAS receiving Presidential Medallions are Fadi G. Alnaji, post-doctoral researcher focusing on virology; Christopher Brooke, associate professor of microbiology; Martin D. Burke, May and Ving Lee Professor for Chemical Innovation at UIUC and associate dean for research at the Carle Illinois College of Medicine; Kelsie J. Green, laboratory technician, Department of Chemistry; Paul J. Hergenrother, Kenneth L. Rinehart Jr. Endowed Chair in natural products chemistry; and Diana Rose E. Ranoa (MS, '08; PhD, '14; microbiology), research fellow at the Carl R. Woese Institute for Genomic Biology and a member of Hergenrother's team.
Additionally, a pair of LAS alumni in other units received the Presidential Medallion. They include Laura Wilhelm-Barr (BA, '93, English; MS, '07, recreation, sport, tourism), senior director of special events, UIUC; and Susan Bleasdale (BS, '94, biology), chief quality officer, assistant vice chancellor for quality & patient safety, UI Health, for her role in a mass-inoculation effort in Chicago.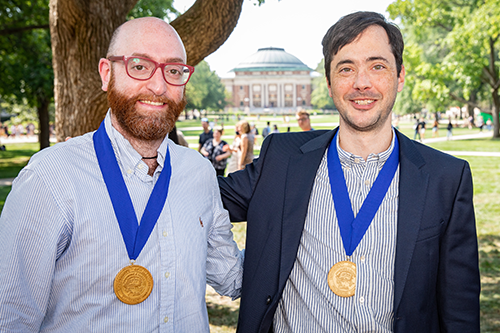 The SHIELD test-and-trace system includes the non-invasive, fast and reliable saliva-based test as well as the companion mobile application to deliver test results, all developed at UIUC. The test has been successfully used since the summer of 2020. SHIELD Illinois was created to share the SHIELD system across the state.
The test is now in use or being launched at numerous other colleges and universities, community colleges, public community testing sites, private companies and – thanks to funding from the state – more than 1,000 K-12 schools. Shield T3 was created to spread the technology outside of the state, and it is in use at a number of other universities, in school systems in Baltimore and Washington, D.C., and at private companies and other organizations outside Illinois. In all, well over four million tests have been administered.
Said Gov. Pritzker: "In our fight against COVID-19, the efforts of the University of Illinois System have been a real asset to millions of Illinoisans. That begins with the successful effort last year to keep campuses open to the more than 90,000 students enrolled at U of I System universities. But it extends to the tens of thousands of people who found access to life-saving vaccines in the Chicago area, students at universities and community colleges who have been protected by the SHIELD test, and this fall to students at more than 1,000 K-12 schools around the state who will be protected by access to SHIELD."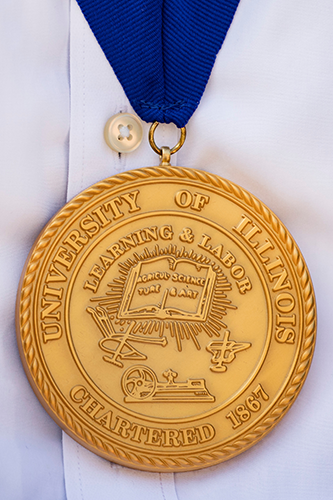 Pritzker added: "I am deeply grateful to the leaders being honored here today and to the thousands of others who have been part of the U of I System's aggressive and ongoing response to the pandemic."
Others from UIUC honored for their roles in SHIELD Illinois include Timothy M. Fan, professor and the assistant head of research and graduate studies in the Department of Veterinary Clinical Medicine; Richard Fredrickson Jr., clinical professor and director of the Veterinary Diagnostics Laboratory; Nigel D. Goldenfeld, Swanlund Endowed Chair and Center for Advanced Study Professor of Physics; Robin Holland, head of the Diagnostic Services Section, Plum Island Foreign Animal Disease Diagnostic Laboratory, and 2020 doctor of veterinary medicine graduate; William C. Jackson, founder and principal officer of Shield T3 and interim executive director of the Discovery Partners Institute, U of I System; Sergei Maslov, professor of bioengineering and physics and Bliss Faculty Scholar; John M. Paul, professor of Innovation, Leadership and Engineering Entrepreneurship and chief instigator of the Rokwire initiative; Rebecca Smith, associate professor of epidemiology, College of Veterinary Medicine; William Sullivan, professor of landscape architecture and director of the Smart, Healthy Community Initiative; Kraig Wagenecht, senior director of external research partnerships, Office of the Vice Chancellor for Research & Innovation and executive director, SHIELD Operations; Jay Walsh, interim vice president for economic development and innovation, U of I System; Leyi Wang, clinical assistant professor and veterinary virologist at the Veterinary Diagnostic Laboratory, College of Veterinary Medicine; Ron Watkins, managing director of SHIELD Illinois and associate dean of strategic innovation, Gies College of Business;
Awais Vaid, deputy administrator and epidemiologist, Champaign-Urbana Public Health District, also received a Presidential Medallion.
Also honored were the leaders of clinical trials for vaccines at the University of Illinois Chicago (UIC), the first conducted in Chicago, and a mass-vaccination effort at UIC that has inoculated hospital staff and patients, students, faculty, and, so far, tens of thousands of members of the public.
UIC has been a trial site for two national clinical vaccine trials, including the first trial conducted in the city. The trials matched the diverse demographics of the city and included strong representation of groups that were have been particularly affected by the pandemic. UIC and its academic health enterprise, UI Health, led an effort that vaccinated health system workers, and opened Chicago's first mass vaccination site in February 2021 at Credit Unit 1 Arena, offering vaccines to the public as well as its own students, faculty, and staff. UI Health continues to offer multiple clinics and other access for vaccinations in the city, and a team of student volunteers has been used to proactively schedule vaccination appointments for patients, focusing first on neighborhoods hardest hit by COVID-19. UIC is also conducting ongoing research on vaccine hesitancy.
Those receiving Presidential Medallions for the clinical trials (in addition to Susan Bleasdale, mentioned above) are Kimberly Bertini, director of nursing excellence and Magnet Program director at UI Health; Paul Gorski, senior director of clinical services, integration and operations officer, UI Health; Jerry Krishnan, associate vice chancellor for population health sciences and professor of medicine and public health, UIC ; Janet Lin, physician and professor of emergency medicine, UIC; Richard Novak, Harry F. Dowling Professor of Medicine and chief of the Division of Infectious Diseases, UIC; and Mary Kate Titus, administrative fellow, UI Health.
The Presidential Medallion is given to recognize individuals who support and bring distinction to the U of I System; enhancing and accelerating its ability to deliver on its mission in profound ways. The award is bestowed solely at the discretion of the president.
Previous recipients include Shahid Kahn, a UIUC alumnus who owns the Flex-N-Gate company, the NFL's Jacksonville Jaguars and English soccer team Fulham F.C., in 2013; civil rights leader Myrlie Evers, also in 2013; members of the Tuskegee Airmen, in 2007; and Thomas M. Siebel, UIUC alumnus and the founder, chairman and CEO of C3.ai, in 2001.
News Source
The University of Illinois System and College of LAS