What's on your winter break reading list?
LAS faculty share the books they plan to read this winter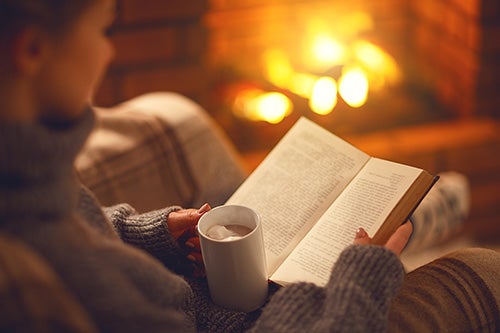 Many members of the LAS community find inspiration and joy in reading a good book.
As our faculty head into winter break, we asked a few of them to share the books that they're excited to dig into over the next month. 
To see what our students are reading, go here.
I will probably spend most of my winter break unpacking as I recently moved to Champaign, but I do have two books I hope to read—Louise Erdrich's "The Night Watchman," which I purchased this summer but haven't had time to read with all of the excitement of my new job, and a new book by one of our faculty, "The Art of Yellowstone Science: Mammoth Hot Springs as a Window on the Universe" by Bruce Fouke and Tom Murphy. I've already thumbed through Bruce's book and the photographs are simply breathtaking. I'm looking forward to learning about the science behind the hot springs and also visiting the related website with classroom activities. I see this as a great opportunity to learn more about the great work of our faculty. I've also already pre-ordered Irvin Hunt's new book, "Dreaming the Present: Time, Aesthetics, and the Black Cooperative Movement" for my summer reading list.
Antoinette Burton (Director of the Humanities Research Institute, professor of history)
I'm a big mystery reader, so William Kent Kreuger's "Lightning Strike" is at the top of my list. I'm drawn to it as much because I loved his earlier novel, "Ordinary Grace," as because a detective story lies at its heart. Meanwhile, it's amazing to me how many novels double as mysteries. I'm excited about Louise Erdrich's new one, "The Sentence," for that reason. It's set in an independent bookstore, which I think is modeled on the one that Erdrich herself owns in Minnesota (and all Champaign-Urbana book lovers should check out the new one in town, The Literary!). I have one memoir in my must-read pile: Joy Harjo's "Poet Warrior." And one biography: Keisha Blain's "Until I am Free: Fannie Lou Hamer's Enduring Message." One of my New Year's resolutions is to read more books by and about women and people of color whose struggles offer practical wisdom for today. To that end, "Ella Baker's Catalytic Leadership: A Primer Community Engagement and Communication for Social Justice" by Patricia S. Parker beckons. And because poetry is always calling me, a deep dive into Rita Dove's evocatively titled "Playlist for the Apocalypse" also awaits. Last but not least is Rebecca Solnit's "Wanderlust: A History of Walking," a welcome reminder that in addition to all its other miraculous powers, reading can help you get up off the couch as well.
I'm not sure how much reading I'll actually get done over winter break, but I've recently decorated my coffee table with two tomes that I hope to make my way through some day. The first is Marius Jansen's "The Making of Modern Japan." I've long been interested in learning more about Japan's period of modernization after the Meiji Restoration, when the country moved quickly to adopt Western technologies, laying the groundwork for it to become an economic and military powerhouse in the early 20th century. As a scholar of economic development, I feel like I should have a better grasp on exactly what policies facilitated Japanese development and what social factors enabled the enactment of those policies. The second is Alexander Mikaberidze's "The Napoleonic Wars: A Global History." This is a book that I ordered as part of my compensation for providing an anonymous peer review of a book manuscript to Oxford University Press. I was just picking something that looked mildly interesting out of their vast catalog. While driving back and forth to Connecticut over fall break to see my parents, my wife and I listened to 18 episodes of the podcast "The Age of Napoleon," such that when I got back home, I actually started reading the book, trying to deepen my understanding of the French Revolution and the imperial state that eventually emerged from it. Like the book about Japan, I'm most interested in understanding what societal factors and political dynamics enabled the set of policies pursued by Napoleonic France. 
It's been a long time since I luxuriated in reading popular fiction. Over the holidays, I plan to read the novels "Dominicana" by Angie Cruz and "The Midnight Library" by Matt Haig. Cruz's novel is a coming of age story about an immigrant woman adjusting to her new life in New York during the 1960s. Haig's novel is about a woman suspended between life and death, who is given a chance to explore the alternative realities she would have experienced had she made different choices. A librarian at my public library recommended these books when I asked for moving, engrossing novels that were published recently. It may sound corny, but I've got to give our librarians their due praise. The public library is usually my first stop when I want some pleasure reading and don't know where to start. 
As a scholar of Afro-diasporic religions and cultures, I'm always interested in books that inform public conversations about the history of race in the Americas. "How the Word is Passed" by Clint Smith has earned significant acclaim for its study of the landmarks that inform how Americans remember their collective history. From Monticello Plantation to Angola Prison, Smith explores the legacies of slavery that are actively hidden or powerfully revealed within these monuments. This book offers a deep reflection on identity formation and social memory, one that may attract anyone interested in current debates about the removal of Confederate statues from public spaces. I'm also looking forward to thinking with John McWhorter's new book "Woke Racism: How a New Religion Has Betrayed Black America." He crafts an argument that readers across the political spectrum have found controversial: that the conversation about race in America has gone awry as anti-racist activism devolves from a progressive ideology to an overzealous religion. This charge has been levied against activists before, but I will read with a mind open to his suggestions for improving upon the strategies of the current movement. I will also read with a critical gaze towards his representations of religion and the secular in America. 
If there's any time left, I enjoy revisiting some of my favorite novels. I always return to classics—"Their Eyes Were Watching God" by Zora Neale Hurston, "Eva Luna" by Isabel Allende, or "Wuthering Heights" by Emily Bronte. But the Bridgerton series by Julia Quinn, or any juicy thriller, might do too. 
Nicole Allen (Professor of psychology)
I have a very long list of fiction and non-fiction books that I get to as I can; my trouble is that the list only gets longer because I add to it far more rapidly than I complete my aspirational reading. My planned reading for over the winter break reflects my desire to remain energized and focused on the pursuit and possibility of change, particularly as it relates to organizational and systems change in the response to gender-based violence. Two of these books include:
"Emergent Strategy: Shaping Change, Changing Worlds" by Adrienne Maree Brown - Many of my colleagues are excited about this this book and what it offers regarding how to pursue needed societal change. I hope I am as inspired by the book as others have been. 
"Sexual Citizens" by Jennifer S. Hirsch and Shamus Khan - Again, trusted colleagues have recommended this book. The book offers a new analysis and new frameworks for understanding and responding to sexual violence, particularly on college campuses. I hope this book has translational value for informing change efforts.