Making space for progress
Faculty and staff look back on Illini Hall as they prepare for a new building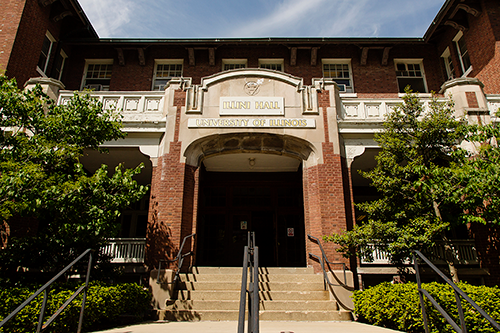 Buildings can't grow the way people and programs do, which is why, after 115 years of service to the campus, Illini Hall now stands empty. The last faculty and staff members recently moved out to make way for the construction of a new building on the same site.
Emptiness is an unusual state for Illini Hall. Over the years it's served as everything from a YMCA to a student union, war barracks, and home of the Daily Illini. Mathematics faculty moved in to the building around 1965, and it became home to the Department of Statistics in 1985. At the time of being vacated it also housed three classrooms and computer labs. It is slated to be replaced as part of the Altgeld and Illini Hall Project.
The university is still working out details of the building demolition, but in its place will be constructed a six-story building to expand and modernize spaces for mathematics and statistics while adding a data science center.
The building's most recent occupants, who recently concluded the enormous task of relocating offices, classes, and office hours to other parts of campus, await the new building with some mixed emotions: excitement at having a new building but also a little bit of sadness as the clock runs out on their former home.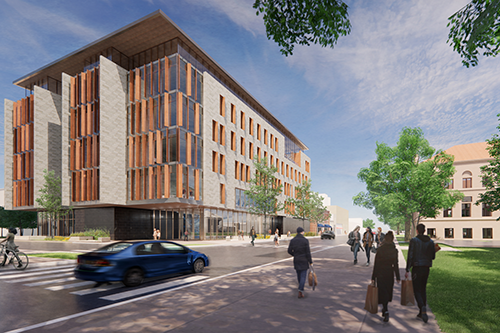 Melissa Banks, assistant to the chair in the Department of Statistics, has worked in Illini Hall since arriving on campus in 2008 when she was hired as an office support specialist. The past few years she's worked to help find space to accommodate the department's strong growth—the number of statistics majors grew from 135 in 2010 to 906 in 2020—and, more recently, help the department move to its temporary quarters in the Computer Application Building.
"Currently I am fine. But when the wrecking ball starts swinging it will hit me just as hard as it hits Illini Hall," Banks said. "I have grown in that building from an office support specialist all the way up to an assistant to the chair in my career. I have watched students come and go, faculty starting their careers. It has been an adventure that I have been honored to be included in."
Karle Flanagan, senior instructor in statistics, has worked in Illini Hall since 2014. She teaches STAT 100, an introductory course with 1,000 registered students each semester. As she planned to leave Illini Hall Flanagan asked: Where will we hold office hours for 1,000 students?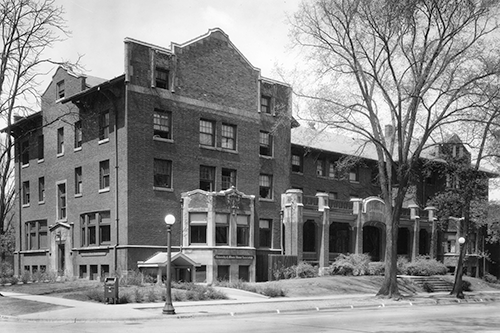 Fortunately, the Siebel Center for Design offered space, and office hours for STAT 100 are now held there from 2-4 p.m. every day. This allows valuable assistance to students, as the course has no discussion sections and the office hours are critical for anyone who needs extra help.
With that settled, however, Flanagan is left with mixed feelings about the move.
"I'm sad to leave Illini Hall because now the faculty are all in different buildings," she said. "It was nice seeing people all the time at Illini Hall, but now, I hardly see anyone since some teaching faculty are in offices near Cocomero (an eatery on Wright Street) and some are on south campus. Despite this, I'm super excited for the new building. It seems like it will be worth the wait!"
Jeffrey Douglas, professor of statistics, spent five years as a PhD student in Illini Hall and 20 years there as a professor. He recalled some of the building's grittier details.
"I remember talking to the campus pest control folks every day over a winter break and discussing their Illini Hall catch in a live box trap. They'd get a squirrel pretty much every day and an occasional raccoon," Douglas said. "One of the strangest periods was in March and April of 2020 when it seemed like a ghost town due to the pandemic and working in the empty building could be eerie at times."
He doesn't think he'll miss the building much—and he's excited about the new one on the horizon.
"I am pleased with the move," Douglas said. "Big thanks to (LAS senior director of facilities and planning) Derek Fultz, (associate director of capital planning) Brian Bundren, (Department of Mathematics and Department of Statistics facilities coordinator) Kevin Armstrong, Melissa Banks, and several others from mathematics and statistics for arranging good temporary office space for us."
News Source
Dave Evensen and Christian Jones