Can you tell me how to get to Dairy Queen?
Social media fuels an Altgeld Hall legend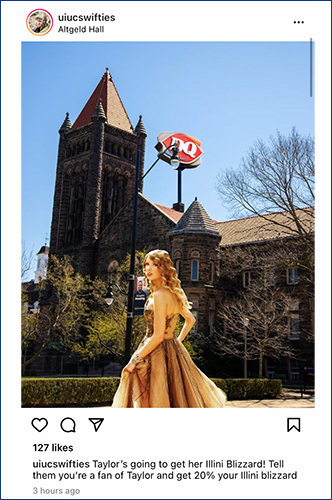 What's the scoop on the Altgeld Hall Dairy Queen?
For the past few years, word of a Dairy Queen in Altgeld Hall has left many students scratching their heads over offerings of "Illini Blizzards" and other frozen treats supposedly offered inside one of U of I's most iconic buildings. When they look, however, they can't even find where to place their order. So where is the Altgeld DQ, anyway?
The question has run rampant on social media, particularly UIUC's reddit page, where people continuously ask how to find the famous ice cream franchise. Other posts, from people who claim to have found the elusive restaurant, give confusing directions ("adjacent to the post office and perpendicular to the bathrooms") and describe visiting the drive-thru or relaxing with a Blizzard after a tough math exam. They even give reviews.
"When I ordered, there was a new girl working in the back," one reddit post read. "Like for real she's super cute and I asked Mikaela who was working the front then (shoutout to Mikaela) about her and she told me that she's a super quiet international student—kind of weird but likes to keep to herself for the most part. And—that she's single."
Let's pause our search for Dairy Queen to note that there's something embedded in the architecture of the notoriously labyrinthine Altgeld Hall that has inspired decades of pranks. The truth is this: Try as you might, just like the supposed pool on the roof in high school or snipes in the woods at scout camp, you won't ever find a Dairy Queen in Altgeld Hall.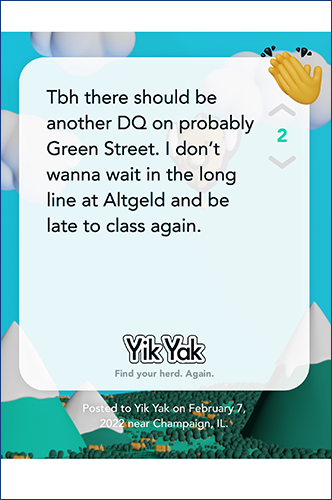 While there are apparently more than a few students who fall for this latest Altgeld Hall prank, most figure out the truth pretty quickly.  
"Everyone has a different answer for where the DQ is, like 'so and so's office', the basement, Room 314, or things like that," said Emily Roth, a senior majoring in mathematics and secondary education. "I think people made it up because Altgeld is a super weird and confusing building and it's easy to get lost. A lot of people don't spend time in Altgeld so it's easy to convince people that the rumor is true. I think it was probably made up to confuse freshmen and make Altgeld more fun."
Regardless of the truth about the Altgeld Hall Dairy Queen, there are a bevy of social media posts that argue quite convincingly to the contrary. There are fake promotions. "Every day is a good day for an Illini Blizzard from the Altgeld DQ," read one post from this year, featuring a picture of a Dairy Queen cup filled with what appeared to be orange ice cream topped by blue and orange M&M's, held up against the backdrop of the Alma Mater and Altgeld Hall. A Photoshopped post from @UIUCswifties shows singer Taylor Swift outside Altgeld Hall, with a Dairy Queen sign placed next to the bell tower. "Taylor's going to get her Illini Blizzard!" the post reads. "Tell them you're a fan of Taylor and get 20% [off] your Illini Blizzard!"
Quite active on the UIUC reddit is @Altgeld­­­_DQ_team, an account that updates hours, closures, and gives condolences and offers free Blizzards to students who struggle to find the Altgeld Dairy Queen. The legend has spread beyond reddit, too, with one person posting on YikYak in early February, "Tbh there should be another DQ on Green Street. I don't wanna wait in the long line at Altgeld and be late to class again."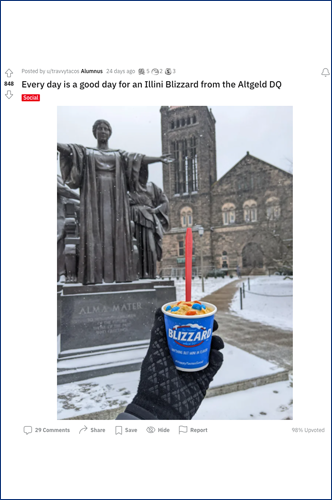 How did the rumor start? We may never know for sure, but one redditor did some searching and came up with a post from nine years ago that apparently broached the topic for the first time.
"They should open a DQ in Altgeld," it read. How that suggestion led to a legend is complicated, but Susan Davis, professor emeritus of communication who taught a course on campus folklore, said it follows patterns of other legends at U of I. For example, her course addressed a legend that Altgeld Hall is part of a jigsaw puzzle of other university buildings in Illinois—a rumor that most likely originated from the building's seemingly strange architecture and the multiple libraries on other Illinois university campuses that share the same name.
"The main reason people make up stories and transmit them is that humans are interested in stories and find them compelling, fascinating, and sometimes explanatory of the inexplicable," Davis said.
So why would people would fabricate detailed and elaborate stories on social media to perpetuate a legend that is entirely untrue?
"Who doesn't do that all day every day, whether in fiction, on television, in rumors, gossip, and conspiracy theories, in movies, or in bedtime stories?" Davis said. "It's one of the great human activities and has been for millennia."
That may be the best explanation we'll ever get for the legend of the Altgeld Dairy Queen, because it doesn't appear to be rooted in anything more real than stories on the internet. University officials said they are unaware of any inquiries by the franchise to locate within the building. Dairy Queen corporate headquarters did not reply to a request for comment on this story.
News Source
Allison Winans and Dave Evensen