English professor's novel tells of Black Civil War soldiers' fight for freedom
David Wright Faladé's work is based on the life of Richard Etheridge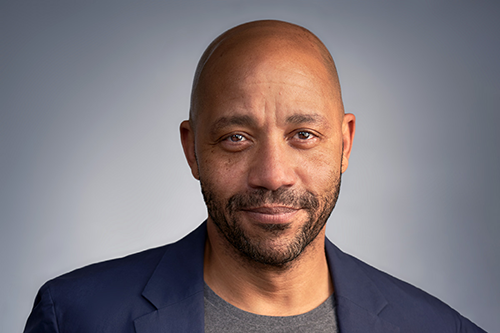 Richard Etheridge was a biracial former slave who fought in the Civil War and led a regiment of Black troops.
A fictionalized account of Etheridge and his military service drives the narrative in a recently published novel by David Wright Faladé, an English professor at the University of Illinois Urbana-Champaign. Faladé described "Black Cloud Rising" as "the retelling of the classic Civil War story of brother against brother, only this time one is Black and one is white, and one is the former slave of the other."
Faladé first wrote about Etheridge in a nonfiction book, "Fire on the Beach," which tells the story of a heroic rescue by the only Black lifesaving crew, led by Etheridge, on the Outer Banks of North Carolina. He turned to fiction to explore the conflicts he imagined Etheridge felt about his mixed-race background – his mother was a slave and his father their former owner – and his relationship with his white family. Through flashbacks, readers see Etheridge as a boy who enjoyed some privileges as the son of a slaveowner and who sought the approval of his white father but was never acknowledged as more than a slave.
"Etheridge knows who his father is, and he wants to be seen and recognized," Faladé said.
The story covers a period of several weeks in late 1863 when Etheridge was part of a Union army foray into eastern North Carolina to fight against rebel guerillas. The novel's historic details of the activities of Etheridge's company and regiment during that time are largely accurate, Faladé said.
In the novel, Etheridge is corresponding with his white half-sister who taught him to read and write. Their correspondence provides a window into how his white family feels about him.
"They felt they treated Richard well. They raised him to be a leader in the slave community," Faladé said. "They thought they were doing right by this bastard half-son. Even if they don't openly acknowledge his tie to the family, it's commonly known. Richard is conflicted, but they are conflicted too."
Etheridge and his white cousin Patrick, who were close childhood friends, encounter one another on the battlefield, where Patrick is fighting for the rebel guerillas. Etheridge's relationship with Patrick represents his relationship with his father, and their encounter allows Etheridge to come to terms with his connections to his family.
"They face off and have to decide what to do and how to understand each other, these two people who grew up really close. Richard understands himself to be enslaved and Patrick understands himself to have a slave," Faladé said.
In addition to Etheridge, many of the characters are based on real people, including Gen. Edward Augustus Wild, a one-armed, headstrong abolitionist commanding Etheridge's unit; and a newspaperman embedded with the troops and reporting as the Union army takes over. Other characters have the names and company designations of people who served with the real-life Etheridge.
Faladé created the fictional character Revere, a soldier who, like Etheridge, is also biracial and the son of his former owner. Unlike Etheridge, Revere is not conflicted about his parentage, and he hates Etheridge for believing that he is special because of the privileges he received from his white family.
"How much you despise your own black skin," Revere tells Etheridge.
As Etheridge and other African Brigade troops consider their futures as free men, they also confront the attitudes of their white commanders. Etheridge initially admires Wild's boldness, but he and the other soldiers become uncomfortable with his extreme behavior toward Confederate sympathizers. For all of Wild's zealousness, it becomes apparent that he still sees Etheridge as inferior.
Etheridge's relationship with Capt. Alonzo Draper, his direct commander, changes over the weeks of the raids. Draper first sees the Black troops as needing instruction and discipline in the manner of slaves.
"It is unsettling to know that a man who is rooting for you to overcome doesn't full-on recognize you as capable of rising to a station akin to his own," Etheridge says of him.
But Draper comes to appreciate and depend on Etheridge's intelligence and leadership, and ultimately accepts him as an equal.
Contradictory feelings about race have been part of the American story since the country's beginnings, Faladé said.
"America is about mixedness from its origins – racially, religiously, people coming together. It's still true today," he said. "Etheridge's status as biracial is a social stigma. But he's not conflicted about his place. He's owning his citizenship as an American."
News Source
Jodi Heckel, Illinois News Bureau