Language skills put to use among local immigrant communities during pandemic
Spanish students work with nonprofits to help people navigate COVID-19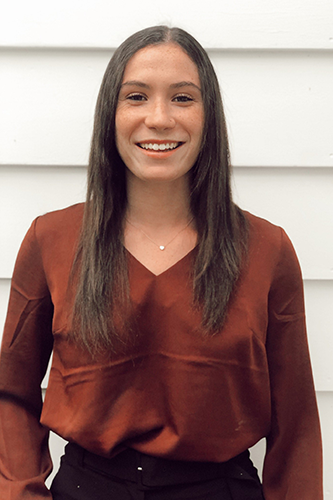 Navigating the pandemic hasn't been an easy task for anyone. Along with health concerns, it's brought about worries about jobs, finances, housing, and more. But some communities have people like Anthony Erlinger and Kathleen Flores standing behind them.
"It's been a really hard time for everyone but especially for the immigrant community in Champaign-Urbana," said Erlinger.
That's why Erlinger, a junior majoring in Spanish and global studies, and Flores, a senior majoring in Spanish and psychology, decided to help. Erlinger is currently studying abroad in Costa Rica, but before that, he was a pandemic health navigator at Immigrant Services of Champaign-Urbana, and Flores worked at The Refugee Center in Champaign. Both students supported special programs funded by the state of Illinois to help immigrant communities during the pandemic, often using their Spanish language skills to connect with their clients.   
"If they contracted the virus, we would be able to provide them with healthcare, but also rental and utility assistance, food, and transportation," said Erlinger. 
Flores helped provide a similar service at The Refugee Center, where she was tasked with the organization's housing and utility project.
"We were there to assist them with all the confusing paperwork and help lift some of the financial burden off their shoulders," she said.
It was Spanish professor Ann Abbott's course, SPAN 232: Spanish in the community, that served as the catalyst for their public service work.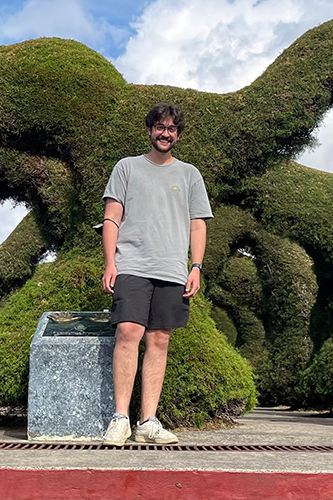 "In class, students learn about immigration issues. In the community, students volunteer at a school or nonprofit agency to help and learn from our local Latinx immigrant community," said Abbott.
Abbott said there are several things she wants her students to learn when they take her course: facts about immigration, since many times half-truths or mistruths are used in popular discourse about the subject, and how to work and use their Spanish effectively in a professional context, outside of the classroom. She also wants them to gain a new perspective on the community.
"By working directly with our local immigrant community, I hope students see the immigrants, and themselves, as students, in their full humanity," said Abbott.
Abbott said Flores' and Erlinger's work during the pandemic showed they were able to use the knowledge and skills they learned in an academic context as working, bilingual professionals.
"I am very proud of Kathleen and Anthony, as well as inspired by them," said Abbott. "They have gained a very nuanced understanding of our local immigrant community."
While it was Abbott's course that helped set them on that path, it was Flores' and Erlinger's passion for service and love for the community that inspired them to stay the course.
"For me, having grown up in Champaign-Urbana, to be able to work in the community that's provided me my livelihood, my memories as a kid, that's a really special thing," said Erlinger.
Another big draw: their passion for language and learning. Their work allowed them to practice their Spanish, but it also allowed the two students to learn directly from the people they were supporting and get to know them. 
"Just hearing their stories, their livelihoods and their struggles, but also their triumphs," said Erlinger. "It really widens your perspective about who we are as a community and what we can continue to do to better ourselves."
Flores, who is on a pre-medical track, said this opportunity also allowed her to combine her interests: science, healthcare, Spanish, and community service.
"It allowed me to research and observe firsthand the different patterns that were happening within the immigrant community here, and how the community was ultimately affected by COVID-19," she said.
While neither student has a crystal-clear vision of what comes next at this point, there is one constant.
"I'm thinking about going to grad school for Spanish literature and culture," said Erlinger. "I'm also considering doing more work with nonprofits, similar to what I'm doing now. I'm not quite sure yet, but I definitely want to pursue something where I'll be able to continue to use my Spanish."
"I want to apply to medical school next year, but in the meantime, I'm planning to take a gap year or two and hopefully travel to a Spanish speaking country for a couple months," said Flores. "I think I want to gear more towards medical volunteering, but still definitely use Spanish wherever I go."
The impact of their Spanish education can be seen in their long-term goals, too.
"My goal is to keep traveling, keep exploring, keep learning languages, keep practicing my Spanish, and just keep getting to know people in different places," said Erlinger.
"I like science, and I want to hopefully practice medicine one day," said Flores. "I would see myself doing that either here or in a Spanish-speaking country, and just keep improving my language skills and meeting new people."
Editor's note: This story first appeared on the School of Literatures, Cultures & Linguistics homepage.