A smooth landing at the University of Illinois
LAS 100 makes the transition to college life easier for college students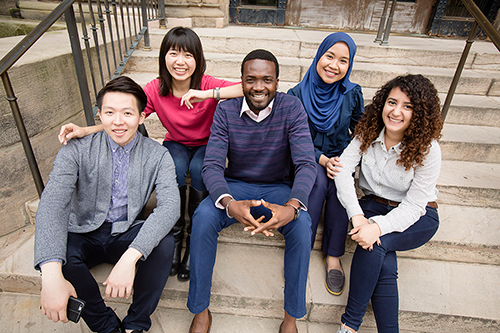 Going to college can be intimidating—and even more so for international students, who also must adjust to life in a new country. A course in the College of Liberal Arts & Sciences, LAS 100, is designed to help first-year international students adjust to studying at the University of Illinois.
Similar to LAS 101, the orientation course for all LAS first-year students, LAS 100 was created to help students build community, find support, and feel welcome and included. When it started, the eight-week course was voluntary and drew about 40 to 60 international students per semester. However, when the COVID-19 pandemic struck and made it difficult for international students to come to campus, LAS 100 became required as a way to better connect international students to campus.
In a matter of weeks, the LAS 100 team transitioned from a 40 to 60 student, in-person class to a fully online course for almost 300 students. Nikia Brown, associate director of intercultural and global learning, international student experience for LAS, said that students who take this class find a community of individuals who are going through the same process at the same time.
"The beauty is that they're able to go through those experiences and challenges together," Brown added.
Throughout the spring and summer, course administrators train close to 40 student interns who will facilitate breakout discussions during the fall on a different topic each week, and about five teaching assistants to teach the class. The teaching assistants come from the College of LAS as well as the College of Education. Additionally, about 60 faculty and staff serve as mentors for a group project that students conduct as part of the course curriculum.
As part of the course, international students also contribute to the campus community through an ongoing group project in which they learn about a variety of different campus resources. Each group is assigned a mentor who helps and support the students as they adjust to campus life. The course will continue in person this fall. 
"It truly takes a village and a diversity of people who are involved in this process and are making sure that LAS 100 is a meaningful experience for the students," Brown said.
Instructors adjust course curriculum to be socially and culturally relevant and timely for international students who are arriving in the United States, Brown said. In 2020, for example, organizers added the Black Lives Matter movement to the curriculum. The course also covers community and intercultural relationships, identities of international students, becoming global leaders, how to design a successful four-year experience, and social justice issues.
"I want students to learn not just that these social issues exist, but the role that they play in making social issues better, even as an international student," Brown said. She hopes the class material will prepare them to be advocates for change no matter where they live in the future.
Bhavya Pardasani, an undergraduate studying astronomy, was a student in LAS 100 in Fall 2019 and returned as an intern for the course in Fall 2020 and Spring 2021. She wrote, "This course was the highlight of my freshman year as I had the opportunity to meet numerous international students from different parts of the world. Getting to know so many people from different cultures and backgrounds was an eye-opener for me and marked the first milestone of my college experience."
Alia Radzi, a finance alumna who took LAS 100 in 2015 and returned as an intern in Fall 2016 wrote, "LAS 100 was the place where I learned to be most proud and accepting of my identity as an international student. It is easy to feel small in this vast community of people, especially if you are a minority and your culture is so different from the norm. But if you start accepting differences as beauty, you will truly cherish yourself, your culture, and your surroundings."