Ralph Nuzzo named Kavli Prize Laureate in nanoscience
Professor emeritus honored for pioneering work in monolayers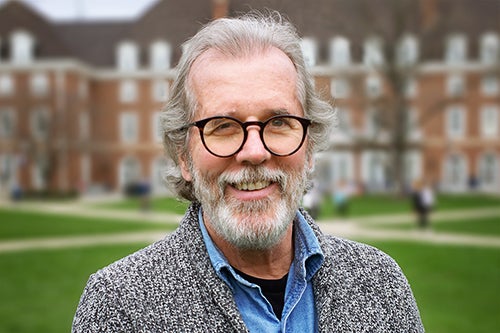 Ralph Nuzzo, G.L. Clark Professor Emeritus of Analytical Chemistry at Illinois and professor emeritus of chemistry, is one of four recipients of the 2022 Kavli Prize in Nanoscience. Professor Nuzzo shares the Kavli Prize in Nanosicence with David L. Allara (USA), Jacob Sagiv (Israel), and George Whitesides (USA).
The Norwegian Academy of Science and Letters announced the 2022 Kavli Prize Laureates in the fields of astrophysics, nanoscience, and neuroscience. Eleven scientists from five countries are honored for research that has transformed our understanding of the big, the small, and the complex.
The 2022 Kavli Prizes recognize pioneering science in the development of helio- and astero-seismology; development of self-assembled monolayers on solid substrates and molecular-scale coatings to control surface properties; and the discovery of genes underlying a range of serious brain disorders. The laureates in each field will share $1 million.
"We honor the 2022 Kavli Prize Laureates for their transformative contributions to science and society. Their discoveries created entirely new fields, opened up new realms of scientific research, and advanced science for the benefit of humankind" said Lise Øvreås, president of The Norwegian Academy of Science and Letters.
Related: Read the life story of Ralph Nuzzo in his own words.
The pioneering work of the nanoscience laureates
Interaction with materials occurs through their surfaces. The 2022 Kavli Prize in Nanoscience honors four pioneers whose work transformed surface science and has led to applications shaping our daily lives in areas from medical diagnostics to semiconductor devices. These scientists created molecular-scale coatings for surfaces which enable unprecedented control and engineering of surface properties. Theirs was a shared vision, inspired by the concept of organized monolayer films introduced in the 1930s by American physicists and chemists, Katherine Blodgett and Irving Langmuir.
"Self-assembled monolayers are extremely important in many phenomena at the nanoscale," stated Chair of the Nanoscience Committee, Bodil Holst. "Sagiv, Nuzzo, Allara, and Whitesides opened up a whole new world with their discoveries. This is documented through scientific insights and the enormous amount of applications utilizing self-assembled monolayers."
Descriptions of this year's winners follow:
Jacob Sagiv provided the first demonstrations of the possibility of creating films of molecules adsorbed on glass and metal surfaces. The concept worked for molecules with different functional groups and could in principle be useful in myriad applications.
Ralph Nuzzo and David Allara showed the first self-assembled monolayers strongly bond to bare metal surfaces. They established that self-assembled monolayers can be characterized by infrared and other optical spectroscopies. Also, they deduced the packing and orientation of the constituent molecules including their functional groups. This generated a deep scientific understanding which enabled the rational design of self-assembled monolayers with specific functionalities. 
George Whitesides and his team at Harvard were responsible for many innovations which consolidated self-assembled monolayers as a field of nanoscience and engineering. Whitesides' work demonstrated that it was possible to use self-assembled monolayers to create countless patterns on the micrometer scale. Self-assembled monolayers have since enabled a large number of commercial applications and multi-billion-dollar commercial markets, and are used extensively in medical diagnostics, pharmacology, biosensors, chemical sensors, printers, electronics manufacturing, paints, solar cells, and batteries.
About the Kavli Prize 
The Kavli Prize is a partnership among The Norwegian Academy of Science and Letters, the Norwegian Ministry of Education and Research, and The Kavli Foundation (USA). The Kavli Prize honors scientists for breakthroughs in astrophysics, nanoscience, and neuroscience that transform our understanding of the big, the small, and the complex. Three million-dollar prizes are awarded every other year in each of the three fields. The Norwegian Academy of Science and Letters selects the laureates based on recommendations from three independent prize committees whose members are nominated by The Chinese Academy of Sciences, The French Academy of Sciences, The Max Planck Society of Germany, The U.S. National Academy of Sciences, and The Royal Society, UK.
News Source
The Norwegian Academy of Science and Letters, the Kavli Foundation, and Tracy Crane, Department of Chemistry