Atmospheric sciences alumnus earns spot in the "Jeopardy!" Tournament of Champions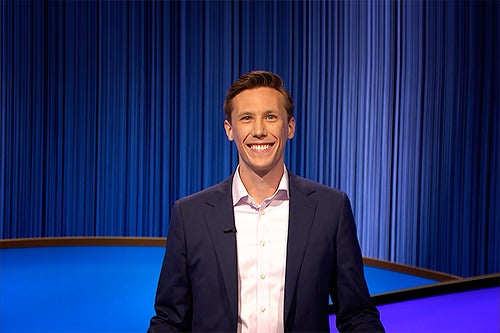 The word "champ" is such an easy one to toss out there. For Eric Ahasic on the set of "Jeopardy!", however, during a recent six-game winning streak, it was the sound of a dream coming true.
"You walk off the stage, the microphone guy takes the mic off, 'Way to go, champ. Great game.' The contestant coordinators, 'Alright champ, follow me,'" recalled Ahasic (BS, '12, atmospheric sciences), in a recent interview. "You really want to keep winning because that's awesome."
Ahasic is a meteorologist with the National Weather Service in Chanhassen, Minnesota, whose winning streak that ended in mid-June made him eligible for the game show's Tournament of Champions in November. He won more than $160,000 before losing in his seventh game, which aired June 14.
The trick to winning that many games in a row? Take it one question at a time, Ahasic told interviewers.
"I had practically accepted I was going to lose the first game so anything felt possible after that," he told KARE 11.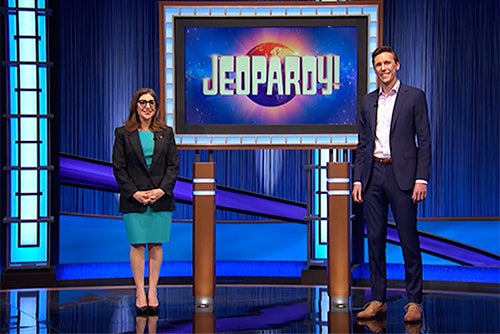 Ahasic's streak started on a difficult note as he went up against Philadelphia resident Ryan Long, a rideshare driver who had won 16 games in a row. During the game, the contestants were asked which of the Argonauts—heroes in Greek mythology—were from the same family from Sparta. Ahasic recalled reading an obscure Wikipedia entry about the Gemini twins, Castor and Pollux.
"There was one sentence, literally one sentence, that said that they were on this boat with Jason and the Argonauts. That just stuck in my brain, I don't know why, but it did," he told the College of LAS. So he went with it—and he was right. Ahasic won the game and went on to win another five in a run that prompted host Mayim Bialik (of "The Big Bang Theory") to say that the meteorologist was "unable to be caught." 
The streak played out on television over several days, but in fact "Jeopardy!" films several episodes a day. Ahasic said his first day on the show lasted about 12 hours, starting at 7 a.m. and ending around 7 p.m. He won a week's worth of episodes in just one day.        
The ordeal was worth it, however, as Ahasic has been auditioning to be on "Jeopardy!" since high school. At 16, Ahasic auditioned for the show's teen tournament. In college he auditioned for the college tournament, and he kept auditioning for the show after he graduated from college in 2012. He auditioned about 15 times before an audition in the summer of 2021 finally landed him a spot.
"Jeopardy!" auditions are a long and difficult process, Ahasic explained. First, you must pass at least two written tests. If you pass those, you get an audition, during which you play a fake game and undergo a personality interview, as they do on the show.
"I only made it to the last stage of the audition three or four times in all the times I tried out, so it's really hard," Ahasic recalled. "This was my lucky turn." 
It may have been a turn of luck, but it came after many years of preparation. Ahasic has always been interested in trivia. He remembers fondly playing trivia in the car with his family as they drove to his grandparent's house. He also did Quiz Bowl in grade school and high school.
Ahasic also remembers watching Ken Jennings, the "Jeopardy!" legend who won 74 games and more than $2 million in 2004. "That was right before I started high school and I thought that was really cool and that I wanted to do that," Ahasic said. Jennings is also a possible option to host the Tournament of Champions.
The best way to prepare for "Jeopardy!", Ahasic said, was to play along with the show's contestants as he watched on television. Using the click of his pen as a buzzer, he recorded how many questions he got right, how many he got wrong, what his overall score was, and his percentage on Daily Doubles and Final Jeopardy.
"When you track your stats like that, you tend to know where your strong points are, where your weak points are, and what your good categories and bad categories are," Ahasic said.
Ahasic waited for months after his audition in summer 2021 before he knew he was selected. This is normal; potential contestants are told that if they haven't heard anything within 18 months of their audition, it means they weren't selected. As he waited, Ahasic studied.
"I got a lot more focused over the winter just trying to study things like, 'What are the top 500 books of all time?' I should probably know the authors, the main characters, the main plot. What movies won which Oscars? Who are the Kings of England? Who are the presidents and their vice presidents?" Ahasic explained. "You might know something, but if you can't pull it in like 3 seconds, it doesn't really help you. I was able to learn this stuff and learn it fast and be able to get it fast off the top of my mind. And clearly, it worked out for me."
Finally, Ahasic got a call in March 2022 informing him that he'd been selected. They taped the episodes a month later.
Experiencing the show as a contestant is a lot like how it looks on television, with breaks and sound effects. "I thought it was just like watching a game on TV, but from a totally different angle because you don't see all the cameras, and all the lights, and all the cables strewn everywhere behind the scenes. It's pristine on camera," Ahasic described.
Everyone he interacted with while filming the show, from the camera crew to makeup artists and the host, were good at calming people down and making it a fun experience, he said. "Even the people I was beating were still having a lot of fun and were happy for me. They just make it such a great day overall," Ahasic said.
It wasn't until he got back to his hotel room after a full day of filming, donned in his suit and with a face caked with makeup, that Ahasic had the chance to process that he had just won all five "Jeopardy!" games that first day.
"I looked in the mirror and that was the first time I thought, 'What did I just do?'" Ahasic recalled. "I won five games, I'd won over $100,000, and that was the first time it really kind of hit me, like 'Oh my God, I just did this!' That was a really cool moment."