Unique college experiences lead to unique paths after graduation
May graduates are already well underway in forming their new careers
Students are often lumped into one ambiguous, all-encompassing category the moment they step foot on a college campus: 18 to 22-year-olds who are on the precipice of adulthood, preparing to make their mark on the world.
But for each student, the path to graduation is a unique one, even within the same school or college. The path after graduation is usually just as unique.
You don't have to look any further than Kolten Conklen (BA, '22, global studies and East Asian languages and literatures) and Mimi Quinn (BA, '22, Spanish) for an example.
Conklen is pursuing a PhD in sociology at the University of Southern California after receiving the Beinecke Scholarship, a highly competitive award that supports graduate studies in the arts, humanities, or social sciences. He's one of just 16 students who were awarded the scholarship in 2021.
His path to this field was shaped by not just his dedication to learning, but also his passion for traveling and understanding the global world.
"I'm from rural Illinois, so I always felt like an outsider to that world, not coming from a big metropolitan area, a place that was full of diversity," said Conklen.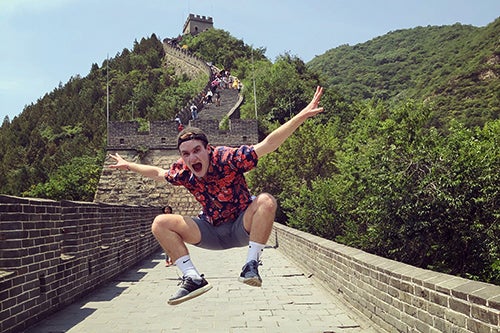 Conklen grew up watching PBS and travel shows, and until high school, that was how he toured the world and sparked that passion for travel. He was a rotary youth exchange student and lived in South Korea his entire junior year of high school. He said that experience solidified his commitment to the journey he was starting to embark on, one that eventually led him to the U of I.
"I first met [Conklen] when he was still a high school student and came to [the] University of Illinois as a prospective student," said Jeeyoung Ha, director of the Korean language program. "He contacted me to sit in and observe [a] class for the first-hand experience, which I found to be pleasantly surprising since I have not had any other prospective student until then who requested an approval to sit in an actual Korean language class."
Once Conklen arrived at the U of I, he took his studies abroad two more times.
"I was actually studying abroad in South Korea when the pandemic started," said Conklen. "Social questions about rural/urban inequalities, migration, and xenophobia started rising, and since I had so much free time during the pandemic, I started to explore those. I think that's what signaled the switch to pursue graduate studies."
Quinn is also pursuing a graduate degree, but not in a field you would typically expect from a Spanish major and political science and business double minor. She's pursuing a master's degree in nursing through the University of Illinois Chicago.
Throughout her childhood, she dreamed of becoming a doctor – or a teacher, but mostly a doctor. She began studying Spanish in middle school, and when it was time to decide on a college major, she picked Spanish education.
"But by the end of freshman year, I realized I didn't want to teach Spanish the way I thought I did," said Quinn. "What I was really passionate about was being able to speak the language with other people."
She dropped the education portion of her major and spent time exploring other paths, but it wasn't until her junior year, when she had to have major surgery, that she came to terms with her desire to work in a medical environment.
Completing a Spanish major, two minors, and the prerequisites for a nursing program is no easy feat, but Quinn did it while on another journey, one of personal growth. She was a foster child, which put her in a different position from other students arriving on campus.
"It was the first time since my early childhood that I was in a place where literally no one knew me. It was interesting and difficult because I was so used to people knowing I was a foster child," said Quinn. "Because of that, I started to grapple with this feeling of a lost identity, almost, because I didn't recognize how much that title of foster child had really been attributed to me by other people, until I was in a place where no one knew."
Quinn said she did a lot more intentional soul-searching than the typical college student.
"We all do plenty of it, just by nature, after going away from home. But I think it impacted me especially, losing [such a] specific part of my identity," she said.
It was that soul searching that led her to what she calls her biggest accomplishment.
"It really drove home and helped solidify within me a lot of my internal moral beliefs about the world and how we should treat other people," said Quinn. "I had always resonated with [the idea of] just being kind to other people, because you have no idea what they could be going through."
Spanish professor Ann Abbott said Quinn's growth and achievements are a testament to her hard work and resilience.
"When I think of all the ways that my parents supported me throughout my college experience, I wonder if I could have been successful without them," said Abbott. "While we know that our students come from a wide variety of family situations, I wonder how many of us realize that we also have students like Mimi who do not necessarily have a family behind them. It makes a difference."
After nursing school, Quinn plans to work as a nurse for some time and then go back to school to become a nurse practioner.
Conklen isn't sure if he'll enter the academic, public, or private sphere after graduate school. What he does know is this: "I just really want to give a platform to rural communities, because I think they're often neglected in discourse, and [for my research to directly] benefit the communities that I'm researching."