Illinois Global Institute centers receive almost $13.2 million in Title VI funding
Federal grants will advance educational opportunities, programming, and public engagement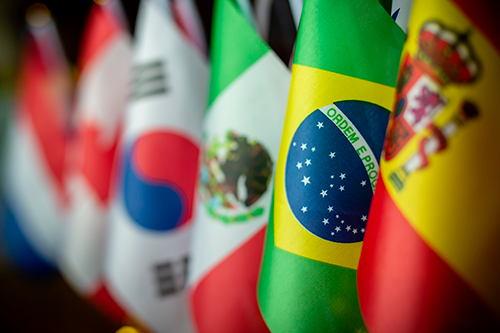 Six area and global studies centers within the Illinois Global Institute will receive almost $13.2 million in competitive Title VI federal grants during the next four years to advance educational opportunities, programming, and public engagement. The University of Illinois is one of this year's top Title VI funding recipients in the country. 
Part of the funding will come from the centers' designation as Title VI National Resource Centers (NRC) by the U.S. Department of Education. As NRCs the centers will receive a total of $6.17 million in funding for the 2022-2026 funding cycle. The six centers will also receive Foreign Language and Area Studies (FLAS) grants totaling $7 million over four years.
The University of Illinois received the second-highest number of NRC designations in the country. The NRC awards will expand the centers' capacity to support educational and outreach programs, while the FLAS funding provides the centers with undergraduate scholarships and graduate fellowships for language training.
This year's funding represents a significant increase. In 2018, four centers were designated NRCs and received FLAS funding. In 2019 the centers became part of the newly created Illinois Global Institute (IGI), which was established to support the University of Illinois' mission by integrating and emphasizing global perspectives in learning and scholarship, as well as building international perspectives into our institutional culture.
The six centers named NRCs and receiving FLAS grants this year include the Center for African Studies, Center for Global Studies, Center for Latin American & Caribbean Studies, Center for South Asian & Middle Eastern Studies, European Union Center, and the Russian, East European and Eurasian Center.  In addition, the Center for East Asian & Pacific Studies continues programming this year from its 2018 Title VI award, while the Women & Gender in Global Perspectives Program prepared its first applications for Title VI and FLAS support.
"Illinois' area and global studies centers are multi-disciplinary hubs connecting networks of faculty and students across our campus.  Our centers and programs have over 600 faculty affiliates whose work brings new approaches to common problems.  The designation of six National Resource Centers at Illinois is a recognition of the vitality of that work and and the opportunities it creates for our students," said Jerry Dávila, director of IGI. "It is a distinctive feature of our university that we have area studies centers that connect with so many world regions, as well as global studies and thematic centers and programs that focus on subjects that  include health, the environment, gender, development, human rights, and arms control."     
Dávila said the federal funding supports programming across campus addressing issues of global concern, opportunities to study world regions, course development, as well as scholarship and fellowship opportunities for students who want to build language skills in support of their work. More than 30 languages are supported by FLAS awards. 
Venetria K. Patton, the Harry E. Preble Dean of the College of Liberal Arts & Sciences, said this year's Title VI NRC and FLAS funding reflects resourceful and innovative efforts on campus to engage with the global community.
"The Illinois Global Institute and all of the centers within it are an important part of our mission as a public land-grant university," Patton said. "They support vital programs in education and research, language study, public engagement, and educational outreach."
Title VI was introduced as a part of the National Defense Education Act in 1958 as a result to the launching of Sputnik I. It was intended as a means of promoting language development and expanding the study of world regions, with a focus on less commonly taught languages. The University of Illinois was one of the universities supported in the first round of NRC awards in 1959. While the federal program has evolved, the University of Illinois has received continuous Title VI support for more than 60 years.
"Students at Illinois have an extraordinary range of opportunities to study questions that connect with countries across the world, using approaches that cross academic disciplines," Dávila said. "Only a handful universities in the U.S. have made the kinds of investments over time to build the range of global and area educational opportunities we have at Illinois. The large number of awards this year shows the success of that investment, the strength and breadth of our faculty expertise, and the work of our students."