U of I launches series of interdisciplinary undergraduate degrees in data science
X +DS program will allow students to follow specific interests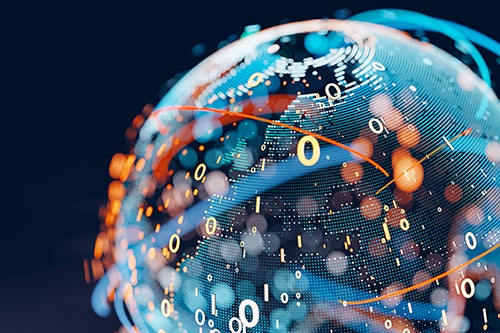 As society continues to transform through the rise of digital technology, the University of Illinois Urbana-Champaign continues to provide the innovative and inclusive education necessary to meet this moment.
A new series of interdisciplinary undergraduate degrees in data science (DS) are now available through the X + DS program, which will prepare Illinois students to lead society's digital transformation. The "X" represents the existing degree program being blended with DS for the degree.
Four X + DS degree programs have been approved by the Illinois Board of Higher Education and are currently accepting applications for the Fall 2023 admissions cycle:
An important new field, data science is the art of extracting new knowledge and finding meaningful information in a huge sea of data. Its guiding principles include data collection, storage, integration, analysis, inference, communication, and ethics.
"We know that digital transformation is impacting all fields, so the interdisciplinary nature of the X + DS degree programs is an integral component. We've set this up purposefully so that students can choose their own application domain to study specifically from that area's core coursework," said Matthew Ando, Department of Mathematics professor and associate dean for life and physical sciences at the College of Liberal Arts & Sciences. "Additionally, it's inclusive by design, as the core coursework has fewer technical prerequisites and requirements than programs in computer science, mathematics, or statistics – making X + DS more accessible to people from all backgrounds."
Each X + DS degree program includes approximately 30 credit hours of core coursework, blending data science classes with the X discipline and taught in partnership between Illinois Computer Science within The Grainger College of Engineering,  the Department of Statistics within the College of Liberal Arts & Sciences, and the iSchool. Additionally, there is a capstone experience of at least three credit hours. This will provide students with a strong background in data science, inferential thinking, computational thinking, and real-world relevance. 
The core data science coursework for X + DS is designed to be completed by students within their first 3-5 semesters to prepare for the advanced work in their area of specialization – which includes Mathematical Foundations, Data Science Fundamentals, Computational Fundamentals, Social Impact in Data Science, and Research or Discovery Experience.
Applications for Fall 2023 are open from September 1, 2022 to January 5, 2023.
"The U.S. Bureau of Labor Statistics projected a 27.9 percent growth in data science occupations from 2016 to 2026, and, we at Illinois, have taken notice," said Nancy M. Amato, Abel Bliss Professor of Engineering and Illinois Computer Science department head. "The introduction of the X + DS degree programs offers University of Illinois students the opportunity to meet a societal need. It is our firm belief that our students will help fill this void with skill and determination, along with the technical know-how instilled through proper instruction in these disciplines."
News Source
Aaron Seidlitz, Illinois Computer Science