New opportunities taking shape in Altgeld and Illini Hall Project
Planners detail the future of new and renovated classroom, research, and common area space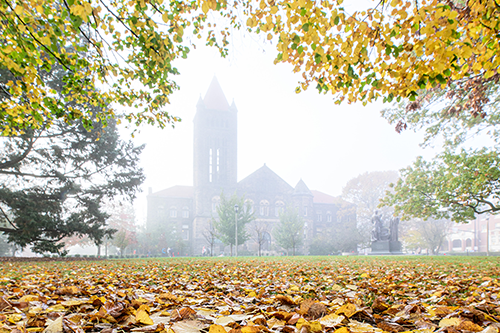 With site work pending for the Altgeld and Illini Hall Project, planners have formed a clear view of the new opportunities and spaces that will become available through the $192 million project. 
Builders will renovate Altgeld Hall and replace Illini Hall with a new facility. Along with new classrooms in both buildings, the project will include new and renovated lounge, library, and research space in Altgeld Hall, and additional space for the Departments of Mathematics and Statistics in the new Illini Hall. The new Illini Hall will also be home to a new data science center as part of the Champaign-Urbana hub of the Illinois Innovation Network.
"We're excited for the new opportunities that will come through this momentous project," said Venetria K. Patton, the Harry E. Preble Dean of the College of Liberal Arts & Sciences. "We have worked very hard with architects and other planners to create modern improvements that will greatly enhance the academic environment for students, faculty, and staff in these two buildings."
Some of the new items include:
A new lounge for undergraduate students and new rooms for undergraduate student organizations in Altgeld Hall. 


 

New research space in Altgeld Hall for the Illinois Geometry Lab and the Illinois Risk Lab.


 

A new reading room in the mathematics library in Altgeld Hall. One third of the stacks will be removed to create the reading room and provide components to restore the remaining stacks.

"I think this is an important part of the work in the stacks," said Derek Fultz, senior director of facilities and planning for the College of LAS. "We are not just removing one third of the stacks to make something new, but to restore the historic aspects of the stacks as well."


 

New tutoring rooms in Altgeld Hall and a new tutoring room in the new Illini Hall.


 

A new medium-size classroom in Altgeld Hall. This will replace the current medium-size classroom with one that has more writing space, including a digital display, with seats that can be moved so the room can be adapted for other purposes.


 

New active learning classrooms in Altgeld and the new Illini Hall with technology that will allow displays to be alternately controlled by the instructor or by students.


 

Renovations to the large lecture hall in Altgeld Hall. The large lecture hall will have both a blackboard and a digital display designed to be easily visible.  The auditorium will have more comfortable seating and will be fully accessible.


 

Inviting spaces in the new Illini Hall common areas."The Illini Hall design provides a spacious open ground floor with inviting architecture that allows for easy access and staging for the lecture hall and classrooms, space for individuals to lounge or groups to gather, and features a dynamic spiral staircase," said Sheldon Katz, professor of mathematics, Arthur Coble Scholar, and LAS Dean's Special Advisor. "The design is intended to create a space where spontaneous collaboration can occur, not only for the building occupants, but for students and faculty from all areas of campus."  


 

A new 4,614 square-foot auditorium in the new Illini Hall along with almost a dozen other new classrooms ranging in size from about 500 to 1,000 square feet. The new building will contain four classrooms on the first floor for campuswide use and seven third floor classrooms for mathematics and statistics classes. There will be lecture space on the second floor for data science and other subjects.