Five LAS scientists rank among world's most influential
Professors are among 9 honored at the U of I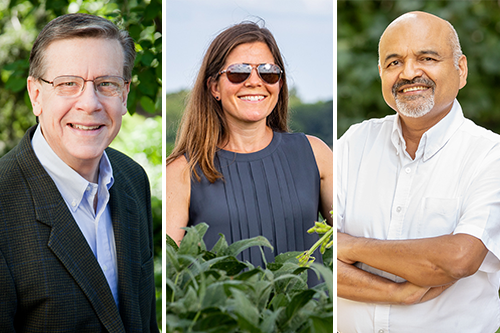 Five researchers in the College of Liberal Arts & Sciences have been named to the 2022 Clarivate Analytics Highly Cited Researchers list. The list recognizes research scientists and social scientists who have demonstrated exceptional influence – reflected through their publication of multiple papers frequently cited by their peers during the last decade. This year's list includes 6,938 individuals from around the world whose papers rank in the top 1 percent by citations for field and year in the Web of Science.
The highly cited LAS researchers this year are: crop sciences and plant biology professor Elizabeth Ainsworth, atmospheric sciences professor Atul Jain, plant biology professor Donald Ort, and psychology professor Brent Roberts. Psychology professor emeritus Ed Diener, who is deceased, is also on this year's list.
Four other U of I professors from outside of LAS also made the list. They include natural resources and environmental sciences professor Kaiyu Guan, materials science and engineering professor Axel Hoffmann, materials science and engineering professor emerita Jennifer A. Lewis, and mechanical science and engineering professor Arend van der Zande.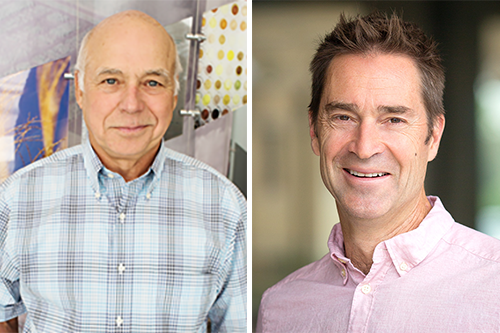 In addition to being a professor of crop sciences and of plant biology, Ainsworth is employed by the U.S. Department of Agriculture's Agricultural Research Service Global Change and Photosynthesis Research Unit. She is an affiliate of the Carl R. Woese Institute for Genomic Biology and the National Center for Supercomputing Applications at the U of I. Her work focuses on plant metabolism, photosynthesis, and molecular variation within species and how those factors contribute to plant responses to global change. A key goal is to maximize crop production in the future. Ainsworth was awarded the National Academy of Sciences Prize in Food and Agricultural Sciences in 2019 and was elected a member of the National Academy of Sciences in 2020.
Jain studies the interaction between climate, biophysical processes, and human activities such as deforestation and agriculture intensification. His team has developed a global model-data integration framework that makes use of satellite and ground-based observations to study how those interactions modify the net fluxes of greenhouse gases such as carbon dioxide, and surface fluxes of water and energy. He is a contributor to major assessments of the Intergovernmental Panel on Climate Change. He has won numerous awards and honors, including the National Science Foundation's Faculty Early Career Development Award and inclusion on the Reuters list of top climate scientists.
Ort is the Robert Emerson Professor of Plant Biology and Crop Sciences at Illinois. His research focuses on improving photosynthesis and addresses crop responses to global change including increases in atmospheric CO2 and temperature. He leads the Genomic Ecology of Global Change research theme at the Carl R. Woese Institute for Genomic Biology and was elected to the USDA's Agricultural Research Service Science Hall of Fame in 2015 and the National Academy of Sciences in 2017.
Roberts is a professor of psychology in the field of personality psychology. He studies continuity and change in personality throughout adulthood, with an emphasis on understanding the factors that influence change. He is particularly interested in conscientiousness and its relationships to other key personality traits and to health and well-being. Roberts was named a Fellow of the American Psychological Association in 2009, a Fellow of the Society for Personality and Social Psychology in 2009 and a Fellow of the Association of Psychological Science in 2013.
Diener, who died in 2021, was a social psychologist and a leader in the field of positive psychology, which focuses on the factors promoting happiness and well-being. In the mid-1980s, he and colleagues developed the Satisfaction with Life Scale, and in 2009 the Flourishing Scale, both designed to gauge happiness – which he called "subjective well-being" – in a methodical, repeatable manner. He was a co-author of hundreds of articles on the subject of well-being. He won the American Psychological Association Award for Distinguished Scientific Contributions in 2012. In an obituary of Diener, The New York Times called him "a playful social psychologist" who conducted "pioneering research into what defined contentment."
News Source
Diana Yates, Illinois News Bureau