New center uses Indigenous science frameworks for equitable and inclusive research
Two LAS professors will lead effort at the Carl R. Woese Institute for Genomic Biology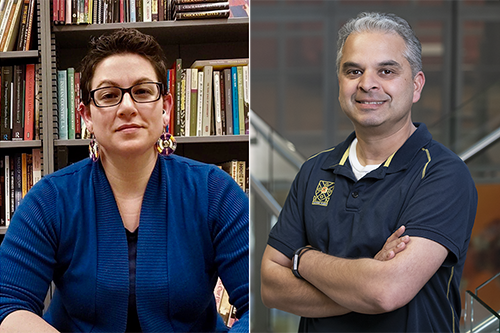 The Carl R. Woese Institute for Genomic Biology has created the Center for Indigenous Science for cutting-edge research and training in Indigenous science. The center will be headed by Jenny L. Davis, professor of American Indian studies, and Ripan S. Malhi, professor of anthropology.
Indigenous science consists of the oldest models of science on the Western hemisphere, yet these models are underrepresented in current academic spheres. The new center will provide a welcoming environment where Indigenous peoples can work together with scientists at the IGB and across campus, and promote research that is ethical, sustainable, and community-focused.
"The potential for science to contribute to solving today's societal and environmental problems is hampered by current views and methods in the scientific community that stem from colonial ideas and values that are extractive and myopic," said Davis. "Indigenous science offers alternative models to scientific practices that are collaborative, community-based, inclusive, sustainable, and holistic."  
At the Center for Indigenous Science, Indigenous epistemologies, theory, and methodologies will be practiced alongside methods of inquiry from the social sciences, humanities, and life and physical sciences. A key goal of the center will be outreach and training to recruit and retain Native American and Indigenous scholars to make sure they feel included and that their voices are heard. The center's team includes collaborators across the university and beyond, including Indigenous nations.
"By centering the community and using relational and sustainable practices, Indigenous science is uniquely positioned to incorporate anti-colonial theory and inclusive cultures in STEM fields," said Malhi. "Importantly, Indigenous science practices expand beyond research to include capacity building in science and developing career pipelines to gain representation in the larger scientific community."
The Center for Indigenous Science will address areas of concern for Indigenous peoples, including environment, health, and history. Planned projects include examining the embodiment of historical trauma by colonization and buffering effects of community, and studying the effects of environmental pollutants on Indigenous people's health. The center also will work to revitalize knowledge impacted by colonial disruptions and create pipelines for Indigenous students to become Indigenous science scholars.
News Source
Shelby Lawson, Carl R. Woese Institute for Genomic Biology