The importance of hard work and education
LAS Staff Spotlight: Sandy Hardin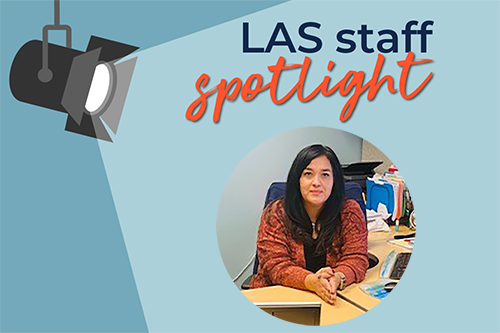 Sandy Hardin's family has always placed a priority on education, so working as the senior business specialist within the Department of English became a natural fit.
Hardin's parents migrated from Mexico to the United States more than 50 years ago, she explained.
"My father was very hard working and always instilled in us the importance of hard work and education," Hardin explained. "I always wanted to earn my bachelor's degree, and, because of the wonderful resources and continuing education opportunities that the university has, I was able to make that dream come true in 2014.
"I will always be thankful for that."
How long have you worked for the university?
15 years
Briefly describe your responsibilities.
I oversee the operations of the English department. I manage the facilities, human resources, financials, and procurement, and I supervise the support staff. 
What do you enjoy most about your job?
I honestly enjoy mostly everything about my job. I love working with financials and people. The faculty members and staff at English are wonderful.
Do you have a favorite memory or project from your role with your unit?
My favorite project would have to be the renovation of the business office. It took a lot of planning and coordination from Facilities & Services, but they were great to work with and the office looks amazing.
What is the best part of your workday? 
The best part of any day is seeing faculty members and students.
Editor's note: This LAS Staff Spotlight profile is part of a series that features College of LAS staff and the important work they do to support units across the college. Visit here to learn more.