LAS Staff Spotlight: Teamwork makes it all happen
Business manager selected for national leadership program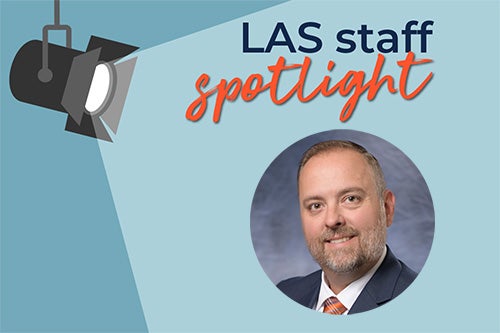 After 16 years on campus, Don Marrow, associate director of budget & resource planning for the School of Chemical Sciences, said he's been a part of great projects, opportunities, and professional growth.
"One thing is certain, I have been able to take advantage of the professional development opportunities that are available at this campus and beyond," he said. "I hope that other staff members know how valuable they are to the mission of this university and will take advantage of them as well. The support is there to help you grow and develop; you just have to be willing to take it."
Most recently, Marrow was selected by the National Association of College and University Business Officers (NACUBO) for the 2023–2024 Emerging Leaders Program. He is one of 73 business officers across the country accepted into the program, and, through April 2024, the group will work to enhance their leadership skills, examine business models and financial communications strategies, and build their professional network.
Briefly describe your responsibilities in the College of LAS.
I am the business manager and budget officer for the School of Chemical Sciences. Our business office oversees the business functions for the school and its two departments, chemistry and chemical & biomolecular engineering. I manage a staff of eight fantastic individuals. Our business office includes accounting, data systems, procurement, and grants management.
What do you remember of your first visit to campus?
I started at this university as extra-help in the machine shop in civil & environmental engineering. I remember coming to work that first day amazed that I actually worked at the University of Illinois. It was an amazing opportunity, and one that I knew I wanted to take full advantage of.
What do you enjoy most about your job?
I enjoy working with my staff the most. We are a great team that cares as much about the mission and success of SCS as we do about each other. I am blessed to be a part of such a great team in our business office. I am responsible for all the business operations for the unit, and I am glad to have such a wonderful staff to make it all happen to efficiently.
Do you have a favorite memory or project from your role with your unit?
I was in my position for less than two months and received an email that our school was to be audited by campus auditors. I remember thinking, "oh great, I just got here and now we are going to go through an audit." It was a great experience and allowed me to get involved and learn my new role a lot quicker than I would have otherwise. I was able to do something positive with what I thought was going to be a negative experience. Also, a big shoutout to our campus auditors that are wonderful to work with and very helpful!
What is the best part of your workday?
I enjoy taking walks on the Main Quad. This campus is beautiful, and when I get an opportunity to take a break and go outside to take it all in, it is refreshing and rejuvenating.
Editor's note: This LAS Staff Spotlight profile is part of a series that features College of LAS staff and the important work they do to support units across the college. Visit here to learn more.