College of LAS alumni honored by National Academy of Sciences
Hye Kyung Timken and Freeman Hrabowski III recognized for leadership and service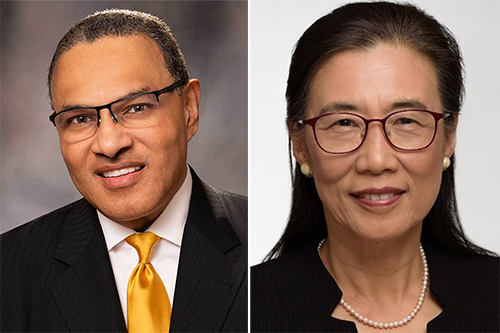 College of LAS alumni Hye Kyung Timken (PhD, '87, chemistry) and Freeman Hrabowski III (MA, '71, mathematics; PhD, '75, education; honorary PhD, '04, education) have been chosen to receive 2023 National Academy of Science (NAS) awards for leadership and service to society. 
Timken will receive the NAS Award for Chemistry in Service to Society while Hrabowski will receive the Public Welfare Medal.
Timken is being awarded for her groundbreaking efforts on innovative catalysts. Her work at Chevron has been instrumental in making oil refineries safer and fossil fuels more environmentally friendly. She has helped lead the development and commercialization of Chevron's ionic liquid-based ISOALKYTM Technology, which can be used by hundreds of oil refineries worldwide to improve process safety and reduce environmental impacts of fuel production.
This technology has substantially decreased risks associated with gasoline production while providing more efficient conversion of petroleum to fuels.
Established by E. I. du Pont de Nemours & Company, the NAS Award for Chemistry in Service to Society is awarded biennially for contributions to chemistry, either in fundamental science or its application, that clearly satisfy a societal need. The award is given in alternate years to chemists working in industry and to those in academia, government, and nonprofit organizations.
"I feel really humbled to receive this award," Timken said in a news release from Chevron. "This technology was made possible because so many people worked on it. I want to thank all of my colleagues who contributed because this isn't just my work. This took a village of easily a thousand people."
In 2020, Timken received an Alumni Achievement Award from the College of LAS for development of this technology.
Catherine J. Murphy, head of the Department of Chemistry and a member of the National Academy of Sciences, said that she is thrilled for Timken.
"This award is an incredibly prestigious one. For context, (the) 2001 winner was our late Illinois colleague and Nobel Laureate Paul C. Lauterbur, who won for his development of magnetic resonance imaging (MRI).  It is very hard for scientists in industry to be recognized for ground-breaking work that has societal benefit. Congratulations to Hye Kyun for her work on environmentally responsible catalysis and fuel processing."
The NAS is presenting its 2023 Public Welfare Medal to Hrabowski, whom the organization describes as  a mathematician, educator, and higher education advocate who has provided outstanding leadership in transforming U.S. science education and increasing cultural diversity within the science workforce. The medal, established in 1914, is the Academy's most prestigious award. It is reserved for those who have exhibited an "extraordinary use of science for the public good," the NAS said in a press release.  
"As president of the University of Maryland, Baltimore County (UMBC) — a position he held for 30 years before his retirement in 2022 — Hrabowski recast the institution from a regional commuter institution into a top-tier research university and STEM education center," the NAS said. "Hundreds of UMBC graduates have gone on to obtain professorships and other positions at some of the most prestigious institutions in the U.S., and for more than 15 years, UMBC has been the top U.S. producer of Black undergraduates who continue on to receive PhDs in the natural sciences and engineering."
Timken and Hrabowski are among 17 individuals selected to receive 2023 NAS awards recognizing their extraordinary scientific achievements in a wide range of fields spanning the physical, biological, social, and medical sciences. They will be honored in a ceremony during the NAS 160th annual meeting on April 30.
News Source
Tracy Crane, Department of Chemistry, and the College of LAS