'A good way to start the day' in statistics
LAS Staff Spotlight: Aaron Thompson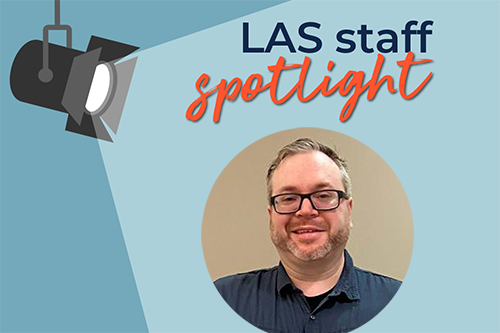 Aaron Thompson has worked as the administrative aide for the Department of Statistics since September 2016. Since then, he's taken on new tasks and earned recognition for a job well done. Thompson even admits that opening his email each morning is almost as exciting as that first cup of coffee.
Briefly describe your responsibilities.
I recently took on additional roles within the department as our event and outreach coordinator. I'm working on multiple upcoming larger events for the department, including the Illinois Statistics Datathon, a Women in STAT workshop, the Bohrer Memorial Student workshop, the Blackwell Summer Scholars program, and the department's first solo Convocation. Since day one though, I have served as the graduate contact working with students from the time of admission all the way through graduation. I also have my hands in department communications, purchasing, website management, student HR, and general office support tasks. So, a bit of a Jack-of-all-Trades in some regard.
Where is your office located?
Currently in the Computing Applications Building, but someday hopefully the new Illini Hall!
What do you remember of your first visit to campus?
I grew up in the area and visited campus a lot, but I don't have a specific memory about my first visit to campus. As an employee though, my fondest memory of my first real visit to campus was my first day on the job. I stopped just in front of Illini Hall, where my first office was, I looked up at the building and said to myself "just don't burn the place down." Had I known they were just going to tear it down a few years later I might have given myself a better pep talk.
What do you enjoy most about your job?
The most enjoyable part of my job is when someone comes to me with an idea, and they trust me to help make that idea a reality. Then to see the culmination of all of the work that goes into that idea and see the result is an amazing feeling. Knowing that my co-workers and colleagues trust me with their ideas and then getting to put everything together to make it work is very enjoyable.
Do you have a favorite memory or project from your role with your unit?
I don't know that I have an exact favorite project but seeing the culmination of months of hard work coming together on a project is amazing. Each event or project, whether it is working with new applicants through the admission process, seeing Blackwell Scholars come together after completing their research to give presentations, having things come together for the Datathon, or working with students during their program and seeing them graduate at the end, offers a unique opportunity to feel proud.
As far as favorite memory goes, I was selected as a recipient of the 2021-2022 Excellence Award for Graduate Contacts and that was pretty special to be recognized for my efforts, especially as we were still navigating the pandemic. Knowing that colleagues and students nominated me for the award was an honor in of itself that I will always remember.   
What is the best part of your workday?
This is going to sound crazy but opening my email for the first time in the morning. It is almost as good as that first cup of coffee… almost. It is invigorating to see what new challenges or obstacles I need to either overcome or more importantly help others overcome each day. Whether it is a student, faculty member, staff member or someone from outside of the department, knowing that I helped in some way by either answering a quick question or providing assistance on some complex issue, it is always a good way to start the day.
Editor's note: This LAS Staff Spotlight profile is part of a series that features College of LAS staff and the important work they do to support units across the college. Visit here to learn more.