Natasha Samreny uses world view to connect with theater audience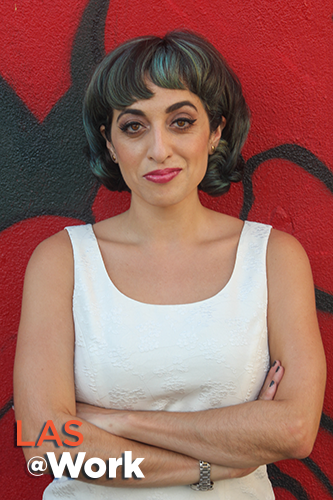 Meet Natasha Samreny (MA, '10, Middle Eastern Studies & Arabic).
She is the director of marketing and communications for Trinity Repertory Company, a theater within the League of Resident Theatres. As a storyteller, Samreny taps into her global view to connect with audiences from different backgrounds.
Describe a typical workday. Also, what is an example of the most interesting aspect of your job?
My team's priority is to promote the multiple productions that play throughout our season, to connect with our New England community in-person and online, and to invite them back to the theater. We strategize marketing campaigns with the departments across our company, including the education department's many class-focused programs and theater camps, graduate showcases, and fundraising efforts. In short, we do everything from show art and content conceptualization and creation, to scheduling and building multimedia campaigns, interacting with audience and press, and keeping everyone up to date about what's going on in our space! I collaborate with and lead my team through that deadline-driven process.
What was your first job out of college?
Reporting with NPR affiliate WUSF 89.7 FM.
In hindsight, what about college best prepared you for your life and career?
Learning how to manage assignments for various classes and teachers developed my ability to manage my own time, and projects for various parties and clients.
How did your major prepare you for your career?
I currently work in the arts — in theater. So, the line drawn between historic and linguistic studies isn't a straight one. However, my graduate experience reinforced my global view. My cross-department studies and fellowship work evolved my international understanding of people, politics, and storytelling. What drives us, and how can we connect and create at our intersections?
What do you like best about your work?
Every day is different. I've always sought that out in my work — the opportunity to be challenged and learn every day. Rote experience bores me. I also enjoy the people at Trinity Rep. Their openness and their support of theater makes this a good place to collaborate and explore how we can reignite others' love of this performance art.
Describe your proudest achievement.
In life? Honestly, I think that would be getting to know myself and who I was outside of the strictures and expectations of school, family, and religion growing up. Staying curious.
Editor's note: This LAS@Work profile is part of a series that features College of LAS alumni and their careers. Visit here to read more.