Christopher V. Rao invested as the Ray and Beverly Mentzer Professor
Chemical and biomolecular engineering professor honored for groundbreaking research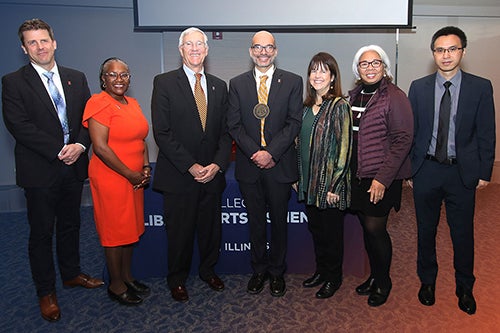 Christopher V. Rao, professor and head of the Department of Chemical & Biomolecular Engineering, was invested as the Ray and Beverly Mentzer Professor. The professorship was established by ChBE alumnus Ray Mentzer (BS, '74, chemical and biomolecular engineering) and his wife, Beverly, as part of their generous giving to the department.
The investiture ceremony featured remarks by Ting Lu, professor of bioengineering at the University of Illinois Urbana-Champaign, who spoke about his long friendship and collaboration with Rao. Also participating in the ceremony were Amy Santos, associate provost for faculty development; Venetria Patton, Harry E. Preble Dean of the College of Liberal Arts & Sciences; Paul Kenis, director of the School of Chemical Sciences; and Ray Mentzer, who attended the event with Beverly.
Rao is a distinguished scholar and researcher who has been conducting leading-edge work since his graduate student days on a broad range of topics including control theory, systems biology, metabolic engineering, and synthetic biology. He earned his BS from Carnegie Mellon University (1994) and PhD from University of Wisconsin (2000), and was a postdoc at University of California, Berkeley (2000-2004). Rao joined the chemical and biomolecular engineering faculty at Illinois in 2005 and was named department head in 2023.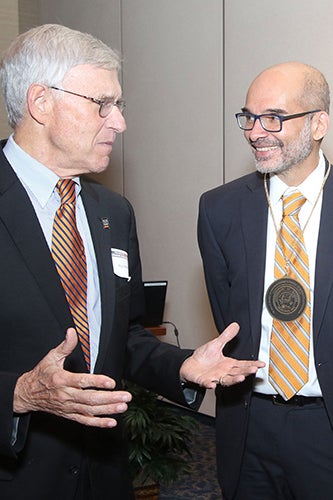 Lu described Rao as an outstanding scholar who boldly ventured into different research fields and made groundbreaking contributions in each of them.
"I would call it impressive to excel in one research topic, but what Chris has accomplished in transforming multiple fields is truly exceptional and sets him apart," Lu said.
Most importantly, Lu said on a personal note, Rao has been an amazing colleague and dear friend.
Following Lu's introduction, Rao reflected on his career and the people who helped shape it. He acknowledged and thanked several mentors, collaborators, and colleagues, as well as his students and his wife, Hannah.
"I'm very much a product of the institution," Rao said. "I've run my life in reverse a couple of times and tried to imagine what it would be like if I wasn't here at Illinois. It's really hard because I've been shaped by so many people around me."
"I'm deeply humbled and honored to stand before you today as the Ray and Beverly Mentzer Professor," he said.
Ray Mentzer earned his bachelor's degree in chemical engineering from the University of Illinois Urbana-Champaign in 1974, followed by master's and doctoral degrees in chemical engineering from Purdue University. He enjoyed a long career with ExxonMobil, working around the world on assignments in a variety of areas including oil and gas facility design and operation, research, financial management, safety, health and environment, and public affairs. After retiring from ExxonMobil, he taught chemical process safety and oil and gas processing courses at Texas A&M University and oversaw process safety research with graduate students. He now teaches at Purdue University, where he also serves as executive director of the Process Safety & Assurance Center.
Beverly Mentzer earned a BS in chemical engineering from Louisiana State University in 1979 and spent her career at ExxonMobil, working in domestic and international engineering and managerial positions – holding positions ranging from entry level engineer to vice president. While living in London, she had responsibility for all aspects of ExxonMobil's approximately $1.5 billion per year UK Joint Interest production business. She also served as vice president of production engineering for ExxonMobil Research Qatar. She retired from ExxonMobil in 2012 and now serves as an industrial career counselor in chemical engineering at Purdue.
When introducing the Mentzers, Kenis noted that they are "grateful, helpful and generous alumni" who have established multiple undergraduate scholarships and this professorship.
"Gifts like these allow faculty to pursue new ideas that are not supported by grants yet, allows faculty to send students to conferences, and allows faculty to buy equipment, software, and supplies to accelerate their research," Kenis said. "In the academic endeavor, the flexibility afforded by these types of funds is tremendously liberating and enabling in pursuing new opportunities."
"We fully appreciate the cost of education today," Ray Mentzer said. "Student tuitions as well as the decline overall in state support of higher education across the board. Someone needs to help close the gap with regard to this. As Paul mentioned earlier, funding education is very important to Beverly and I."
Mentzer also spoke about the quality of the faculty during his time at Illinois – the majority of whom were, or would become, National Academy of Engineering members – and noted that he "wouldn't be here today if it wasn't for my education in the UIUC chemical engineering department."
"Chris, congratulations very much," Mentzer concluded. "I look forward to seeing and hearing about your accomplishments in years to come."