Studying abroad isn't always easy, but it's worth it
Heather Schlitz is a junior studying global studies and journalism. Originally from Northbrook, Illinois, she developed a passion for language learning and journalism while on campus at Illinois.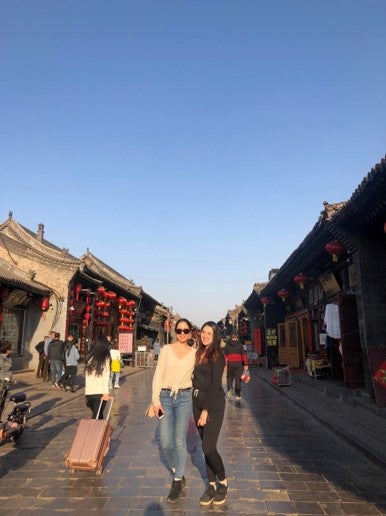 I spent the 2019 spring semester studying abroad at Peking University in Beijing, China, where I took Chinese language and culture classes taught in Mandarin. Studying abroad was required as part of my global studies major, which I chose because of the flexibility it gave me to take a combination of courses across departments and colleges, including in journalism, East Asian languages and cultures, and political science.
I lived with a host family about an hour away from the university, so I got on a bus at around 6:30 a.m. every morning to make it to school in time for my first class. While the bus drove through clogged Beijing traffic, I'd usually call my friends and family in the U.S. where they were usually finishing up with work or class, listen to country music when I felt homesick, or flip through Chinese flashcards on my phone.
The classes themselves were difficult, with daily quizzes, homework, and cold-calling throughout lessons, but my Mandarin got much better as a result. Constantly speaking and being surrounded by Chinese also improved my language ability. Everything from listening to the instructor during yoga class to watching Chinese soap operas with my friends was a form of language practice. This kind of immersion and being able to learn a language without feeling like you're learning is a huge advantage of studying abroad. 
In addition to improving my language ability, my semester in Beijing also made me a much more confident person. At the beginning of the semester, almost every aspect of living in Beijing intimidated me. Even simple things, like ordering breakfast at a food stall or figuring out how to buy a bus pass, were nerve-wracking; I worried about whether the salesperson would be able to understand my Chinese or if I'd be able to read the Chinese characters on the bus route. Just living life in a foreign city required me to go beyond my comfort zone. Small victories, like finally being able to read through an entire Chinese news article or gossiping in Mandarin with a friend without having to pull out the translator app on my phone became incredibly meaningful.
Getting to explore Beijing, one of the biggest cities in the world, after class and on weekends was an incredible experience. Coming from Champaign, the city seemed endless, and the mix of traditional Chinese architecture, masses of skyscrapers and run-down apartments was a really unique environment to live in.
The semester was full of late nights studying, stress and homesickness, but I remember the happiest moments the best, and I feel really lucky to have been able to experience them. During the semester, I saw the sun rise over an empty stretch of the Great Wall, watched alt-rock bands perform at bars in alleyways that dated back to the Ming dynasty, and had traditional Chinese tea with a master tea-maker.
Studying abroad is an incredible way to learn a language and experience a culture. The memories you'll make will be irreplaceable and your language level can improve beyond recognition.