Finding a home in the arts community at Illinois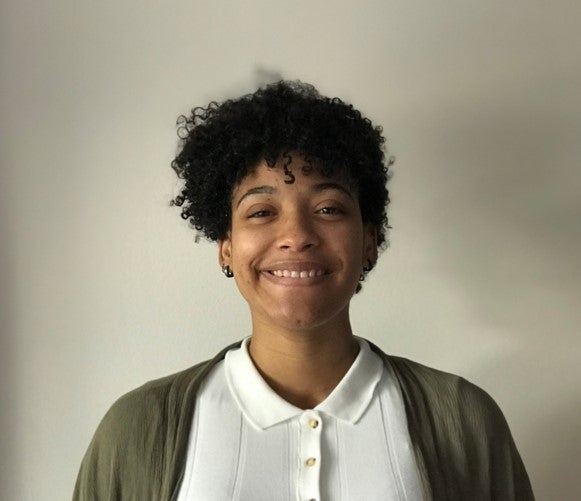 Kyndal Gragg is a junior in LAS, where she studies the History of Art. Originally from Springfield, IL, but hailing from Tulsa, OK, she is passionate about space-making and advocating for underrepresented narratives in the arts.
Before attending the University of Illinois, the museum world was closed to me, but due to the extensive resources and professionals on campus, many doors now have opened. Illinois is where I developed my passion and has become a space where I feel comfortable sharing and expanding my narrative.
What exactly does that mean? Let me share my journey with you.
Early on in my time on campus, I became an artifact and preservation assistant for the Spurlock Museum, a world culture museum on campus that prioritizes student development in the museum field. After working at the Spurlock Museum for a year and a half, I became a research assistant at the Krannert Art Museum. This is where I realized I wanted to be more involved in the arts. This experience spear-headed my interest in art history, which led to me changing into the history of art major.
Shortly after acquiring a job at the Krannert Art Museum, I participated in the Andrew W. Mellon Summer Academy at the Art Institute of Chicago. This is a week-long program focusing on the inner workings of the curatorial field. The co-occurrence of my assistantships at Spurlock and the Krannert Art Museum, along with the Summer Academy at the Art Institute of Chicago, propelled me into a museum whirlwind!
What have I gained through these experiences? I can think of three main things:
Each of these opportunities has allowed me to gain a more holistic view of museums and the way they operate. In accordance with my program within LAS, I am gaining valuable information that will prove to be integral to my future career. 
The art community at the U of I has allowed me to connect with fellow museum professionals and has expanded my reach and understanding of a global art community. In addition to my experience at the Spurlock Museum and Krannert, I am currently a member of an RSO (Registered Student Organization) called The Collective, an arts magazine that highlights artists in the Champaign-Urbana area that allows me to connect with artists and get first-hand curating experience.
Through the holistic view of museums and my relationships with other people in the art community, I've discovered my passion and a place where I feel comfortable expanding my narrative.
This fall, I will continue on as a research assistant at the Krannert Art Museum, a collections assistant at the Spurlock Museum, and a fellow at The Art Institute of Chicago.
For those considering the College of LAS at Illinois, allow yourself to be open to opportunities that seemed far out of reach! The resources provided to you will seem overwhelming but magical at the same time. Utilize every asset and become the best student you can.