Taking advantage of undergraduate research opportunities at Illinois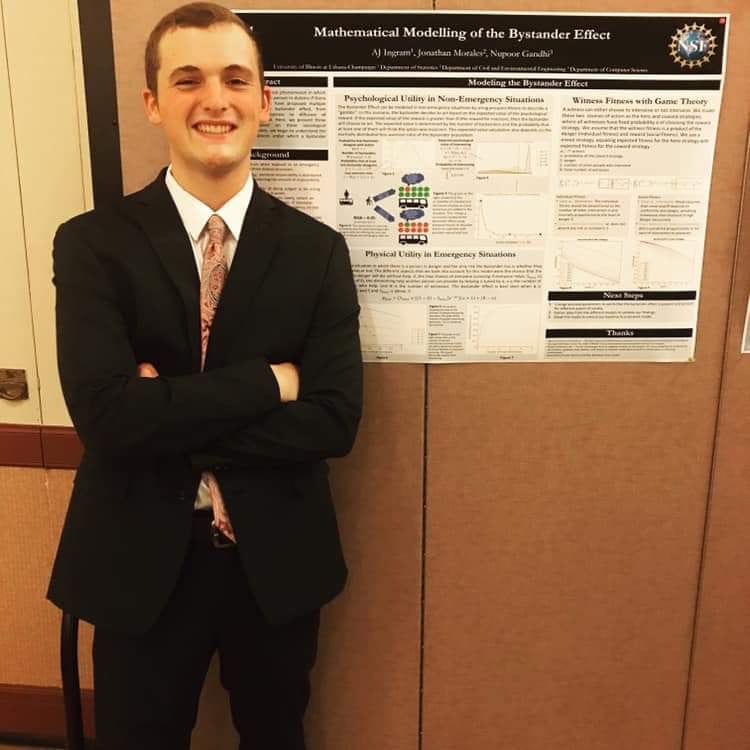 AJ Ingram is a junior in LAS, where he studies statistics and economics while completing a computer science minor. Originally from Sidney, a small town in Champaign County, Ingram is passionate about learning skills that he can use to efficiently improve his community. Ingram is currently a project manager for the university's chapter of Students Consulting for Non-Profit Organizations (SCNO), and he will be completing an internship in public sector consulting this summer to get some hands-on experience with consulting.
In the spring of 2019, Ingram won a campus-level award for his undergraduate research on Natural Selection and the Bystander Effect. The College of LAS recently had a chance to ask Ingram a few questions about his experience with undergraduate research on campus.
Question: How did you initially get involved with undergraduate research on campus?
The Illinois Geometry Lab (IGL), an entity of the Department of Mathematics within LAS dedicated to undergraduate research and community outreach, was seeking passionate undergraduates researchers. IGL supports a wide variety of research topics ranging from the impact of e-cigarettes on society to natural extension domains of alpha-odd continuous functions.
I applied for a role, and I was assigned to my first preference: Modelling Natural Selection and the Bystander Effect. I was excited to embark on this study because it gave me the chance to apply topics I learned in classes, such as differential equations, to a subject typically studied by sociologists rather than mathematicians. I was grouped with a team of two other undergraduates, a graduate mathematics student, and a wonderful mathematics PhD graduate who was serving as a professor, Sara Clifton.
Q: Being named an Undergraduate Research Award winner this past spring is a great accomplishment. Tell us about that experience.
It all started when my team was given the opportunity to present our poster at the Undergraduate Research Symposium (URS) last spring. The URS is a chance for students across campus to present research completed either independently or under the supervision of an academic unit. There were several hundred students presenting at the URS; it was amazing to see my campus community—future leaders of their respective fields—sharing research on topics they are passionate about.
For a couple hours, we presented our poster to the attendees, a few of which were judges. The presentation was a great chance to practice the soft skills that truly separate students as they leave academia and begin careers. My team focused on not only sharing our research methods and findings but sharing it in a way that made it engaging and easy to understand for a wide audience. My work with my consulting organization, SCNO, left me comfortable with public speaking and presenting graphics.
However, I cannot stress enough the quality of work and presentation from the rest of my team; our whole team won this award. The award was, of course, incredibly gratifying after a semester of hard work. Upon receiving the award, I was most excited to share the news with our graduate and faculty advisors. It was truly a team effort, and I am so glad that we got to share the award.
Q: What are your career goals and aspirations? How have your research experiences at the University of Illinois helped you on that journey?
I would like to continue working in consulting for at least the start of my career. I really enjoy gathering and summarizing data to share with others, whether they are clients or judges. I believe one of the most valuable skills for consulting is storytelling. In this context, storytelling is the ability to not only convey the results of your research but also to share the steps you took while convincing the audience that each step was intelligent. A bad storyteller gives an answer to a problem, and a good storyteller convinces his/her audience that the answer given is the right answer. I was able to really practice this skill as I prepared to share the story of a semester's worth of mathematics research in a few minutes with nothing but a poster as visual aid. I also learned the value of dynamic teamwork, a skill which is valuable regardless of career aspirations. There was an interesting dynamic as we had three very different levels of experience contributing to the project: undergraduate, graduate, and post-doctoral. The whole team learned valuable lessons such as how to effectively communicate with those at different points of their career.
Q: What guidance would you give to undergraduate students that like the idea of doing research but maybe aren't quite sure how to get started?
First, I would say that you really should take advantage of the resources. The University of Illinois is an amazing institution, and there are limitless opportunities if you are willing to seek them out. I truly do not believe that there is a magic trick to finding research. You simply need to be a passionate, driven student who is willing to take advantage of resources such as the Office of Undergraduate Research.
Second, students should not be afraid to reach out to professors in search of research. Professors are very passionate about their respective research topics, and they will always be thrilled if a student reaches out to say, "I think your research is really cool, and I would love to get involved!" I started my time at Illinois as a nuclear engineering student, and I found a position as a research assistant for the Center for Plasma Materials Interactions during my first semester. All I did to snag this great position was send emails to the directors of the lab expressing my interest and sharing that I have time to contribute.
Q: After spending close to three years on campus now, what advice would you give to seniors in high school that are considering the University of Illinois?
There is truly something on campus for everybody. Coming from a small high school, one of my favorite things about the University of Illinois is the pure variety. There is a variety of people, ideas, classes, organizations, and the list goes on. There is no better place than college to learn about yourself and decide what kind of person you want to be. So why not decide to spend those years with as many opportunities available as possible?
It also does not hurt that a degree from Illinois will set you up to be a leader in your field. The high rankings do not lie, and as a student, you can really feel the high quality education in the classroom. I love this school, and I will be incredibly proud to join the amazing University of Illinois alumni family.