Landing a dream job because of Illinois research experiences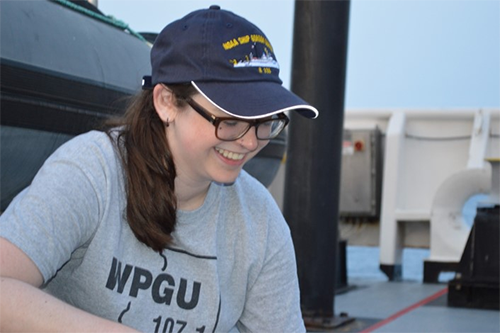 Bridget Mueller-Brennan is a recent graduate of the University of Illinois where she studied math and integrative biology. A recipient of the Bronze Tablet, Mueller-Brennan now studies the effects of anthropogenic noise on whales for the National Marine Fisheries Service. She attributes landing her dream job to LAS faculty and research opportunities.
In the spring of 2019, Mueller-Brennan won a campus-level award for her undergraduate research on the acoustic behavior of the Omura's whale. The College of LAS recently had a chance to ask her a few questions about her experience with undergraduate research on campus.
Question: How did you initially get involved with undergraduate research on campus?
My freshman year, I lived in the WIMSE (Women in Math, Science, and Engineering) Living-Learning Community (LLC). WIMSE had a program with a few other LLCs called Researcher's Initiative, where students were paired with faculty in their field for a research project for a semester. I got paired with professor Zoi Rapti in the math department.
I did a project modeling the epidemiology of sea star wasting disease and actually won an honorable mention for my poster at the Undergraduate Research Symposium that year (as a freshman!). After that project was over, Dr. Rapti invited me to work with her in the Cáceres Lab as a Biomath Fellow, where I studied the impacts of parasitism, selective predation, and friendly competition on the prevalence of disease in a lake ecosystem. I continued working in that lab until graduation.
Q: Being named an Undergraduate Research Award winner this past spring is a great accomplishment. Tell us about that experience and the research you presented.
In 2016, I was accepted as a National Oceanic and Atmospheric Administration (NNOAA) Hollings Scholar; as a part of this, I got to do an internship at a NOAA facility. I was able to work closely with scientists studying the temporal and spatial distribution of the Madagascar population of the Omura's whale, which is a newly-discovered species of baleen whale. I continued working on this project after the internship was up, and I hope to return to this project in the future. My goal was (and still is) to use my background in math to create an algorithm that can calculate the number of singing whales present based on the number of song units detected in a certain time period. This was what I presented at the Undergraduate Research Symposium in 2019.
I had always dreamed of studying whales, so getting to work on this project was surreal. I put a lot of work into it, and I still intend to see it through to a publication. As a part of the Hollings Scholarship, I got to present this work many times at several different conferences. I felt best about the presentation at the Undergraduate Research Symposium – it was the best iteration of the project so far, and I had gotten mostly over the nerves and just got to enjoy talking about my work. It felt like a really good way to wrap up my undergraduate career. Winning the award for it was just icing on the cake!
Q: What are your career goals and aspirations? How have your research experiences at the University of Illinois helped you on that journey?
My goal since childhood has always been to study whales – and now I'm doing exactly that! I work for NOAA at the Northeast Fisheries Science Center, specifically in the Passive Acoustics Group, which is a part of the Protected Species Branch. This past summer and early fall, I worked on low-frequency data collected in Madagascar, looking at the temporal and spatial distribution of many different species in year-long data sets. Now I am switching gears to study the effects of anthropogenic noise on all whales off the eastern coast of the United States. It is very important work, and I genuinely love what I do.
This job came out of my Hollings Scholarship – I am working in the same building with the same people that I did during my internship. I strongly believe that it was my experience in research at the U of I that made me competitive for that scholarship. I was told that one of the strongest parts of my application were my letters of recommendation and the amount of experience that I had, having done research with Professor Rapti since my freshman year and with the Cáceres Lab since the summer between my freshman and sophomore years.
Q: What support did you receive from the LAS community (faculty, graduate students, advisors, etc.) as you pursued your research interests?
Zoi Rapti was my mentor throughout undergrad. She was not just my research advisor, she also helped me pick my classes, and during times when I doubted whether or not I really was "cut out for math," she was there to encourage me to keep going. I genuinely would not be where I am today if it weren't for Dr. Rapti. The same can be said for Carla Cáceres, who was my biology advisor, and who also guided me through class selection for my minor in integrated biology. Both have written me many letters of recommendation, including the ones that made me competitive for the Hollings Scholarship, which eventually led to my career post-graduation.
It's also worth mentioning Dr. James O'Dwyer and Dr. Bruce Reznick, both of whom allowed me to pursue my own research as a project for their classes (Theoretical Biology + Models and Introduction to Mathematical Research, respectively). This allowed me the time and space to really work on the project and drove it forward significantly.
Finally, I again want to acknowledge the National and International Scholarships office for all their help in finding me the NOAA Hollings Program and helping me through the application process. It is an amazing resource, and I highly recommend them!
Q: Having graduated now, what advice would you give to seniors in high school that are considering the University of Illinois?
The University of Illinois will be the hardest you've ever worked, but the reward is greater than you've ever seen. There are so many opportunities at Illinois that, even from the middle of the prairie, it can get you wherever you want to go – even if that place is by the ocean studying whales! The community is huge and very diverse, and there are always so many things to do on campus. The classes are difficult, but rewarding. To get the best out of your time at Illinois, definitely make sure to get involved in research on campus and join a few RSOs that interest you.
I honestly cannot recommend this school enough. I genuinely do not believe I would be where I am today, or even who I am today, without the experiences and opportunities that I had at the University of Illinois.
Blog Source
Bridget Mueller-Brennan; Paul Elliott