Undergrad research prepares Illinois grad for career in medicine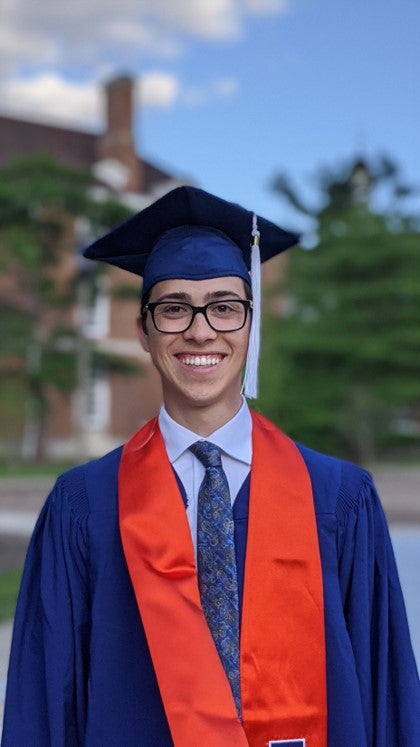 Peter Kolyvas is a recent graduate from the College of LAS, where he majored in Molecular and Cellular Biology (MCB) with an honors concentration. Originally from New Lenox, Kolyvas will be moving to Washington D.C. to attend medical school at Georgetown University. The College of LAS recently caught up with him to ask him about his experience at the University of Illinois.
Question: How did you initially get involved with undergraduate research on campus?
Before starting undergrad, I was unfamiliar with scientific research. However, after my initial semester at U of I, I was exposed to the significance of research in advancing our scientific knowledge, especially in the field of MCB. In my classes, we learned about all these medical innovations and their great impact on society. This piqued my Interest in getting involved in biomedical research. I became passionate about the role of nutrition in combination with human health and disease states. I started reaching out to PIs during the end of my freshman year and I came across Dr. Anakk's lab. Her lab broadly studied nonalcoholic fatty liver disease, which is largely considered a lifestyle disease. This lab blended a lot of my interests together, so I reached out to her, set up an interview, and the rest is history.
Q: Tell us about the highlight of your research experience.
After three years of collecting and analyzing data from numerous experiments, I was finally able to put the pieces together to write my senior thesis. The culmination of all my work coming together and having that "aha!" moment was an amazing experience for me. It illustrated the connection between the basic science and clinical applications of my work, as well as the impact of the research I'd done.
Q: What are your career goals and aspirations? How have your research experiences at the University of Illinois helped you on that journey?
My dream has always been to become a physician. I am fortunate enough to be pursuing that dream by attending medical school at Georgetown University this fall. My lab experiences helped me to appreciate all of the work that goes into developing clinical therapies as well as understanding the molecular mechanisms behind those treatments. I learned how to navigate the failures and issues that come with a career in research and medicine. Inevitably, there will be complications along this journey to becoming a physician, and by learning to overcome these obstacles I feel better prepared for the rigors of medical school.
Q: What guidance would you give to undergraduate students that like the idea of doing research but maybe aren't quite sure how to get started?
I would recommend figuring out where your scientific interests lie and then find labs that match your passions – departmental pages are a good resource for this, as well as talking to professors after class. Once you find a few labs, read some of their published manuscripts and send them an email about the possibility of a meeting. Don't be afraid of rejection and don't be upset if they don't reply because they are extremely busy individuals. Just keep reaching out to different labs and you'll eventually find the right lab for you. If you realize that the lab is not what you are looking for, don't be afraid to express your concerns with the PI and find a new lab.
Q: What support have you received from the LAS community (faculty, graduate students, advisors, etc.) as you've pursued your research interests?
Shout out to my PI, Dr. Anakk and all the grad students in my lab for constantly supporting, teaching and guiding me throughout my college journey. Dr. Anakk pushed me to think critically and showed me how to stay positive through everything. I could not ask for a better mentor.
Q: After spending four years on campus, what advice would you give to seniors in high school that are considering the University of Illinois?
I was drawn to Illinois because of the people and I haven't been disappointed. Large universities can sometimes feel all the same, but people I have met at U of I are intelligent, driven, and all-around great people. From the faculty to the students, the connections I have made here will last long beyond my graduation and I think that this community is what I have loved most about Illinois. Although it is a large school, it has a small community feel to it as well. Everyone is super nice and willing to help each other out. U of I has so many opportunities, whatever you are interested in, you will find a group of people that share the same interests or passions as you. If you are interested in research, you can find a lab studying basically anything you are interested in. I would advise incoming students to embrace every opportunity and don't be afraid of failure. Taking risks can be daunting and failure can be discouraging, but without taking a chance, you'll never know what else you might accomplish.