Biology student inspired by the impact of a career in research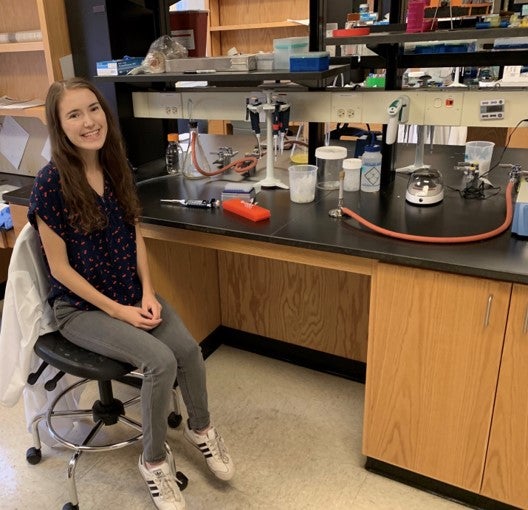 Lauren Mazurkiewicz is a recent graduate from the College of LAS, where she majored in Molecular and Cellular Biology (MCB) and received minors in Chemistry and German. The College of LAS recently caught up with Mazurkiewicz to ask her about her experience at the University of Illinois.
Question: How did you initially get involved with undergraduate research on campus?
My interest in research first began during my sophomore year when I joined the MCB Honors Concentration, which focused a lot on how to critically review literature for research, and I also learned some research basics in a biochemistry laboratory that studies yeast vacuole fusion. These experiences sparked my interest in research and led me to join Dr. Beth Stadtmueller's laboratory in the Department of Biochemistry during my junior year. She was a new faculty member on campus who works in the field of structural immunology, and I joined the lab during its first semester. I got to help with the set-up of the new lab and chose to work on a project studying the structure of an antibody that binds to the pathogen Salmonella.
Q: Tell us about the highlight of your research experience.
The highlight of my research experience was working as an undergraduate research fellow last summer in Dr. Stadtmueller's lab. Having the opportunity to work full time on my research allowed me to really immerse myself in my project and was a major factor in my decision to apply to graduate school. Before I began my project, I only knew some of the basics of structural biology, but I quickly became fascinated by all of the information a protein structure can provide about its function, and I hope to continue exploring these ideas in graduate school. Another highlight was being a member of a new lab. I had the unique opportunity of helping build a lab from scratch and watching it grow. It was always exciting to help train new lab members and see the lab branch out into new, exciting projects.
Q: What are your career goals and aspirations? How have your research experiences at the University of Illinois helped you on that journey?
I will be continuing with research, and this fall I will be starting graduate school to pursue a PhD in Biochemistry. My goal is to have an academic career, since I also enjoy teaching and mentorship in addition to research. When I first came to the University of Illinois, I didn't know exactly what kind of career I wanted and had only a vague idea of research being a person in a lab coat doing experiments. My research experience allowed me to realize my passion for delving into a research topic and recognizing that the research our lab was doing could benefit society by improving our understanding of how the immune system works. Seeing firsthand what the day-to-day life of a research career would be like, as well as the broader impacts it can have, allowed me to make an informed decision to pursue a research-oriented career.
Q: What guidance would you give to undergraduate students that like the idea of doing research but maybe aren't quite sure how to get started?
If you have any curiosity regarding what research is all about, definitely get involved! It's okay if you don't know exactly what you want to research, but if there is a topic you learned about in one of your classes that really interests you, this is a great starting point when reaching out to professors. I was interested in how pathogens interact with hosts and talked to some professors working in this area to learn more about current projects they were working on and see what opportunities they had for undergraduates. No matter the topic, you will learn valuable skills about how to ask questions about the world around you, find methods to pursue your research questions, and communicate your discoveries to a broader community.
Q: What support have you received from the LAS community (faculty, graduate students, advisors, etc.) as you've pursued your research interests?
There are so many faculty, students, and advisors who have helped me develop my research interests throughout my undergraduate experience. Dr. Stadtmueller has been incredibly supportive in providing individual attention for my research project, and was someone I could always talk to about my questions and ideas I had about my current and future research interests. She has continually encouraged my growth as a scientist by providing guidance for applying to fellowships and graduate school, participating in symposiums, and writing a senior thesis. I have also had a lot of support from graduate students in the lab and the rest of the Biochemistry Department who have always been willing to teach me a new technique or help me when there were roadblocks in my project. The MCB advisors also helped me with my initial search for research opportunities and were a great resource throughout my undergraduate experience for understanding what steps I should take next in my research career.
Q: After spending four years on campus, what advice would you give to seniors in high school that are considering the University of Illinois?
Four years ago I knew I had signed up to be a Molecular and Cellular Biology major, but I didn't realize I was also opening the door to research opportunities, mentorship experience, flexibility to take classes in different subjects as I discovered my interests, and interactions with incredible scientists that would turn my major into a career path. The University of Illinois has opportunities for you to explore anything that you are interested in, and this was very helpful in sorting out what I liked and didn't like to ultimately decide on a career path that was best for me. Such a large campus and so many possibilities may seem intimidating at first, but there will be students, advisors, and professors at the University of Illinois that want to help you succeed who will make this path so much clearer.