What seeing poetry in the national spotlight means to me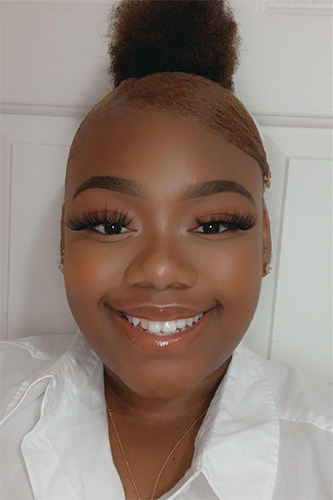 In January, Amanda Gorman, the youngest inaugural poet, read "The Hill We Climb" at the inauguration of President Biden. Her delivery was highly praised and quickly sped poetry into a national spotlight, including her reading a poem at the Super Bowl in February.
We discussed the poem with Quintionna Parks—a creative writing student studying poetry—as well as what Gorman's inclusion in the national spotlight means to her. Quintionna describes herself as "twenty-one years old and the last of four daughters. I was raised by my single mom in the south suburbs of Chicago. In no particular order, I am a poet, an entrepreneur, a Black woman, an activist, a creator, and a student."
Question: Amanda Gorman has been receiving a lot of press over her poem, "The Hill We Climb." What did you think of the poem?
I thought the poem was beautifully written and very articulately spoken. I felt that the poem addressed how we as a nation are not perfect and we want to strive for a less divisive nation, not perfection. I honestly thought that was a nice way of saying we as a nation need to do better. Overall, I really think the poem was amazing, and I give Amanda a lot of props; a five-minute poem in front of that many people and a camera would be terrifying to me, so I think she and her poem was absolutely amazing.
Q: Are there any specific lines that really resonated with you?
I especially loved the line "descended from slaves and raised by a single mother." This line resonated with me because I am a poet who was descended from slaves and raised by a single mother. I think throughout the poem Amanda made it personal but also allowed this particular audience of younger Black girls, boys, women, and men to feel included in her words. I love hearing a poem and being able to link certain words to a memory that I have or relate it to my life, because it brings that poem alive in my mind.
Q: While there have been poetry readings included in past presidential inaugurations—Robert Frost, Maya Angelou, Miller Williams, Elizabeth Alexander, and Richard Blanco have all read at prior events—this has been the first time we've seen someone so young reading a poem. As a poet yourself, what did that moment mean to you?
I loved seeing someone so young, because many people in older generations see poetry, English, literature, and writing as miniscule compared to STEM. Allowing them to see the weight of how words and voice can uplift a nation, even for just five minutes, is so gratifying. Honestly, seeing Amanda made me appreciate poetry so much more because it gave me the confidence that I needed to truly embrace the artistry and importance behind my poetry.
Q: Tell us a little bit about your experience in creative writing at Illinois.
My experiences in creative writing have been nothing short of amazing. When I first came to the university, I was an architecture major. I was always very creative and loved to work with my hands and I was very analytical, but by the time my sophomore year came, I just knew architecture wasn't something I was passionate about.
I honestly didn't think creative writing was a good major coming in. My first week at the university, I joined a spoken word organization called W.O.R.D., which I am currently on the e-board of. I fell in love with poetry and performing and developing, but it was a hobby for me. I thought poetry and writing was something that I liked to do, but not something I could find an actual career in. However, my very first class was a poetry class, and I instantly fell in love.
I loved the dialogue, my peer's poems, and especially being able to write and be critiqued, because it allowed me to develop. I could see throughout the class that not only was I growing as a writer, but also as a person. I realized how much writing was linked to emotion and who you are as a person, and I can truly say poetry has changed my life and how I think about everything in life.
Q: Would you like to share one of your poems with us?
I feel that in everyday life, we as people don't address anger, pain, depression, and every other "sad" or "uncomfortable" topic the way that we should, and in most of my poetry I write about my pain or about my depression. This leaves me very vulnerable, but also very powerful, because there is power in vulnerability. There's power in allowing others to see the darkness and anger because it's so human, and there is no shame in bad days, or moments of selfishness. I guess this is the privilege that poetry gives me, an outlet where I can be every part of myself.
      No heaven or hell
      Every day I wake up.
      I imagine the person I want to be,
      So, I sacrifice myself just a little every day.
      Maybe a tear,
      Or taking time out to cook breakfast when I don't feel like it.
      Holding my tongue to spare feelings.
      Getting this or that for him or her.
      Smiling when I don't feel like it.
      Getting upset for them when I don't care.
      Not getting angry when I should be furious.
      Or simply just being when I don't feel like it.
      I think it's maybe because I want to go to heaven
      Not worry about loss
      Bathe in love every night
      Smile every morning
      Live life as it should be.
      But what if there is no heaven or hell?
      What if I cried in silence?
      Screamed in my mind
      Begged for help in my dreams
      And I get to the end and there's nothing?
      No one to greet me
      Just darkness with no end
      Would my pain be worth it?
      Could I stop caring about them and dive into myself
      Immerse myself in self love
      Self-hate
      Do anything I want without having to please them
      Having to see a smile on their face to make mine appear?
      But then I feel bad for writing this piece
      For being angry at the world and every soul in it
      For giving up on them and allowing myself to live
      So, I go back to wiping my tears
      Opening the door
      Smile on my face
      Twitter frozen on my phone
      But then I think again
      What if there is no heaven or hell?
Blog Source
Quintionna Parks & Melissa Kuhl