How I made the most of a humanities internship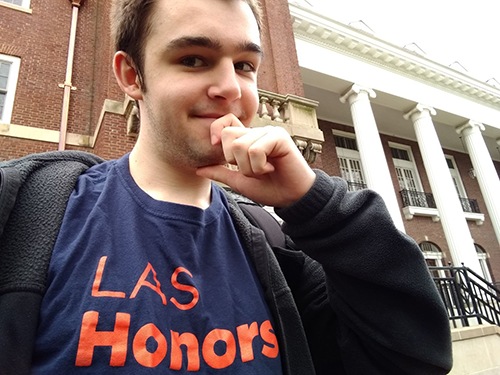 Simon Kaplan is a senior studying comparative literature and classics at the University of Illinois. Originally from St. Charles, Illinois, Simon is spending the summer brushing up on his Greek and engaging in research with the Book History Lab at the University of Athens through the Greek Studies on Site program.
Many students in the humanities, myself included, have often had to deal with the ever-present question, "so what are you going to do with that degree?"
Though thinking up satisfactory replies can get old fast, I've come to see why this question is so common, and—trust me—it's not because degrees in English, history, or philosophy inevitably lead nowhere: instead, I think, it's because the skills that students learn in the humanities are so broadly applicable to a variety of careers that it can be difficult to pinpoint where exactly a particular student would like to go. In more immediate terms, though, this range could also pose a problem when you're a student looking for an internship experience which will—hopefully—help you master the specific skills that you yourself are most interested in.
Take me, for example. As I stand at the cusp of my senior year here at U of I, I think that my answer to our initial question would be that I'd like to go to grad school, eventually (and with some luck) landing a job at a university where I can keep on learning and writing for the rest of my career. And it was with that lofty goal in mind that I found myself on the lookout, especially for an opportunity that would allow me to take my research interests out of the classroom and into a professional setting.
And it was just my luck to find one: an opening with the Greek Studies on Site program to serve as an assistant at the University of Athens' Book History Lab, a small organization dedicated to surveying the role of books and book publishers in Greece and abroad. I was especially excited to meet with the program head and my future faculty advisor, who, I found, were both academics in Classics, and—having once been in a position much like my own—understood just what I was looking for. Together, we decided that I should focus my research on some of the current trends within the field of classical studies, one which has long been at the center of many historical movements concerning everything from the onset of open-access and digital publishing to the highlighting of the discipline's history of systemic, institutionalized support for white supremacism and its exclusion of scholars of marginalized identities and their work.
Through my research, I have had the opportunity not only to approach these and other issues as a student and a scholar, but also to reach out to several of the illustrious faculty of the Department of Classics here at the university, whose own experiences in the field will continue to inform and enrich my work in years to come. It goes without saying how fortunate we are as students to have a network of colleagues and faculty ready to support us in our endeavors, but it is also up to us to put ourselves out there and make the most of that gift—carpe donum, if you will.
I would also like to express my thanks to the College of LAS for the Life + Career Design Scholarship which has made my experience possible, and to encourage my fellow humanities students out there, especially those who might not know quite what an internship might mean for them, to approach the university's offerings with an open mind. You never know what you might find.