Celebrating individuality at UIUC
"Here at Illinois, our individuality is what serves as the basis of what makes our campus so special."
Three LAS students recently shared with us how they saw the Power of I through the individuality they experienced on campus. Check out what they had to say.
Michael Kraft, Junior in MCB and chemistry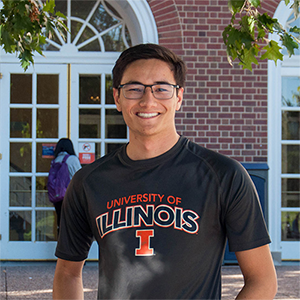 Each person you see walking to their classes has a unique story waiting to be told. My very first class was LAS 101, which enrolled students from all over LAS. I did not know a single person in that class, but in 8 short weeks I did. We had some of the most thought-provoking discussions, as we all came from different backgrounds. I learned so much from our conversations about the hometowns we grew up in, what got us interested in our majors, or even our debates over the best Harry Potter movie. All of us have something that can be shared with one another through our own perspectives.
My background is in cells and chemicals, so my classes have been focused on learning biological pathways and chemical reactions. I had no idea how interesting the geography of Europe could be or how enthralled I was to learn about the history of civilizations in East Asia. Because of what I learned from my classmates, I have carried those interests with me by pursuing courses ranging from the Arab world to the ethics behind medicine. From the very start of my journey in college, I have been surrounded by people who have had the most fascinating stories and are full of distinct perspectives.
Here at Illinois, our individuality is what serves as the basis of what makes our campus so special.
Muskaan Siddique, Junior in history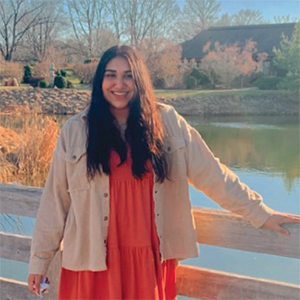 Growing up as the youngest in my family, it was hard to stake my claim as an individual. I struggled to identify myself and who I wanted to be. After coming to campus, I was able to establish myself and assert what I wanted to accomplish during my time here.
The biggest tool for me in gaining independence and individuality was joining registered student organizations (RSOs). RSOs are a great way to meet new people, continue loved hobbies, or even try something new like squirrel watching or fencing! I personally am involved in different student-run theatre companies, a multicultural service sorority called Delta Kappa Delta, and I'm president of the History Honor Society and club, Phi Alpha Theta. These different registered student organizations introduced me to my best friends, classmates, and coworkers! Joining RSOs really helped make this beautiful campus feel like home.
Tamia Miller, Senior in English
Before coming to UIUC, I didn't have a clear sense of what I wanted to do. I knew that I enjoyed things like reading and writing, but I wasn't sure how to turn those passions into a career. However, with the help of advisors and mentors I met on campus, I found opportunities that supported my interests and helped me discover my strengths. The Humanities Professional Resource Center—an LAS unit dedicated to aiding students—played a huge role in this step for me.
Advisors in the Humanities Professional Resource Center helped connect me to jobs that suited my interests as a writer. They showed me that I could utilize my skills to explore various roles and find my perfect fit. With their help, I landed two internships—one as a communications specialist, and another as a writer for Hallmark (where I'll be going to work full-time after graduation!).
In both roles, I could prioritize the goals that mattered most to me. I could be creative, expressive, and oftentimes silly while sharing resources for career and professional development. I also could focus on improving my skills through various writing projects. During my four years here, UIUC has offered me spaces to flourish as a writer, creative, and individual.