What's the most popular LAS course?
LAS students vote on their favorites
With nearly 1,500 unique LAS classes taught each semester, students have a wide range of options when choosing courses. Inspired by the large amount of courses through the college and the the thousands of March Madness brackets that are made each year, LAS developed one of its own brackets—with an LAS twist.
In an Instagram story series that ran throughout March, the college held a bracket challenge in which 16 of LAS's highest enrolled classes battled for the number one spot in the bracket. Students who viewed the stories were able to vote for their favorite classes using Instagram polls, and could thus root for their favorite classes to reach the top spot.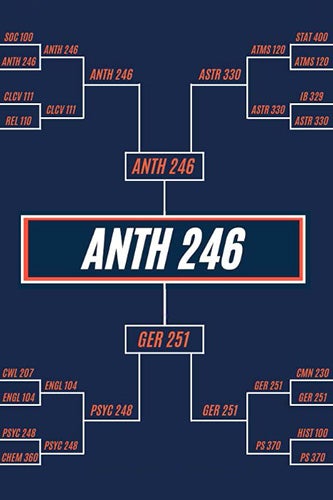 The courses in the challenge included:
ANTH 246 - Forensic Science
ASTR 330 - Extraterrestrial Life
ATMS 120 - Severe and Hazardous Weather
CHEM 360 - Chemistry of the Environment
CLCV 111 - Mythology of Greece and Rome
CMN 230 - Intro to Interpersonal Communication
CWL 207 - Indian Cinema In Context
ENGL 104 Introduction to Film
GER 251 - Grimm's Fairy Tales in Context
HIST 100 - Global History
IB 329 - Animal Behavior
PS 370 - Justice in the Law
PSYC 248 - Learning and Memory
REL 110 - World Religions
SOC 100 - Intro to Sociology
STAT 400 - Statistics and Probability
In the last week of the bracket challenge, only four classes remained, each taking their rightful position in the final four: ANTH 246, ASTR 330, GER 251, and PSYC 248. To celebrate the courses' achievements in the challenge, we asked students to share their experiences with each course, which showed why the courses had such high favorability!
The champion: ANTH 246 - Forensic Science
Psychology major Sarah Craig shared what sparked her interest in ANTH 246 and how the course impacted her path in college. She said, "At a young age, I started watching true-crime shows and became fascinated with how professionals solve real crimes. I was excited to learn that UIUC offered an 8-week course called 'Forensic Science' that provided a glimpse into everything that goes into running an efficient crime scene."
"Not only did I get to learn about various techniques that are used to analyze evidence, I also got to learn about the early history of forensic science, how specific kinds of cases are handled, and about different forensic science specialties. It was fun to go through an interactive lecture experience online and then get to dive into a related topic through discussion posts. I liked the course so much I even decided to get a forensic science certificate."
Runner-up: GER 251 - Grimm's Fairy Tales in Context
Tamar Dallal, who studies physics, shared with us her experience with GER 251. She said, "I loved GER 251, and Professor Johnson is one of my favorite professors! I took 'Grimm's' Fairy Tales' over Summer 2020, and it was the bright point of every day for me. My class was small, and all of us had something to contribute, leading to some very interesting discussions. I loved that the professor not only taught tales in context from Italy, France, and Germany, but also that she welcomed new takes on the traditional tales!"
Second runner-up: ASTR 330 - Extraterrestrial Life
Astronomy and chemistry major Eli Sofovich, who took ASTR 330 in the winter of 2021, told us how the course helped him dive into understanding both human and extraterrestrial existences. "I opted to take this course based on my personal and academic interests in extraterrestrial life, and it did not disappoint. Professor Looney's coverage of terrestrial evolution balanced with open-minded discussions of societal ideas regarding aliens provided an in-depth landscape of what the world beyond our planet looks like and expanded my mind to think even deeper about our existence. I would highly recommend taking this class, as it exposed me to this exciting new field and gave me valuable knowledge within my major and field of interest."
Astronomy major Michelle Giovacchi had a similar experience, sharing "I really enjoyed taking ASTR 330! It was a very fascinating class that covered a wide range of topics from astronomy to biology to explore the question: Are we alone in the Universe? Through discussion-based classes and interesting assignments, we were able to gain a greater understanding of the probabilities involved."
Second runner-up: PSYC 248 - Learning and Memory
Jason Smith, a student studying psychology and history, shared why he loved Learning and Memory. He said, "PSYC 248 was one of the best classes I took in my undergraduate career. Even though I am a psychology major, I feel like the content would be super fascinating to anybody who has even a passing interest in learning and memory. Professor Shipstead is also a great professor—he is very approachable, entertaining, and knowledgeable, and it made every class exciting!"
Ultimately, the LAS bracket challenge exposed students to classes they may have never heard of before, and allowed students to express their admiration for both their favorite classes and the professors that teach them. Congratulations to all the courses who made the bracket challenge!