Finding my path through an archaeological dig
Rachel Burdette is a senior in anthropology and history and is pursuing a certificate in museum studies.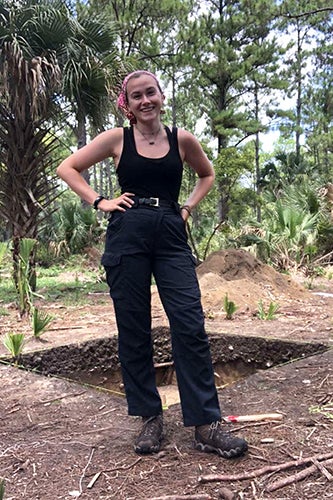 The archaeology program within the Department of Anthropology encourages field school opportunities to apply archaeology in real life scenarios—digging holes! I was lucky enough to be able to participate in a field school within the university off the coast of the state of Georgia on Sapelo Island in 2021. About 15 students, including myself, lived together on the island for one month in the summer, learning how to properly dig excavation units, what to look for when digging, and how to accurately record information.
We would spend most days digging smaller test units (pictured here) or larger excavation units around areas of interest, such as possible structures from thousands of years in the past. Through trial, error, and lots of practice, together we applied the theory we were taught in the classroom into a practical application. Not only did we all gain invaluable experience, but we also found a group of life-long friends with common interests and passions!
The Sapelo Island field school helped me find my passion in an unexpected way. While I did love the work we did regularly, one day stood out. We were out in the field setting up for the day when a tourist group unexpectedly stopped by, asking questions about our work, what we were doing and the things we were looking for. I was allowed to explain to this group how archaeology is done, but then also allowed to interpret some of the things we found.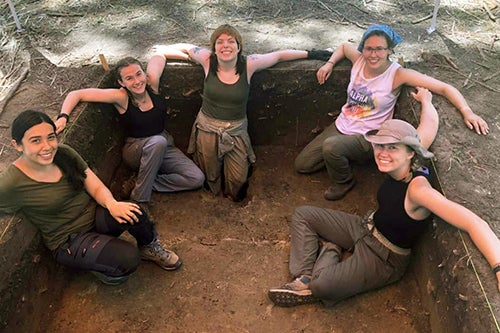 Everything we found fits into a larger picture of the lives of those in the past, answering the questions archaeologists are asking and unearthing new ones. Through my experience with the tourists, I discovered that interpretation is something that I have a passion for, and it increased my interest in working with the public. That experiment led me to work with the National Park Service over this past summer in public interpretation, which I hope to continue after graduating. Without my experience on Sapelo Island, I might never have found this passion for public education!