Looking back – a college experience filled with endless opportunities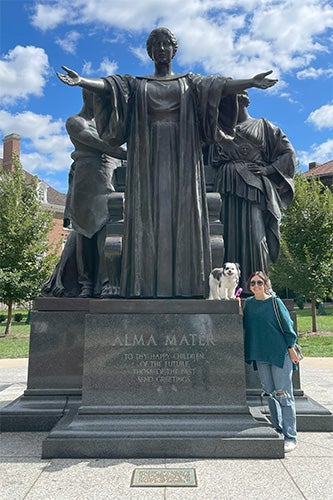 Looking back at my time as an Illinois student, a lot has happened in the speedy three and a half years. As a new freshman, I attended LAS Liftoff with fellow LAS students that I had met in my dorm. I remember being overwhelmed yet overjoyed with the amount of people there—it was like a candy land to an extrovert like me! While meeting peers and finding other communication students, I made connections with future professors and my academic advisors. Within minutes I knew I was where I needed to be.
My college experience, both in and out of the classroom, has been nothing short of exceptional. My combination of studying communication as a major with a public relations minor has provided me with a wide range of opportunities that I am confident will help me in the workforce upon graduation. In January 2022, I was hired as the social media intern for Illinois Athletics, applying communication and public relations skills and strategies I learned in class. I have also served as the public relations intern for the student-athlete development program, which allowed me to apply and improve my written communication and public relations skills.
My skills learned here in Urbana-Champaign have led me to experiences outside of Illinois, too. I spent the summer of 2021 as a United States Congressional Intern for my local House of Representative, Darin LaHood. For three months I lived in Washington D.C. assisting congressional staff, shadowing the Director of Communications, and writing speeches for Representative LaHood.
Thanks to UIUC, LAS, and the Department of Communication, I have been blessed with such amazing opportunities that have given me lifelong friends, networks, and skills—setting me up for a great future ahead.