Information for prospective exchange students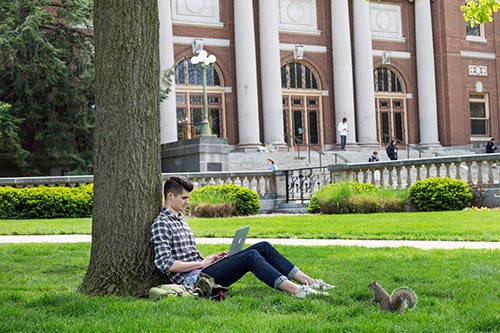 Interested in attending the College of Liberal Arts & Sciences as a part of an exchange? Here's more information about how to make it happen.
Eligibility requirements
To be eligible to attend Illinois as an exchange student, you'll need:
To be enrolled as a full-time student at an institution that has a bilateral student exchange agreement with Illinois. To find out if your university has an active agreement with Illinois, contact the office or individual who coordinates such exchanges at your home institution.
Nomination from your home university to participate in the exchange program at Illinois.
The equivalent of a 3.0 out of a 4.0 grade point average or a "B" average in all courses.
Completion of one year of university education prior to commencement of exchange at the Illinois.
English language proficiency confirmation issued by home institution, English language school, documented interview, or proficiency test (minimum TOEFL IBT score of 80 or IELTS score of 6.0 on all modules).
Certified evidence of financial support (international exchange students applying for the 2022-23 school year must show a minimum of $10,200 for one semester or $20,400 for two semesters).
Application process
Your first point of contact should always be the study abroad or exchange coordinator at your home university. It is our policy not to communicate directly with a student until we have received a nomination or application for that student from their home university.
Application deadlines:
Fall and academic year (August start): March 15
Spring and calendar year (January start): Sept. 15
All incoming exchange students must submit their applications electronically. You will receive the application link and access code from the exchange coordinator at your home university. For detailed instructions on completing your application, please visit the Illinois Abroad and Global Exchange website.
Courses and academic advising
The College of LAS assigns each exchange student to an academic advisor. That advisor will provide individualized guidance on their studies at Illinois. As part of the application, exchange students are asked to complete a tentative course form, which will be shared with each student's assigned academic advisor. (To get started, search the current course catalog.) Some courses are restricted, so please refer to the list of restricted courses to ensure the courses you have selected are not closed to incoming exchange students.
Take a virtual tour of the Illinois campus
Let the Office of Undergraduate Admissions introduce you to Illinois through photos, virtual reality, or the eyes of current Illini and learn more about the places where you will live, learn, and work.
To get a feel for the College of Liberal Arts & Sciences, follow us on Instagram, Twitter, or Facebook.