Service and civic opportunities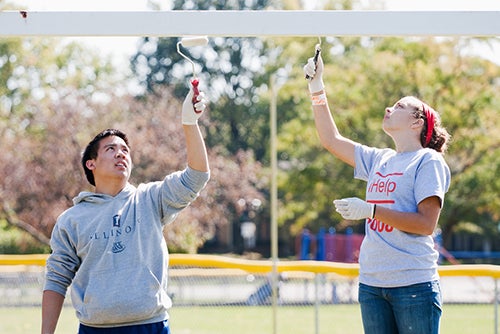 Service learning provides opportunities for students to give back to the community and develop valuable skills such as empathy, leadership, communication, problem solving, civic engagement, and teamwork.
Service-learning courses
Courses within the College of Liberal Arts & Sciences
GLBL 298: Global Studies Seminar Abroad - Education and Development in Andean Ecuador
LAS 199: Professional Development Seminar (service learning is an option)
LAST 440: Honduras Water Project
SPAN 232: Spanish in the Community
SPAN 332: Spanish and Entrepreneurship
Other colleges' courses open to LAS students
ACE 499: Sustainability - Agriculture, Environment, and Governance in Sierra Leone, West Africa
ENG 398: Special Topics - Social Justice & STEM Education (section SJS)*
ENG 398: Special Topics - Leadership in Engineering for Social Justice (section LES)*
GCL 126: Sustainability and Social Science
GCL 128: Sustainability in Fiction
GCL 143: Mapping Inequalities
GCL 148: Historical Perspectives on Social Justice
GCL 185: Health, Wellness, and the Black Experience
HDFS 379: HDFS Study Abroad Experience - Children and Families Service Learning in Cape Town, South Africa
INFO 490: Special Topics - Makerspace (section B - community engagement)
KIN 365: Civic Engagement in Wellness
SHS 375: Community Partners & Health
SOCW 321: Social Entrepreneurship and Social Change
SOCW 330: International Perspectives - International Service Learning in Greece
UP 335: Cities and Immigrants
*Courses affiliated with the Engineering for Social Justice Scholars Program are open to all students.
Find service opportunities on campus
The Community Service Fair is scheduled from 11 a.m. to 3 p.m. Friday Sept. 27 in Rooms A, B, and C of the Illini Union
Service-focused student organizations
Explore service-focused Registered Student Organizations in the UofIConnections database of RSOs. Filter with the "service/philanthropy" category.
Social entrepreneurship on campus
Social entrepreneurship refers to applying innovative design and business strategies to community issues (social, cultural, or environmental) to create positive change. The entrepreneurship ecosystem at Illinois provides many opportunities for students to engage with social entrepreneurship through competitions, courses, certificates, events, and registered student organizations.
Scholarships for service leadership
Post-graduation service opportunities
Disclaimer: Links and information are provided for informational purposes only and are not intended to be endorsements of the individual organizations.