Classes for designing your life and career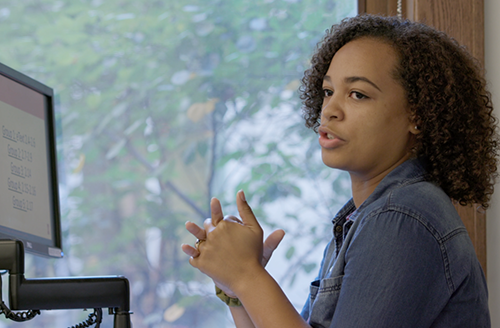 The College of LAS offers a variety of classes that will help students design their lives on campus and beyond, and prepare for their careers.
We also offer a series of workshops to support students' academic, personal, and professional development.
Core classes:
Other classes:
---
Core classes
LAS 101: Design Your First Year Experience
Start learning the skills you'll need to succeed while at Illinois. This course for first-year students will help you develop relationships with others in the College of LAS and learn about campus resources. Activities include learning about design thinking and strategies for addressing common challenges. It will cover learning effective study skills, thinking critically and avoiding common pitfalls that could undermine your success. Plus, your TA will be a current LAS student who can answer your questions and serve as a peer mentor. Learn more.
1 credit hour. Meets weekly the first eight weeks of the semester. Restricted to first-year students in the College of LAS.
LAS 100: College Success for International Students
This course supports international students as they transition to a new culture and education system. Students will examine expectations for college life in the U.S., explore the purposes and values of the higher education experience from U.S. perspectives, investigate critical concepts regarding academic programs, and plan for 4 years of personal and academic/professional development.
New international students are encouraged to enroll in LAS 100 for the first semester at Illinois. Learn more.
2 credit hours. Meets weekly the first eight weeks of the semester. Restricted to new LAS international students.
LAS 102: Transfer Advantage
This orientation course for new transfer students will help them maximize their time at the University of Illinois. Transfer students lead the class and share how they've succeeded at Illinois. Use design thinking to plan your time at Illinois and beyond, connect with other new students, and learn about campus resources. You'll also learn about adjusting to academic demands at Illinois and the College of LAS itself.
Ask your advisor about LAS 102 Transfer Advantage when you register for classes. Learn more.
1 credit hour. Meets weekly the first eight weeks of the semester. Restricted to new LAS transfer students.
LAS 201: Design Your Illinois
Maximize your career development through active learning, reflection, and creative thinking as you navigate the Illinois experience. Dig into understanding your purpose in college, finding your way through the opportunities offered, and telling your story. You'll also learn what to do if you get stuck. Apply design-thinking methods to create three options for making the most of your time at Illinois.

1 credit hour. Meets weekly the second eight weeks of the semester. Restricted to freshmen and sophomores.
LAS 250: Design Your Life + Career
Use design-thinking methods to come up with solutions to the wicked problem of preparing for life after Illinois. You'll learn about understanding the world of work, establishing professional connections, exploring career options, and creating post-graduation scenarios. Course will include class discussions, activities in the classroom and beyond, self-reflections, and individual life coaching.
1 credit hour. Meets weekly the first eight weeks of the semester. Restricted to juniors and seniors.
---
Other classes
LAS 199: Organizational Cultures: LAS in DC
This course delivers a professional development and organizational learning experience in the nation's capital. Focus on leadership strengths while evaluating organizational cultures within different professional work environments including government, nonprofit, and corporate settings by visiting Washington, D.C. for a Spring Break field experience.
Students will experience various organizational cultures in D.C. and learn how to navigate them. Develop leadership skills as you observe and learn from professionals in the capital city who are also alumni of Illinois.
2 credit hours.
LAS 199: Professional Development Seminar
Students connect their academic and career goals to develop professional competencies during their internship, service/volunteer experience, part-time job, or undergraduate research experience. They reflect on their professional development as a result of their work experience, practice talking about how the experience advances their professional competencies, and prepare for future professional experience.
1 credit hour.
LAS 291: Global Perspectives for Intercultural Learning
Prepares students who are going abroad for a semester or academic year for their transition through a) examining expectations, b) focusing on the purpose and value of the abroad experience, c) preparing students culturally and logistically, d) addressing issues of culture shock, e) helping students with articulating their experience for future personal and professional goals, f) enhancing intercultural communication and global understanding, and g) assisting with re-entry planning.
0 credit hours.
LAS 292: Global Perspectives in Cross-Cultural Contexts
Provides an opportunity for students studying abroad to consider how their journey might be articulated as a global learning experience. Requires students to discuss what they are learning, reflect upon it, and discern ways to apply the knowledge gained through their experiences. Prerequisite: LAS 291.
1 credit hour.
LAS 399: Leadership and Professional Development
Leadership and professional development seminar for student interns. Interns will learn professional skills and communications, teaching, mentoring, and other leadership skills that prepare them for LAS internships.
1 to 3 credit hours.