Students see Islam in a light only Egypt can provide.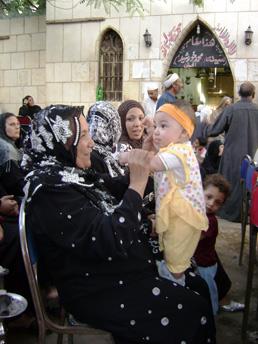 Conveying what it's really like to attend a traditional Sufi dhikr, an Islamic ceremony to bring one closer to God, is too much to ask of a classroom environment, no matter how brilliant the professor. One class in the College of Liberal Arts and Sciences had a method that worked, however—they went to Egypt.
Eleven students in the Study Abroad course "Islam in Egypt" traveled in May with a religion professor, Valerie Hoffman, to the immense city of Cairo, described as the cultural capital of the Arab world. There they spent almost a month studying the diversity and intricacies of Islamic life, from the issuing of fatwas—scholarly interpretations of Islamic law—to the debate over traditional methods of teaching the Koran.
Living out of a hotel near the heart of the ancient city, and striving to maintain a low profile, the class also learned a thing or two about daily life, including, for the women, how it feels to wear a headscarf in the desert heat. They also learned how to negotiate a traffic pattern one student described simply as "frantic."
Pollution and insects led to a few minor illnesses, but nothing that required professional medical care, and nothing that stopped what turned out to be an inside view of Islam that many foreigners or non-Muslims would never have the chance to see. Hoffman had previously spent years in Egypt studying Islam, and, while serving as translator and organizer, she utilized contacts and knowledge of the territory to admit her students to rare places.
For example, Al-Azhar University is typically off-limits to non-Muslims, but Hoffman knew Ahmad al-Tayyib, the current president, and the class was able to meet with him and pose questions about Egyptian reform and the educational system.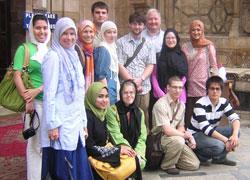 Along with trips to monuments, they also spoke with a mosque preacher, journalists, non-governmental organizations, students, and a Sufi shaykh, or master in one of the Islamic sects. Jeff Peyton, a graduating senior in religious studies, was surprised by what he learned in a meeting with an advisor to the Grand Mufti, the highest Egyptian authority on Islamic law.
The Grand Mufti has a hotline to provide non-binding interpretations of Islamic law to inquiring Muslims (the office receives up to 1,800 calls a day). Egypt is entirely Sunni, so Peyton expected the interpretations to be based on four Sunni schools of law, but it turns out that the Grand Mufti's legal scholars will consider every Islamic interpretation when preparing the fatwas, including Shi'a interpretations.
"They use a lot more different sources and school of law than the orthodox ones," Peyton says. "So you get wider interpretations than expected."
A theme repeated among some of the upper-level students was that while they already had learned much about Egypt during their time on the University of Illinois campus, the knowledge they'd accumulated seemed more real after the visit.
"It was the most amazing thing that ever happened to me," said Millie Wright, a senior in religious studies. "It just contextualized all my education."
While the course was only as long as the trip, it meant that classroom demands were only magnified. The students had five required books, and they wrote 10 papers, eight summaries, and five sets of interview questions (they met often to study in the nearby American Research Center in Egypt, and they took their final exam in a Coptic Christian center in the desert between Cairo and Alexandria).
The coursework was accompanied by a packed daily schedule of moving in and around the city for meetings and observations. During that time they received informal lessons in colloquial Arabic and introductions to Egyptians who were friendly to the Americans (Peyton says he felt safer in Cairo than he would in Chicago).
Egyptians even encouraged the women to remove their headscarves if they desired, Wright said, though most Egyptian women wore them.
"Actually a lot of Egyptians were saying, 'Why are you wearing that? You're Americans. You don't have to, you know,'" Wright recalls.
She and Peyton have agreed to write about the experience for the Department of Religion website, though they both acknowledge some of the most moving moments are beyond words. For Wright, one of them came after they had grown accustomed to having a minaret issuing five calls to prayer per day (starting at 4:30 a.m.) right outside their hotel. By the end of the visit, however, she even grew to like it.
"It was amazing standing out on the balcony at dusk and hearing it," Wright says.
And then there was the dhikr, which Hoffman reports made a particularly deep impression on most the students. The dhikr is a Sufi tradition to chant the various names of God while moving the body vigorously side to side, and front to back. One day the class witnessed one in a packed alley outside the shrine of 'Ali Zayn al-'Abidin, where the students watched the swaying, entranced participants, accompanied by music.
"There's this electric feeling in the air," Peyton says, in trying to describe it. "I can't think of anything that compares."