'We all had the same heart'
LAS International Programs honored for its response during COVID-19 pandemic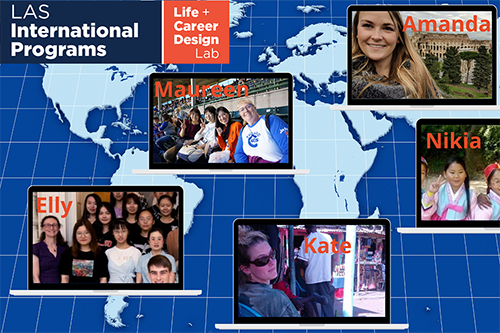 Nikia Brown recalls the last year as a season of transition for LAS International Programs.
"We were all hands on deck," recounted Brown, associate director of intercultural and global learning, international student experience. Within weeks before the 2020-2021 academic year, the team built supports for international students amid the COVID-19 global health crisis by working with campus and international partners. For this effort, International Student and Scholar Services recognized the LASIP team with the 2020 ISSS Award for Outstanding Unit.
The team was recognized for coordinating with other campus units and partners to create the Academic Bridge Program that allowed UIUC international students to study on a campus in their home country when they were unable to travel to Illinois. The team also scaled LAS 100, the first-year experience course for international students, from a voluntary course of a few dozen international students to close to 300. In addition, they launched the Virtual Global Experiences program last summer.
"We all had the same heart – can you imagine starting your college career in the middle of a pandemic, in the middle of political unrest?" Brown said. "The world was seemingly on fire, and this was how they were starting their college careers. We had to give students something to inspire them, something to make them feel capable, something to make them feel part of this community and that their college experience was still valid and important. That was the motivation behind all of this, and it helped us keep things in perspective and gave us the energy to implement it."
LASIP includes education abroad and exchange programs, virtual global internships, research and service learning, and courses designed to engage students in global learning and support the first-year international student experience. The team consists of Elly Hanauer, director of education abroad; Kate Abney, associate director of intercultural and global learning; Brown; Amanda Lentz, academic program advisor for education abroad; Kyle Schmude, program coordinator; Roman Friedman, instructional designer; and Maureen Burch, support for academic programs, along with graduate assistants and student interns.   
"It was a wonderful surprise," Hanauer said about the award. "After such a challenging year where our team worked tirelessly to support international students who could not travel to campus, it was so rewarding to be publicly acknowledged and appreciated with this award."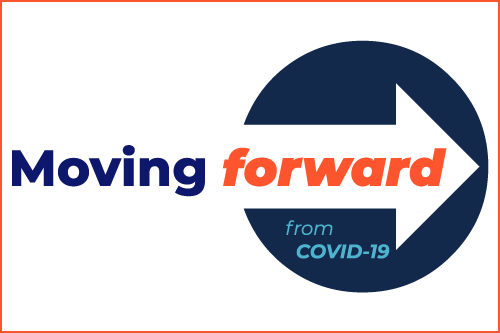 "We weren't expecting (this recognition), but we were grateful," Brown added. "These students were just high school students not too long ago, who came into this with an open mind, they were resilient, they were patient. The international students extended grace to themselves and we figured this out together and leaned on each other. We were just impressed with how the students handled this very peculiar transition." 
Among the student supports LASIP put into place is the Academic Bridge Program, which provides LAS international students who could not travel to campus with a residential campus experience in their home country. UIUC worked with several institutions in East Asia, but the largest partnership was Zhejiang University (ZJU) International Campus in Haining, China, where, in coordination with other UIUC colleges, Illinois hosted about 300 students, 200 from LAS alone, during the 2020-2021 academic year. The vast majority were freshmen and transfer students. 
"We thought it was particularly important for them to have extra support and connection to Illinois since they had never been to campus," Hanauer explained. The team will continue a smaller program at ZJU for the Fall 2021 semester for those who still aren't able to be on campus. 
The team also created Virtual Global Experiences, which are virtual internships and research opportunities that engage students in work with organizations and alumni mentors around the world. The program also includes courses that allow students to study with international experts, instructors, and/or students in another country. 
"A lot of students look forward to study abroad, and when that wasn't an option, our team engaged our partners, and found remote opportunities that were still international, that were still professional work experiences they could put on their resumes in an international context, and could fulfill that desire that extends beyond the United States in meaningful ways," Brown explained.
Since the Summer 2020 semester, 108 students have participated in the internship and research opportunities and 96 students have enrolled in global courses.
Another all-hands-on-deck moment came with the overhaul of LAS 100, for which Brown is responsible. In the past, LAS 100 was an optional course that international students could take as an introduction to the American higher education system, campus resources, and the language and context for conversations around current events, social justice, and diversity. This course served as an avenue into the campus community and gave students access and awareness to campus resources, which is why it became a requirement for all international students who could not be on campus for the 2020-2021 academic year. The course grew from 40 students to nearly 300.
To accommodate, Brown quickly assembled a team to overhaul the course to meet the needs of students who would not have direct access to in-person campus services and communities. 
"The course as it was wouldn't be as engaging to students accessing it primarily online," Brown said, "so we created short video modules around core themes, for example social identities, the value of a liberal arts and sciences education, mental health, and social justice."
Brown leaned on a major, last-minute recruitment effort to support the class redesign. In the end, they enlisted more TAs to support the expanded course, more than 60 mentors, and around 30 student interns. Typically, students take LAS 100 then apply to be an intern to support the incoming group of international students, and those student interns became an integral piece of the course success.
"The interns led small discussion groups each week, and this allowed students to share perspectives around these issues," Brown explained. "In the student evaluations students wrote that this course exposed them to world values and world views that they weren't familiar with before."
In the fall, to accommodate the students who will not be able to be on campus, LAS 100 will be offered as an online section or in-person, depending on the student's location.
"I think, in the middle of this health crisis, we were really able to take a look at what may be possible in the future for intercultural and international experiences without the option of mobility as we continue to think about how we internationalize our college and campus," Brown said.
Editor's note: For more stories about how experts, students, and alumni are learning and looking ahead during this challenging time, visit the Moving forward from COVID-19 page.