Leading authority on insect toxicology shows impact of pesticides on insects and the environment.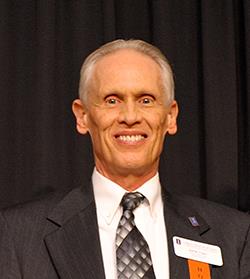 Joel Coats' first laboratory had no tables, no beakers, and no walls. His first lab was a living laboratory—the family farm on which he grew up in northwest Ohio.
"I knew every tree and every bird nest and every kind of bug in the field or garden," says Coats (MS '72, PhD '74, entomology). "It was the perfect laboratory for a budding biologist to grow up in."
However, it took two other laboratories—one at Arizona State as an undergraduate and the other at the University of Illinois in graduate school—to put him on track to becoming a leading authority on insect toxicology. Since then, Coats has left his mark, nationally and internationally, through his research on the impact of pesticides on insects and the environment, earning him the 2013 LAS Alumni Achievement Award.
Coats majored in biology during his two years at Ohio Northern University, and he finished his undergraduate years at Arizona State, zeroing in on zoology. It was at Arizona State that he first worked in an entomology lab at the U.S. Department of Agriculture.
"It was mundane, hourly grunt work, rearing and counting insects, but it was also fascinating work," he says. "I became hooked on the idea that insects are worth trying to figure out."
Coats says he loves both entomology and chemistry, so he decided to combine these interests through insect toxicology—a decision that brought him to Illinois, with strong programs in both areas. When he was given the chance to work in the laboratory of renowned Illinois entomologist Robert Metcalf, "that clinched the deal," he says. "Six years in his lab, as a graduate student and post-doc, fed my curiosity about insects."
Metcalf was a pioneer in studying the effects of pesticides on insects and the environment, and he passed on this trailblazing spirit to Coats. After receiving his PhD at Illinois in 1974, Coats took a temporary faculty position at the University of Guelph in Ontario, Canada, and began studying a class of pesticides known as synthetic pyrethroids—important synthetic replacements for DDT.
Coats continued this work when he took his position at Iowa State University in 1978, and he solved the mystery of why synthetic pyrethroid insecticides were highly toxic to fish, even though they were not very toxic to mammals and birds.
"We found that mammals and birds have two major classes of detoxifying enzymes that degrade insecticide residues in the body, but fish have only one class of detoxifying enzymes," he says. Another contributing factor was that the nervous system of fish was 10 times more sensitive to these agrichemicals than mammals and birds.
Coats also did groundbreaking research on a popular soil fumigant at the time, methyl bromide, determining how much of it escapes from the soil as a volatile gas, which damages the atmosphere's ozone layer. Because of such research, methyl bromide was banned in some countries and phased out slowly in others, including the United States.
In addition, Coats developed novel techniques for detecting trace residues of pesticides, and he studied ways to prevent the contamination of surface water, such as using native prairie grasses as buffers to filter contaminants from water.
Moving into the new millennium, his lab did some of the first work tracking the fate of veterinarian antibiotics in the environment. The concern was that because animals metabolize 80 percent of the antibiotics they are given, the other 20 percent could wind up in the soil through manure and then run off into streams and lakes.
"We studied levels of antibiotics in streams and lakes, how fast they degrade, which antibiotics bind to sediment, and how much are taken up by organisms in the water," he says.
Since the 1980s, Coats' laboratory at Iowa State has also worked on natural insecticides, beginning with the oil in orange peels, which the fruit uses to fight off insects. He found that the natural oil works well as a flea shampoo for dogs and cats.
Much of this research focused on terpenes—simple compounds found in many plants, such as mints, cloves, nutmeg, pines, and many herbs and spices. He discovered that some of these oils make effective natural pesticides against flies, while others worked well against roaches or beetles—all while posing less risks to humans and the environment.
This research led to several patents, including Iowa State's patent on a "green repellent" that uses a natural component of catnip—one of the first natural alternatives to DEET, the principal ingredient of most commercial pest repellents.
Another important area of his research has been genetically modified organisms, such as Bt corn, which has been modified to contain Bt, a natural pesticide popular with organic farmers. So far, he says, his lab has found that the Bt in genetically modified corn is highly degradable, especially when it is in water.
In the meantime, while Coats continues these lines of research, he and his wife pursue their love of bird watching and collect lists of birds they spot as they crisscross the country, from California to Florida, visiting their five children.
"I became very interested in birds in 4-H at age 13, and it's become a lifelong interest," he says. "It's a terrific hobby for a biologist to have."
As a bonus, it keeps him connected to the laboratory that first fired his interest in biology—the outdoors.