With their son's life at stake, Ken and Ann Slaw made things happen.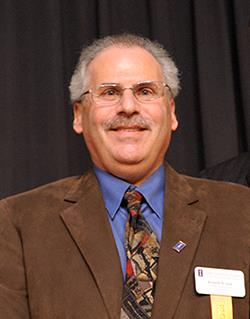 The world of Ken and Ann Slaw changed forever in 1996 on the day their 4-year-old son Andrew slammed his hand in the sliding door—and felt little pain. This incident led to his diagnosis of Familial Dysautonomia (FD), a rare disease that afflicts only an estimated 300 people in the world.
"It was the longest night of our lives," says Ken Slaw (BS '79, psychology) when they discovered what was in store for Andrew and their family. Their son was not expected to live beyond the age of 10.
Today, Andrew is 21 and thriving, thanks to the tireless efforts of Ken and Ann Slaw and the many parents and researchers they brought together by creating the Familial Dysautonomia NOW Foundation—FD NOW (www.fdnow.org).
Ken and Ann, both LAS alumni, see themselves as "opportunity catalysts" who try to make positive things happen no matter what challenge they face. Ken has been a catalyst in both his personal life and professional life with the American Academy of Pediatrics (AAP), helping to launch successful programs like the Neonatal Resuscitation Program that has saved millions of lives. To top it off, he has been deeply committed to the Make-a-Wish Foundation of Illinois, which fulfills the wishes of children in similar situations to his own son's.
This unique convergence of personal and professional achievements has earned Kenneth M. Slaw the 2013 LAS Alumni Humanitarian Award.
Slaw grew up in Morton Grove, Ill., graduated from Maine East High School, and went on to receive his bachelor's in psychology at Illinois in 1979. Before receiving his PhD in educational psychology from U of I in 1987, Slaw teamed with fellow student John Kalachnik to form C-Med, which trained medical staff on the dangers of overusing psychotropic medications at mental health institutions. In 1989 he became director of the Division of Sections for the AAP.
Andrew was born three years later, in 1992, and challenges emerged in the very first hours, when Andrew's heart rate would mysteriously disappear during labor contractions. "His birth was all at once a mystery, a roller coaster ride, and an overwhelming joy," Slaw says.
For the first four years of his life, Andrew displayed "grit and creativity as he played cat and mouse with his developmental milestones," he adds. Andrew was consistently six months behind the physical milestones but far ahead in verbal development. He also showed perplexing symptoms, such as passing out if he laughed too hard.
Discovering that Andrew had FD was a minor miracle, for even though only 300 people in the world suffer from the disease, the doctor that they visited in Chicago ironically had just diagnosed his first case of FD just two weeks earlier, so he knew what to look for. What's more, the Slaws discovered that another FD patient just happened to live a mile from them in the Chicago area.
"It was one of those things when everything in the universe came together," he says.
However, the universe also seemed on the verge of unraveling over the next few years of Andrew's life as he regularly went into "autonomic crisis," in which his blood pressure and heart rate soared, and other systems crashed. Between birth and age 10, Andrew was hospitalized 30 times for life-threatening autonomic crises, with one hospital stay lasting over six months.
Initially, the Slaws became involved with another foundation working on FD, but they realized the speed of work needed to increase if they were to save Andrew's life. Therefore, the couple founded FD NOW, which brought together many parents of FD children and committed researchers and has become a catalyst for action.
In the past 13 years, the foundation has raised roughly $3 million and funded the research of Fordham University's Berish Rubin, who went on to pinpoint the gene behind FD. Rubin's research found the root cause of FD—the failure of the body to create a critical protein—and his work uncovered successful treatment methods.
Thanks to these treatments, Andrew has joined his sister Emily in college, and he experiences autonomic crisis symptoms only on very rare occasions.
While all of this was going on personally, Slaw was active professionally with AAP, where he worked closely with dedicated leaders in pediatrics to develop, launch, lead, and facilitate the implementation of numerous programs such as the Neonatal Resuscitation Program. Since the 1980s, this program has set the standards for resuscitation in 34 countries and has saved an estimated 1 million lives.
Slaw, who is now director of membership as well as director of strategic planning for AAP, was also a driving force behind the creation and development of the Pediatric Leadership Alliance Program. This program has reached over 3,000 pediatricians, giving them an opportunity to develop and master the skills to be great leaders—in addition to great clinicians.
When Andrew was 7 years old, he chose to go to Disney World through the Make-a-Wish Foundation, and Slaw says, "It was the first time we were able to get away together as a family. It was a profoundly life-changing experience."
Through this experience, Slaw engaged with the Make-a-Wish Foundation, both nationally and statewide. He was a leader in the Make-a-Wish Foundation in Illinois from 2001 to 2007, serving two years as chairman of the board.
Today, Andrew still has plenty of wishes to fulfill. According to Slaw, their son hopes to merge his love for art and comedy through animation, and he "continues to move forward with humor and a positive attitude. He is, in every sense of the word, remarkable. Whatever I have accomplished in my life and career pales in comparison to what he has endured—and overcome."