Alumna is one of nation's leading authorities on wound care and a pioneer in occlusive bandages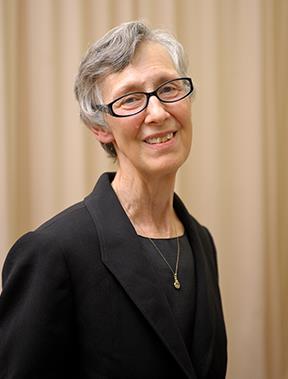 When New York City firemen suffered burns, they would often request to be taken to the Cornell Burn Center, in part because the center used hydrocolloid dressings, which sped their recovery time.
One of the key people in the development of hydrocolloid dressings was Laura Bolton, an LAS alumna and leading expert on wound healing. She helped the Johnson & Johnson Company develop an early dressing, and she led the team that improved the most popular hydrocolloid dressing on the market today—DuoDerm.
With hydrocolloid dressings, she says they found that "wounds heal twice as fast with half the pain and one-third to one-fifth the infection rate. It's just amazing."
For this work, Bolton has been honored with a 2014 LAS Alumni Achievement Award.
Bolton grew up on a modest 46-acre farm in Versailles, Ill., where her family raised 100 head of sheep, as well as Yorkshire pigs and a cow that she would milk every day at 5 a.m. The farm didn't even get electricity until she was four years old and hot water until she was five.
"I still appreciate a hot shower," Bolton says.
Finances were tight when she arrived on the Illinois campus, so she found a summer job with the Department of Psychology helping to do research in Raymond B. Cattell's laboratory on human personality factors. She had started out majoring in math and philosophy, but the summer experience ignited an interest in psychology, and she went on to receive a bachelor's in the subject in 1966. She also received a master's in psychology from Stanford in 1968 and PhD in psychobiology from Rutgers in 1975.
But as Bolton puts it, "life is an adventure," and her career spun off in a completely different direction when she moved out east with her husband, Russ, to apply his breakthrough U of I PhD research on ceramic capacitors. While finishing her own PhD work—exploring the dietary causes of hyperactivity—and serving as an instructor in introductory psychology statistics at Rutgers-Douglass College, Bolton heard about an opening with Johnson & Johnson as a wound care scientist.
Johnson & Johnson had gone through 13 candidates but weren't pleased with any of them. "I said I didn't know anything about wound care," Bolton recalls, "but they wanted me anyway, which utterly astonished me."
So she began on a team studying the effect of electrical stimulation on wound healing, but they accidentally stumbled across something unexpected. The electrodes used on the wounds were "occlusive," which means they held moisture next to the wound. They found that keeping moisture close to the wound was responsible for about 80 to 90 percent of the accelerated healing, while the electrical current was responsible for only about 10 percent.
Bolton says this wasn't a completely new discovery, for researchers in Denmark had seen the healing powers of occlusive bandages as long ago as the 1940s. But occlusive dressings were not widely used or readily available, so she worked on the Johnson & Johnson team that developed Bioclusive.
This occlusive dressing, which resembles plastic wrap held against the skin by adhesive, retained the fluids that come from the wound—fluids that contain growth factors and enzymes that trigger and speed recovery.
In 1987, Bolton was lured away to ConvaTec, a Bristol-Myers Squibb company that had developed its own occlusive hydrocolloid dressing, with an adhesive that sticks when moist, called DuoDERM. At ConvaTec, she led a team that developed a new and improved form of DuoDERM because one of the problems with the earlier product was that the adhesive would "fall apart and deposit itself in the wound and look like a gooey mess."
"My team went through 13 formulations of that adhesive before we got the one that worked better, so I guess 13 is my lucky number," says Bolton, who was born on a Friday the 13th.
Today, DuoDERM is the most widely used hydrocolloid dressing, and it works on all kinds of wounds, including the toughest-to-heal wounds, such as pressure ulcers that form when patients cannot shift their bodies. These are commonly known as "bed sores."
Even with such success, occlusive bandages are still not used as widely as they should be, she says.
"For reasons I'll never understand, only about a third of the wounds in the United States are dressed with occlusive dressings despite 141 randomized control trials on acute and chronic wounds," Bolton says.
To get the word out, she began doing more business development and marketing for ConvaTec throughout the 1990s. "I made it a personal goal to help the world know the evidence supporting moist wound healing and train doctors and nurses," she says.
Bolton did this until her retirement in 2006, when she assumed she would become "that grandmotherly person who rocks the premature babies and gives them love." But once again, life is an adventure that can upset the best-laid plans.
Working with her husband, they instead formed Bolton SCI (Scientific Consulting with Integrity), and are helping to develop guidelines on wound healing. They also consult with companies applying the evidence-based principles to develop products that she initiated with ConvaTec.
One of the most promising products with which she has been consulting is a new topical gel that stimulates all aspects of healing in a wound. The product is now in Phase III testing on non-healing diabetic foot ulcers—the phase when the drug is tested on hundreds of patients.
"It's the first thing I have seen that heals faster than occlusive dressings," she says. "To have this happen so late in my career after my retirement is a gift. It's just a big gift. It's thrilling."