Alumnus made some of the earliest breakthroughs in the use of antibodies to target cancer cells without destroying nearby healthy cells.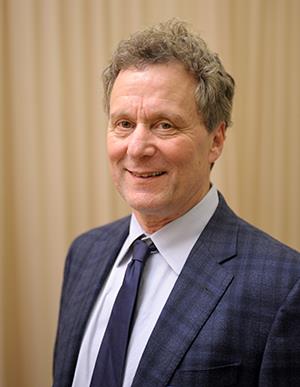 Ethan Zohn, a former professional soccer player, won the third season of the Survivor reality television series in 2002, but his greatest survival battle was yet to come, as he was diagnosed with Hodgkin's lymphoma in 2009. When Zohn's cancer returned in 2011, a new drug had just been approved—Adcetris—and he credits it with helping to knock his cancer into remission.
Peter Senter, an LAS alumnus in chemistry, led the team at Seattle Genetics that did the research to bring this landmark drug into the market just months before Zohn's diagnosis. For this and other work on novel cancer-fighting drugs, Senter is a 2014 LAS Alumni Achievement Award winner.
Senter grew up in the San Francisco area, and he originally set his sights on music. He played several brass instruments, guitar, and piano, and performed in rock bands in the Bay area, but he says it became obvious there were many more talented musicians out there. So he switched to another of his passions—chemistry.
After finishing his bachelor's degree in biochemistry at Berkeley, he was drawn to Illinois because, as he puts it, "the University of Illinois was on the radar of everyone who was going into chemistry. The department is phenomenal."
Senter finished his PhD in chemistry at Illinois in 1981, and during his years at U of I he continued to dabble in music, playing in a balalaika orchestra that had just been organized on campus.
After doing postdoctoral work at the Max Planck Institute in Germany, he took a position at the Dana-Farber Cancer Institute in Boston in 1983. He also held positions at Bristol-Myers Squibb, working in a new, promising area of cancer treatment—the use of monoclonal antibodies to fight cancer. When he started out, he says he didn't even know what a monoclonal antibody was and had to look it up. Monoclonal antibodies are obtained from cloned cell lines and can be highly specific for antigens of interest, such as those expressed on the outer membranes of cancer cells.
"I got into the field at a relatively early stage," he says. "In fact, maybe I got into the field too early because many of the technologies necessary to make antibodies work against cancer were not available at the time."
However, he and others still managed to make breakthroughs in the early years and laid the foundation for the emerging technology. They identified novel targets on cancer cells and hunted for antibodies that aimed at those targets. Today, about 12 different antibodies have been clinically approved to treat cancer, including breast cancer, non-Hodgkin's lymphoma, and certain head and neck cancers.
While many antibodies display high levels of specificity for cancer cells, few of them cause the cells to die, Senter says. Because of that, significant interest has surrounded the possibility of enhancing antibody activity by attaching highly potent drugs to them with linkers that allow the drug to release within tumor cells.
Senter focused his attention on these "antibody drug conjugatates" (ADCs) at a Bristol-Myers Squibb laboratory in Seattle. However, when Bristol-Myers Squibb decided to move this research site to the East Coast in 1998, 10 members of the team, including Senter, chose to remain in Seattle and continue their work. They focused their attention on details for ADC optimization, such as the choice of appropriate drug payloads, novel linker technologies, how to couple the drugs to the antibodies, and how to effectively and safely use the new ADCs for therapy.
Seattle Genetics blossomed into a company of over 700, and is now the biggest biotechnology company in the Seattle area. Much of the growth happened as they ramped up for the release of their first ADC drug, Adcetris, which was approved in 2011.
Biotech companies often go for large patient populations with unmet medical needs, but Seattle Genetics decided to go after Hodgkin's lymphoma, a disease with a small patient population that "had been completely ignored by the pharmaceutical industry," Senter says. Hodgkin's lymphoma is the most common cancer among teenagers between the ages of 15 and 19.
Today, Adcetris has been approved for use in over 45 countries, and it's also being used to treat anaplastic large-cell lymphoma. Adcetris uses an antibody to deliver a potent, totally synthetic drug (monomethyl uristatin E) that acts against tubulin in tumor cells. When the drug blocks tubulin polymerization, the cell's cytoskeleton is damaged and so is its ability to divide—the cancer cell then dies.
A key element to the process are the "linkers" used to attach the anti-cancer drug to the antibody, and Senter says their linker technology was inspired by the work of U of I chemistry professor John Katzenellenbogen. Using antibodies to deliver drugs to tumors is among a growing number of targeted therapies that kill cancer cells without obliterating nearby healthy cells.
"I think the days when oncologists administer general toxins that barely discriminate normal cells from tumor cells are numbered," he says. "Targeted therapies for cancer treatment are the wave of the future."
In honor of his work in developing Adcetris, Seattle Genetics named Senter as its only Distinguished Research Fellow. Meanwhile, the testimonies of other patients who benefited from Adcetris continue to come in. Senter says he met a young mother of two children for whom traditional chemotherapy failed while Adcetris worked, saving her life.
According to Senter, a young woman who contracted Hodgkin's lymphoma in high school also comes by the company to talk every so often. Her cancer was not sensitive to chemotherapy, "but she got on our drug and has had an amazing response. It's extremely gratifying."