Life + Career Design Lab to open in October
New center will help students prepare for life after graduation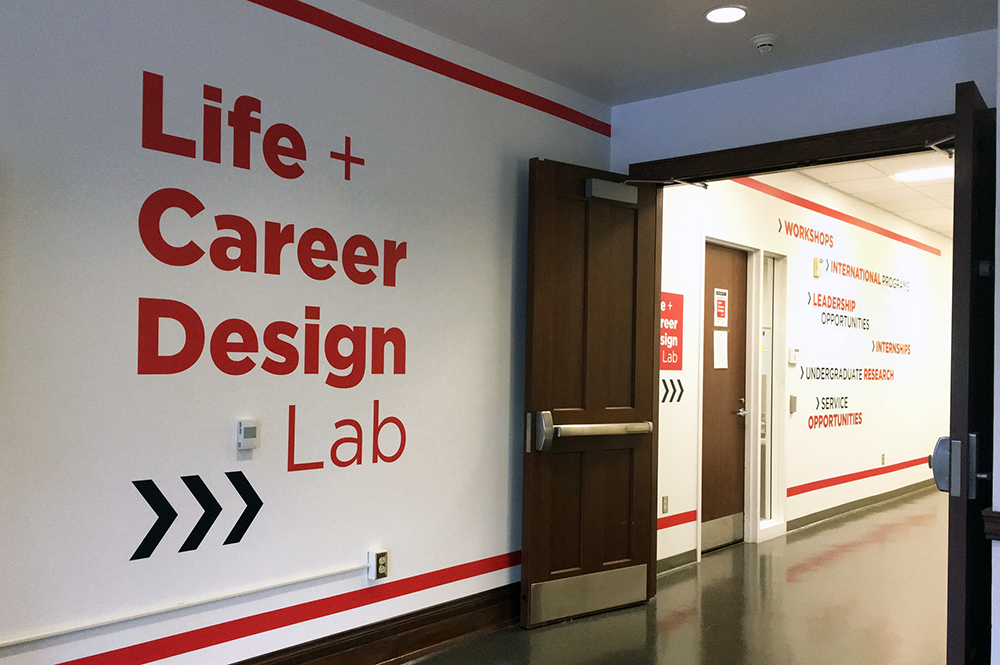 For all the exams, papers, and lab reports in college, there's one question facing students that potentially causes more anxiety than all the rest: What comes next after graduation? This fall, the College of Liberal Arts & Sciences hopes to give students tools to answer this question by opening the new Life + Career Design Lab.
Founded on the concept of design thinking—an increasingly popular, action-based methodology used by designers to reach a desirable future—the Life + Career Design Lab will offer students in all majors ways to explore multiple life scenarios that combine their interests, LAS degrees, and other experiences.
"We are very excited to provide this resource to students," said Feng Sheng Hu, Harry E. Preble Dean of the College of Liberal Arts & Sciences. "The College of LAS offers a foundation not only for future careers, but for many aspects of a person's life. The Life + Career Design Lab will help students make the most of their college experience."
Students who visit the Life + Career Design Lab will receive guidance and information about workshops, international programs, leadership opportunities, internships, undergraduate research, service opportunities, and other programs that encourage them to try various options and think about the life they'd like to lead.
With LAS students often pursing a major that provides competencies for many career options, the Life + Career Design Lab will help them think about their experiences in a connected and meaningful way—and then create maps of life and career options that bring them closer to their goals.  
It's the process called design thinking, and according to the Chronicle for Higher Education, it's a concept that's catching on at universities across the country to help students entertain new possibilities they might not have otherwise considered.
"Students will be guided to inquire about various opportunities that could shape their future, actively engage with their options, and create maps of past experiences and future possibilities that illustrate numerous ways to reach their goals," said Barbara Hancin-Bhatt, associate dean for student affairs in the College of LAS.
Put another way, Hancin-Bhatt said that their goal with the Lab is to create a space where students will be encouraged to:
Ask questions about where they want to get involved, how they want to make a difference, and ask where there is social and professional need;
Test ideas and skills by collaborating with others;
Create stories to relate experiences and create maps and flexible plans to pursue goals.
She added that planning for life beyond graduation is also a reflective process that allows students to stay on track for a successful college experience even if interests change.
"We think the Life + Career Design Lab will be a valuable resource for students in LAS," she said. "It will provide them with guidance to explore and understand the many opportunities that college is helping make possible."
Set to open on Monday, Oct. 2, the Life + Career Design Lab will be available in an easily accessible location in 2040 Lincoln Hall, situated on the second floor on the northwest side of the building
News Source
Samantha Jones Toal and Dave Evensen